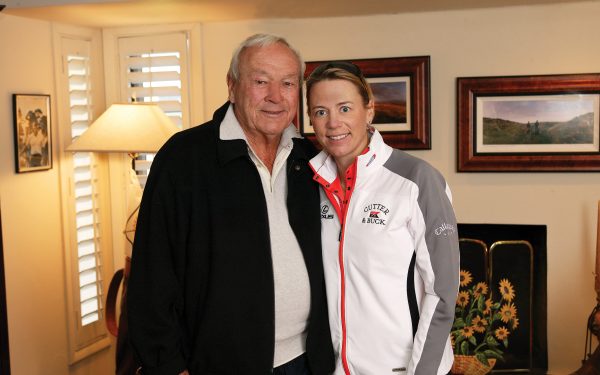 King & Queen Part 1
Coronations are not easily earned in golf, but few of her peers would deny Annika Sorenstam's dominance of the realm otherwise known as the LPGA. Now retired from competition, the record-breaking Swede is turning her attention off-course. Her role model in many respects is Arnold Palmer, so it seemed only natural for Kingdom to bring them together. Here is the first installment of a two-part insight into life beyond the field of play for these sporting icons.
In little over a decade and a half Annika Sorenstam rewrote golf's record books. With an ethereal blend of steely determination and gracious joy, she smiled her way to 10 "majors" and 80 other tournament victories around the world. On the LPGA Tour alone her tally was 72 titles and in excess of $22m in prize money—$8m more than her nearest rival.
Augmenting this stellar roll call of achievements are numerous accolades, including six Vare Trophies for the lowest LPGA scoring average, and eight Rolex and Golf Writers' Association of America player-of-the-year awards.
Yet barely a month after her 38th birthday and very much at the peak of her powers, she walked away from it all. The main reason behind this remarkable career change at the end of last season was her desire to start a family, and 10 days into 2009 she married her business manager Mike McGee at Lake Nona in Orlando, Florida.
But when she dropped in to neighboring Bay Hill a few weeks later for a catch-up with Arnold Palmer, she had even her eminent host scratching his head in disbelief as she reeled off a list of her current commitments and projects.
"The King" has been one of the prominent and enduring brands on Planet Golf for the past half a century, and "Queen" Annika has clearly embarked on an equally regal procession.
Like Mr. Palmer, she has recently been appointed an ambassador for the United States Golf Association. "I'm still learning about what I have to do," she says. "It's all about looking after the game on different levels. We're all enthusiasts who want to make the game more fun for people to play, and the timing is perfect for me now I have stepped away from competition."
Well acquainted with his ambassadorial role, Palmer says a big part of it is expanding the game. "I started this role with the USGA many years ago and I have the utmost respect for the organization and what they do for the game of golf," he says. "I started the members' program with Gerald Ford when he was president, and while we haven't attracted as many as we would have liked it's still done quite well. I'm still chairman of that. We have to make people aware of what the game involves—in terms of rules, etiquette and everything else."
Though she says she's still getting up to speed as an ambassador, Sorenstam has already started working.
"One of my first assignments as an ambassador was to help the USGA make some films from rules sessions," she says. "These will be shown on their website and on NBC at the time of the main amateur and Open championships. They're funny and exaggerated in style, but they emphasize the need to respect the rules without any of the negative baggage you sometimes get. The bottom line is we need to grow the game and move it forward."
Another game-growing initiative she has embraced is the campaign to include golf in the 2016 Olympic Games.
"I strongly believe that this will help to grow golf globally," she says. "It would spread awareness of the game to parts of the world where the people don't even know what golf is. It was a great honor to be asked to join the official campaign, especially as this is the first time all the main governing bodies—including The R&A and USGA—have teamed up in support. We have a meeting in June to determine the final presentation we'll make to the International Olympic Committee before they announce their decision in October."
Palmer is certainly rooting for her. "I'm very much in favor," he says. "It will help bring the game to countries that previously have not been interested in golf. Including it will strike a chord with governments that spend money on a sport if they think it delivers a chance of Olympic glory for their country. That way golf's attraction is bound to increase around the world—in Asia, Russia, South America, lots of places where it isn't really established at present."
But Sorenstam's new world isn't just about altruistic projects. As ever (and like Palmer) she takes a keen interest in the business that keeps golf moving. On this subject the King offers sage advice: "As a professional sport, we need to pay more attention to our sponsors in the future and treat them a lot better. The players in particular are going to have to give a lot more support to their sponsors. With the financial world in disarray it's going to become more important that the players respect their sponsors' wishes and are aware of them."
Sorenstam agrees. "What has to change is that players must realize they do not have a one-way relationship with their sponsors—you have to give back as much as you receive for them [sponsors] to be happy. I have been with Rolex since my rookie year and I am very proud to partner with such a first-class company. The class and level of precision that Rolex embodies are attributes that I have always strived for as an individual. Our partnership has grown through the years, and now as an 'ambassador' my role has expanded from a female golfer to a woman professional. With Callaway this is my 16th year and I am more involved with them than ever, especially through club and product testing."
"I'm also on the staff of Callaway," Palmer says. "I would say the relationship between a player and club manufacturers has changed radically since I came out on Tour. In those days there were Wilson, MacGregor and Spalding, and that was pretty much it for balls and clubs. Nowadays we've got dozens of brands and they're all battling to make their mark.
"Rolex has been one of the great supporters of the game and my association with them is one I have enjoyed, and still am enjoying. But what Annika says is absolutely right. Take MasterCard, who are our sponsors for the Arnold Palmer Invitational. They are as excited about the event as they were when they first became involved. We've been together for six years now and we're going for a few more."
Sorenstam has established a similarly successful relationship with Cutter & Buck. "I've done 10 Annika Collections, several each year," she says. "We've made tremendous strides—so much so that 50 percent of women's golf clothing sales are now Cutter & Buck. The styles are different over here compared with Europe—the colors tend to be brighter, for example."
Sorenstam has also followed Palmer into course design. "I'm currently designing my seventh course in the Philippines, but I'm just a beginner in this field compared to Mr. Palmer," she says. Palmer jumps in: "I have more than 300 courses in operation, but I've had a bit of a start on you," he says, smiling.
"I see it as another way to pay back into the game what I have taken out of it," Sorenstam continues. "My philosophy is based on when I grew up in Sweden. There golf is open to everyone. I like to put a lot of different tees onto each hole to cater for different skill levels, and it's nice to use my creative side. The strength of my game was course management and that is one of the questions I'm asking of players when I design a course. I haven't done anything yet in Sweden but I'd love the opportunity."
When it comes to design, Palmer says expansion and influences help drive projects, but each course ultimately has its own character.
"I suppose when I'm designing I'm sometimes aware of influences from great courses I've played like Augusta National, and maybe these influences can be detected in a hole here or there," he says. "But when you consider the number of courses we've done, and the different land and terrain we've designed them on, it's impossible to copy.
"More importantly, we place a lot of emphasis on keeping features that people say are good for the local environment. We are particularly concerned about local wildlife, but very often there is more wildlife on a site after we have designed a course than before."
Sorenstam concurs. "Just in my short time designing courses, I've had to work with completely different terrains, and each one has posed different challenges. Take the land I was working with in South Africa… It was very flat and even if I'd wanted to I couldn't have created a hole there like any at Augusta where it's very hilly. No matter how much you like a hole you can't just force it into any environment."
Teaching academies are another environment she has in common with Palmer. His is based in Bay Hill while hers is down the road at the Reunion resort.
"At this stage I have no plans to expand beyond this venture," she says. "I want to make sure this one is successful first. In any case, it's not like I'm on the tee giving the lessons; I've got a good team of coaches and they handle the day-to-day teaching. But I give clinics there quite often and sometimes I play with the guests. We also place a lot of emphasis on fitness coaching and try to run that in parallel with instruction."
Golf and fitness is also a recurring theme in her charity work. "The Annika Foundation began two years ago," she says, "and I wanted it to raise funds for causes I particularly believed in, a lot of them to do with children… We're looking primarily to provide golf scholarships and junior tournaments—opportunities for young people to learn the game. We have a junior event at Reunion for the top 60 girls in the world and I do a clinic for them. The other issues the Foundation concentrates on are teaching nutrition and physical education and we have formed an alliance with a number of local schools. One of our priorities is to tackle obesity, which so often begins with the lifestyle of certain children, through good nutrition and being active. The golf part in this scheme is very rewarding and helps with the training and physical conditioning. We also fund the Annika Cup, which is like a mini-Solheim Cup."
Health rather than fitness is the dominant cause that Palmer pursues. "Most of my charity work is at medical centers and hospitals," he says, "both in Orlando and in other places like Pittsburgh and Palm Springs. We support cancer research and the treatment of mothers and babies. Over the years we have spent a lot of time working on these projects and we encourage generous people to come here and see for themselves the good work that is done. Donald Trump, for instance, was here in Orlando recently and he made a huge contribution to the Arnold Palmer Medical Center and Hospital. Then, of course, we mustn't forget the tournament here at Bay Hill which raises at least $1 million annually for our charities—all of it the result of an outstanding effort by volunteers and the generosity of spectators and players."
But amidst all the hard work, there is still time for some fun. Both Palmer and Sorenstam are keen wine buffs, so much so that they have their own labels.
"I've been working on the idea for nearly two years," Sorenstam says. "After all, male golfers like Mr. Palmer have long had their own wine labels, so why not the women as well? I have partnered with Wente Vineyards to produce 635 cases of Syrah for my first release, which will be available in May. The wine has come from the Livermore Valley just south of Napa.
"I've long been interested in wine and I love a glass with a meal. I've always enjoyed cooking and entertaining and I've been hands-on throughout the project. If all goes well, we will hopefully follow it up with a Chardonnay and another red."
Again she is uncannily following in Palmer's footsteps. "All my wines come from the Luna Vineyards in the Napa Valley," he says. "We have a Cabernet Sauvignon and a Chardonnay and will be stepping up our distribution at retail outlets throughout the country."
With so many pursuits, it is perhaps not surprising that Sorenstam has decided to follow Palmer into retirement from competition. After all, she no longer has the time for it!
But what if an LPGA senior tour were to emerge? "We already have a Champions Tour for women—it's between five and eight tournaments a year. The qualifying age is 40 so I have a while to go yet. Time will tell whether it grows into something more significant, or whether I get involved."
In the meantime, will she be playing some social golf with her husband Mike, son of former U.S. Ryder Cup player Jerry McGee? "I'm afraid the golf gene missed a generation in their family when he came along," she laughs. Once a competitor, always a competitor!