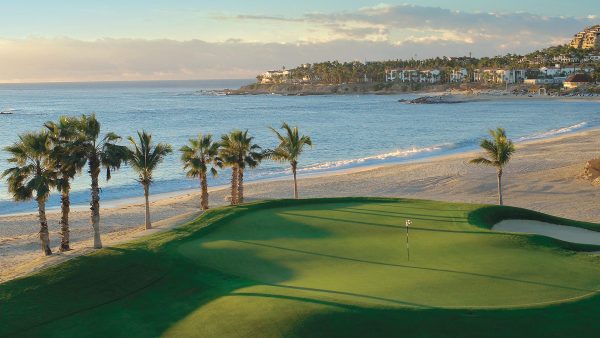 Mexico to a Tee
Robert Trent Jones, Jr., has said that the critical components of a great golf course are great land and water. South of the border there's plenty of both, so it's not surprising that Mexico offers some stunning golf. But in a country three times the size of Texas, the problem is deciding which courses to play. With more than 200 to choose from, the line has to be drawn somewhere, writes Steve Killick, so we'll draw it in the sand at these resort courses…
Just over the border
We start our journey on the Pacific coast in one of Mexico's most visited regions: Baja California. It was here in Los Cabos, on the Baja peninsula's southernmost tip, that the Mexican luxury tourist story first unfolded back in 1956. The resort was founded by Abelardo Luis Rodriguez, son of a Mexican President, in an area that then comprised nothing more than a cluster of small fishing villages.
The insightful Rodriguez saw the potential lure of big game fishing in conjunction with a luxury resort, but golf was not yet on the agenda despite his aquiring 400 acres at nearby Palmilla, close to San Jose del Cabo.
Indeed, it was not until 1991 when Californian property developer (and all-round golf nut) Don Koll started building luxury homes here that golf arrived with a loud fanfare on Baja. Today if you want to sample some of the best the area has to offer, check in at the One & Only Palmilla resort, where every guest room faces towards the water, giving sensational views of the Pacific Ocean or the Sea of Cortez.
Not all of the 27 holes available on the Jack Nicklaus-designed golf course are that memorable, but make sure that at least the Ocean Nine are on your itinerary as these holes have done most to earn the course its epithet: "Mexico's answer to Pebble Beach." The other two loops, Arroyo and Mountain, are equally testing, with vast areas of sandy waste, dry gulches with flowering shrubs and cacti, and even a reservoir or two to negotiate, but they just don't come near the sheer standout beauty of the ocean holes.
If you are looking to play a number of courses, then resort owner Questro Golf is well worth giving a call as the company can provide three excellent holiday tracks at Cabo San Lucas, including Cabo Real, a Robert Trent Jones, Jr., design that has hosted two Senior Slam tournaments and where every hole has views over the Pacific. Add on Puerto Los Cabos and Club Campestre and you have three stunning courses, all in great shape, that are challenging rather than overwhelming.
One small non-golfing tip before you set off is to prepare yourself for Los Cabos International Airport. Having filled-in lots of paperwork you will finally reach the small public area in arrivals where you will be confronted with locals offering you everything from a timeshare apartment to a taxi ride. Check that your hotel provides a shuttle, otherwise order your cab prior to arrival and then simply say no, politely of course, to everyone who is trying to part you from your hard-earned dollars.
Down the Pacific Highway
In the first eight months of last year, more than 4 million tourists safely traveled from the U.S. to Mexico despite the increasingly lurid headlines about drug-related violence and kidnappings. This negative publicity trend is actually helping to increase the attractions of designated "safe resorts." One that is consistently popular with golfing visitors is Puerto Vallarta. Set on the coastal plain at the foot of the Sierra Madre mountain range on the Pacific coast, "Vallarta," as it is more simply known, boasts a number of courses, although their condition varies according to the volume of golfers pounding their greens and fairways.
Do take time out to enjoy El Tigre, though. It may not be the most difficult course you have ever played, save one hole, but this Robert von Hagge design is perfect for a relaxing holiday round yet tough enough off the black tees to keep single-figure handicappers honest, especially when they get to the par-5 18th.
There is a profusion of water right from the 1st tee where a lake beside the tee box connects to another by the peninsula green via a meandering brook that runs all the way down the left side to a waterfall. Just ignore all that beauty and aim right!
Although 12 of the holes involve a water hazard, the 6th is the hole where it surrounds you. This 171-yard par-3 plays across a lake to an island green. Not content with this being difficult enough anyway, Von Hagge and his team stuck an insidious little pot bunker front left to tempt golfers into over-clubbing. And before climbing the steps to the huge clubhouse and that cold beer to which we have been so looking forward to, we have to negotiate the daunting 18th. At 621 yards off the tips, there are few more challenging holes in the whole of Mexico.
From the back tee it looks miles even to reach the fairway, which has water—lots of it—all the way down the left. In the far distance, there's a green surrounded by what Von Hagge called a "beach bunker," though it looks more beach than bunker. Prepare to be happy with bogey.
Onto the Mayan Riviera
Having taken an all-too-brief peek at the Pacific coastline, our next stop is on the other side of the country and the Gulf of Mexico. Cancun has long had the reputation of being party central. Situated on the east coast of Mexico, what was once just small villages amidst mangrove swamps is now a high-rise, go-for-broke metropolis catering mainly to the young. To fuel the 24-hour fiesta, many of Cancun's hotels offer packages that provide as much as you can eat and drink—and are subsequently replete with customers only too keen to accept the challenge.
Some resort hotels are more like small towns, providing everything their guests want without ever having to move off campus. Fortunately for those golfers seeking something less like the modern-day equivalent of a Roman orgy, there are discreet venues to check into, not to mention some wonderful courses to play at sensational locations.
Our starting point is somewhere we may not necessarily want to spend our entire holiday, The Moon Palace Golf & Spa Resort. Situated on the crescent-shaped isthmus that is Cancun's premier hotel location, Moon Palace is huge with 2,457 rooms spread over 123 acres.
The beach is sparkling white, the sea is limpid turquoise but the downside is that it's not unusual to see youthful party-goers carrying on without sleep until dawn and then forming a queue for breakfast that can resemble a crowd scene from Ben Hur.
So before we check out let's enjoy our discounted green fees and play the golf course, a solid 27-hole Nicklaus signature design with plenty of what Jack likes on a golf course: bucket-loads of water, sandy waste run-offs and a plethora of bunkers.
The course runs through thick jungle vegetation—so be sure to take plenty of insect repellent as the mosquitoes can come out in force here. Their favorite haunt is around the 8th, a 150-yard par-3 on the Lakes nine that plays over water to an island green. If you're short, or go too far left or right, then simply re-load.
Ironically, our four-ball had most trouble with the jungle on the Lakes nine and the lakes on the Jungle nine. However, the Dunes nine is by far the best of the three, with raised tee boxes and greens and some really tight drives and approaches to execute. It's as if someone saw the Lakes and Jungle nines and then told Jack and his team to make more of an effort on the final nine.
Fortunately, there are four tee positions to choose from, and provided you play straight and sensibly you should be competitive off your handicap—you certainly don't have to reach for your driver every time. But veer a fraction off line and that margarita you were so looking forward to in the clubhouse may not taste nearly as good.
The antidote to the Moon Palace experience, should one wish to escape the partying hordes surrounding the bars each evening, is to check into Cancun's Westin Resort & Spa, a haven of relaxation with a breathtaking beachside setting.
Having admired the sea view, head for the grill room down on the beach where you can select your own seafood or delicious steaks and cook them yourself on a red hot stone set before you. If it doesn't come up the way you like it, there's no one to blame but yourself.
Having settled into this idyllic hotel, we don't want to journey too far for our next round so we could head downtown for Cancun Golf Club at Pok-ta-Pok, the city's oldest course, designed in 1976 by Trent Jones, Jr.
Sadly, despite some glorious views along the coast, this course has seen better days. The clubhouse does provide good food and a welcoming atmosphere, but the fairways and bunkers have a tired look, having taken a severe pounding since golf first came to Cancun. And at a rack rate of $175 for a round, there are certainly better-value courses in the region.
It did appear that there would be an upturn in the club's fortunes when it was acquired by the Puerto Cancun group that has undertaken the new seafront development jointly with the Mexican tourist board on 800 acres nearby where the 18-hole, Tom Weiskopf-designed Caiman was due to be up and running by 2009. However, the arrest of the Puerto Cancun Group's president in connection with an alleged $419m fraud put the brakes on the project.
Instead, it may make more sense to play one of the better tracks in this part of Mexico­: Playa Mujeres.
Just five miles or so north of town, this Greg Norman course is a feast of golf and has been sensitively designed to ensure that most of the natural vegetation has remained refreshingly undisturbed. This allows the course to teem with animal and birdlife as it snakes its way through mangroves out onto a peninsula facing the Caribbean. And if those Day-Glo colors of lemon, pink and blue on the clubhouse walls strike a chord it's because architect Ricardo Legoretta designed the Westin resort hotel as well.
Right from the start, precision is of the essence here as we find ourselves shooting from island fairway to island fairway over thick bush and around huge, ravenous golden bunkers. The last three holes are absolute crackers: the par-4 16th doglegging right all the way down to the ocean; 17 is the ultimate penultimate at 597 yards with water, wasteland and trees hugging the fairway from tee to green; and the 460-yard 18th again has water down the right and only a tiny window to play through between two gigantic bunkers toward a sloping green. After that lot, while you may be ready for the refreshments, we were rather disappointed by the clubhouse bar. A better option is to treat yourself to a lively evening at La Parilla, a terrific Mexican grill in downtown Cancun; great cocktails, a wild Mexican band, delicious grills, prawns and a riot of Mexican staples like tortillas, nachos, fajitas and burritos.
South of Cancun
Our next trip takes us south of Cancun, some 40 miles down to what is known as the Mayan Riviera, to Playacar Spa & Golf Club. Like Moon Palace it is owned by Palace Resorts, but the hotel and it's golf course are designed for a more discerning clientele. In fact, the par-72 Von Hagge course is a beauty. It winds its way round the perimeter of the jungle before presenting lots of water at the 9th and the finish. There are four tee boxes with the course playing from 7,144 yards off the back down to 5,697 for ladies. More significantly, this is another really tight driving course; if your ball goes into the trees it has gone.
One of the real treats at Playacar is the wildlife, with coatimundi (gold-colored relatives of the raccoon family) ready to burst out of the bush the moment you drop any food, and agouti (large brown rodents) scuttling through the undergrowth. There's much to admire at Playacar even if at peak times it can get a little busy.
Also south of Cancun is Playa Paraiso, a fiendish design by P.B. Dye described by one commentator as "a mountain bike course recast in green." Here we have lush hillside, extravagantly sloping greens with spectacular shots into holes over towering mounds and deep bunkers, all framed by the seemingly impenetrable Mayan jungle.
On the way round, the fairways seem to get narrower although fortunately that jungle is not as thick as it looks and there's a good chance you'll find your errant tee shots.
As good as Playa Paraiso is, we at Kingdom firmly suggest every golfer visiting Mexico follow in the footsteps of the PGA Tour and play the immaculately maintained Greg Norman El Camaleón design at the exclusive Mayakoba resort on the Riviera Maya. Home each February to the Mayakoba Golf Classic. The only PGA Tour event played outside of America, this track epitomizes Norman's belief that a course should be playable for tournament pros and high-handicappers alike, offering a fair and honest challenge to all.
The 7,272-yard layout has an ever-changing appearance, winding through three distinct landscapes: mangrove jungles, limestone canals and picture-perfect oceanfront sand. Even a huge underground canyon (cenote) features on the opening fairway. This is certainly a course that needs to be played more than once and the nearby Fairmont Hotel makes this a superb destination for enjoying both a relaxing week and some of the most testing and pleasureable golf that can be found anywhere. Overall, Mexico is a superb destination for the traveling golfer—and it's getting better every day, with new ideas on the drawing boards of some of the world's best course designers. The King's eye has been on the country for some time, and there's no telling what design dreams the warm shores and broad landscapes might have inspired at Arnold Palmer Design Company—so keep your eyes peeled, it could be that the best in Mexican golf is yet to come. In any case, with great land meeting spectacular water and plenty of golden sunshine everywhere, there can be no doubt that the future of Mexican golf is bright indeed.