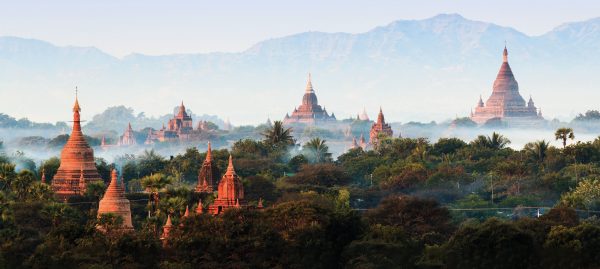 Myanmar: 3,000 temples, one golf course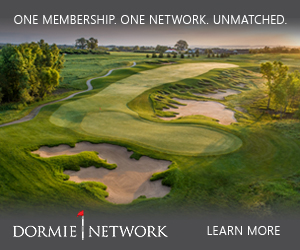 It might not be practical to head to Myanmar in person right now, with the coronavirus deadlock on world travel still in place, but let us take you to a land of temples in spirit at least. John Halnan reports 
"Hazard, water, one-seven-four," intoned my caddy on the 12th. But it wasn't the possibility of splashing water that filled my gut with dread. I swung. The rental set was flex; I need unbendable stiff. "Swoosh." The ball took off on a straight flight path and successfully climbed to altitude. For a few seconds it looked fairway-splittingly perfect, but then the inevitable late fade order came in from flight control and seemingly under laser guidance my ball arrowed right, speeding up for impact. Crack-boing! Oh Jeez, I'd cleared the water but driven the 13th century Pagoda just off the fairway right. Bless me.
I was mortified. My Caddy didn't even blink. I guess that is what happens when you grow up surrounded by 3,000 temples: the ubiquitous becomes valueless.
Talking of ubiquitous, at Kingdom we get to play plenty of great golf courses, and to be candid Bagan's only golf course, built in 1998, doesn't get in my top 1,000 for it's design, layout or condition, but where else in the world can you play with 13th century architecture littered liberally around the landscape?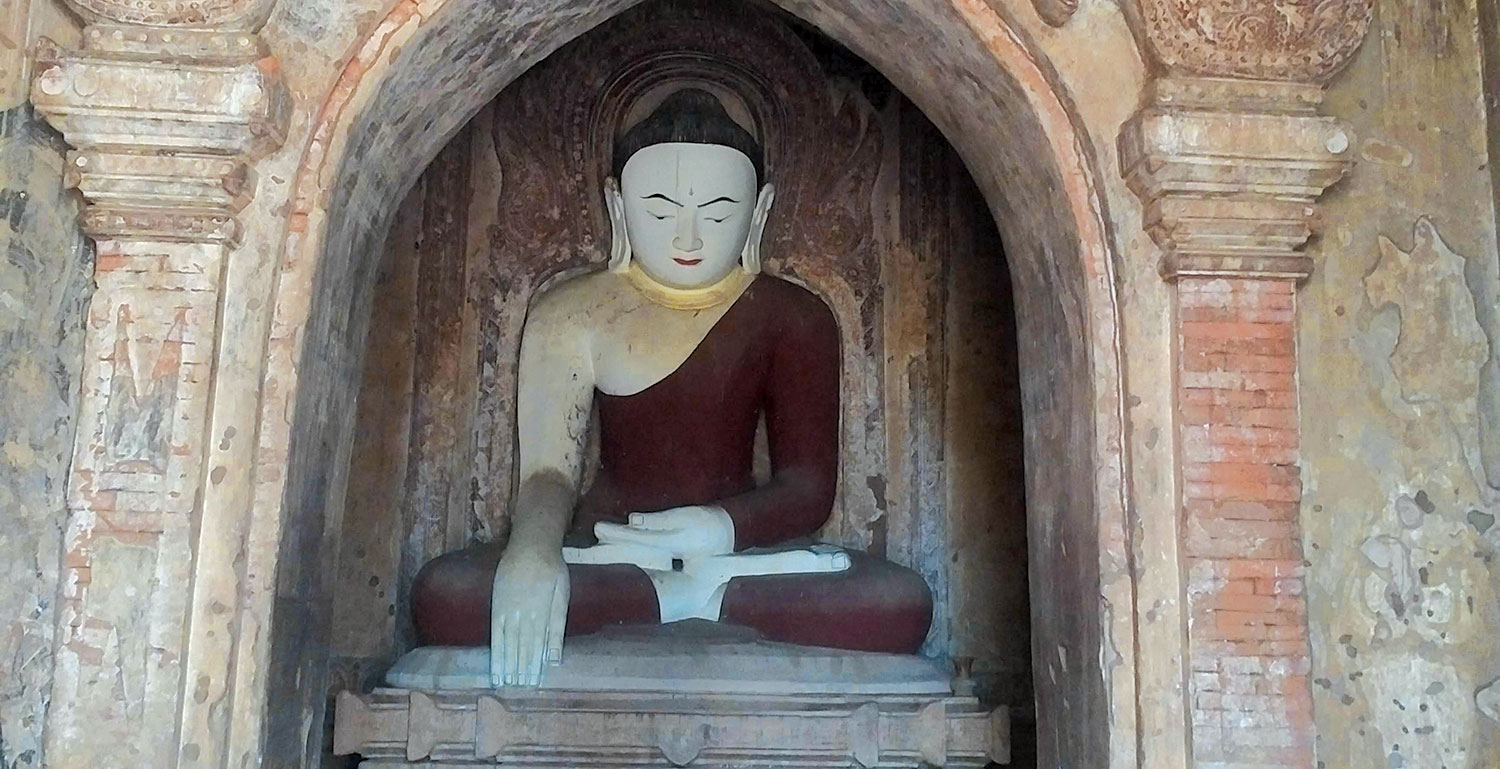 Bagan, in Myanmar (formerly Burma), is not the easiest place in the world to access for a golfing weekend. It's an 18-hour flight to Bangkok, an hour-long transfer to Mandalay and then a choice of six hours on the train, a 4-hour taxi ride or a leisurely 12-hour boat trip up the Irawaddy river—humming tunes from The Jungle Book or Apocalypse Now, depending on your outlook.
Not only is Myanmar far from America, it is far from being a developed nation. Once the jewel in the crown of the British Empire and entitled Asia's "Rice Bowl," following World War II the country stagnated and now lags far behind its neighbors. It was subject to the oddest of leadership takeovers in 1961, when General Ne Win staged a communist military coup and, despite the recent rise of the democratically-minded Aung Son Suu Kyi, the country remains more or less under military control.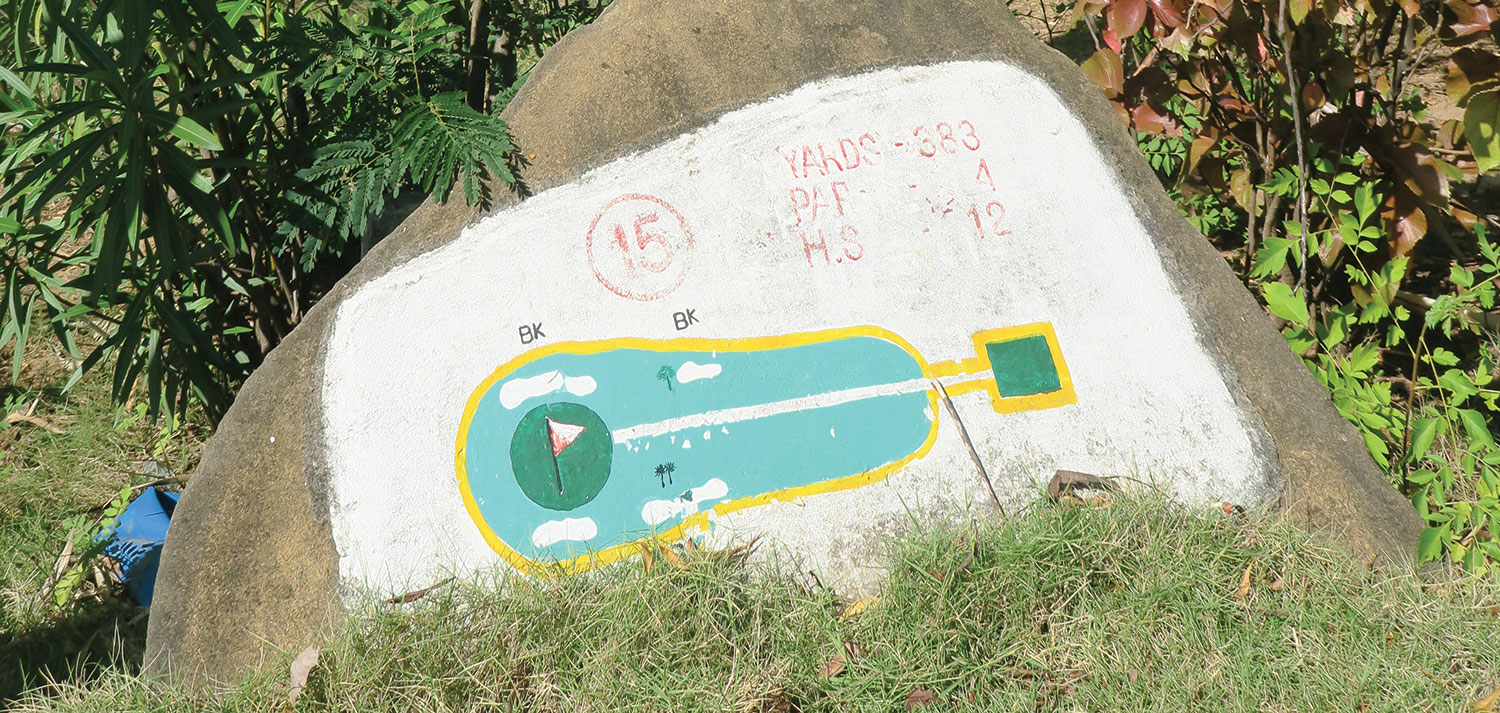 For tourists, lack of development cuts both ways. Western-style facilities and services often are basic or non-existent, but my father, who fought in the war against the Japanese and remained in-country for a couple of years afterwards, loved Myanmar. He first re-visited in the '90s and returned several times, declaring with nostalgic delight that "nothing has changed since I was last here [in the 1940s]".
Such developmental fluctuations appear a mere modern whim when set in comparison to the Temples of Bagan. The surviving 3,000 edifices come in all shapes and sizes and are located in an area of a mere 40 square miles. Today a Unesco heritage site, Bagan was founded in the second century, but the period from the 11th to 13th century was when it hit its cultural and political height as capital of the Bagan Empire, attracting Buddhist scholars and devotees from as far south as Sri Lanka and as far east as Cambodia.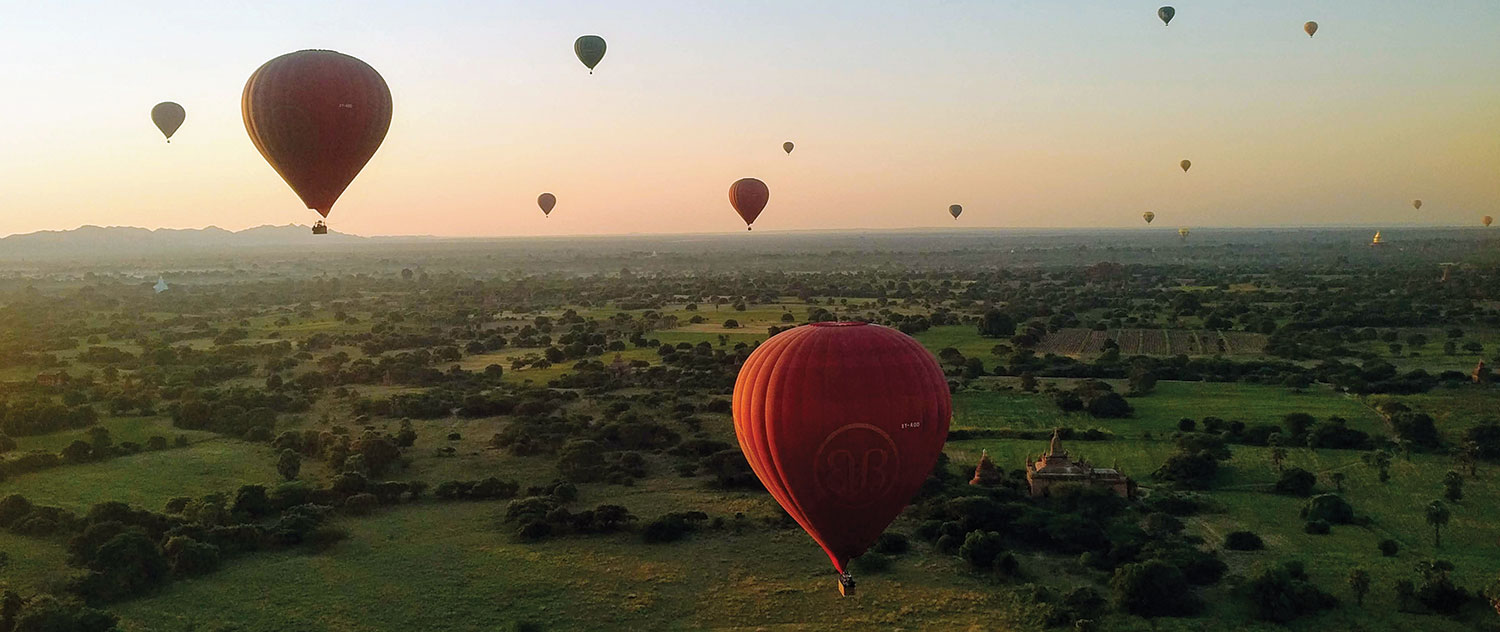 As with many parts of the world it was the rise of Mongols that ended that period of Bagan's power and importance, but not before its creative subjects had constructed over an estimated 10,000 religious monuments—often competing to outdo one another.
From the 14th century onwards Bagan continued as a minor city; construction and ostentation slowed as its power and wealth receded. The old capital remained a pilgrimage destination but visits were focused solely on the most prominent temples, with the majority slipping into disrepair over time. Endurance is not helped by the fact that Bagan is in an earthquake zone.
In 2016 a major quake struck causing severe damage. Many minor buildings completely collapsed and even the mighty Sulamani and Myauk Guni temples suffered significant damage. Local architectural reconstruction efforts are still ongoing with the help of UNESCO experts.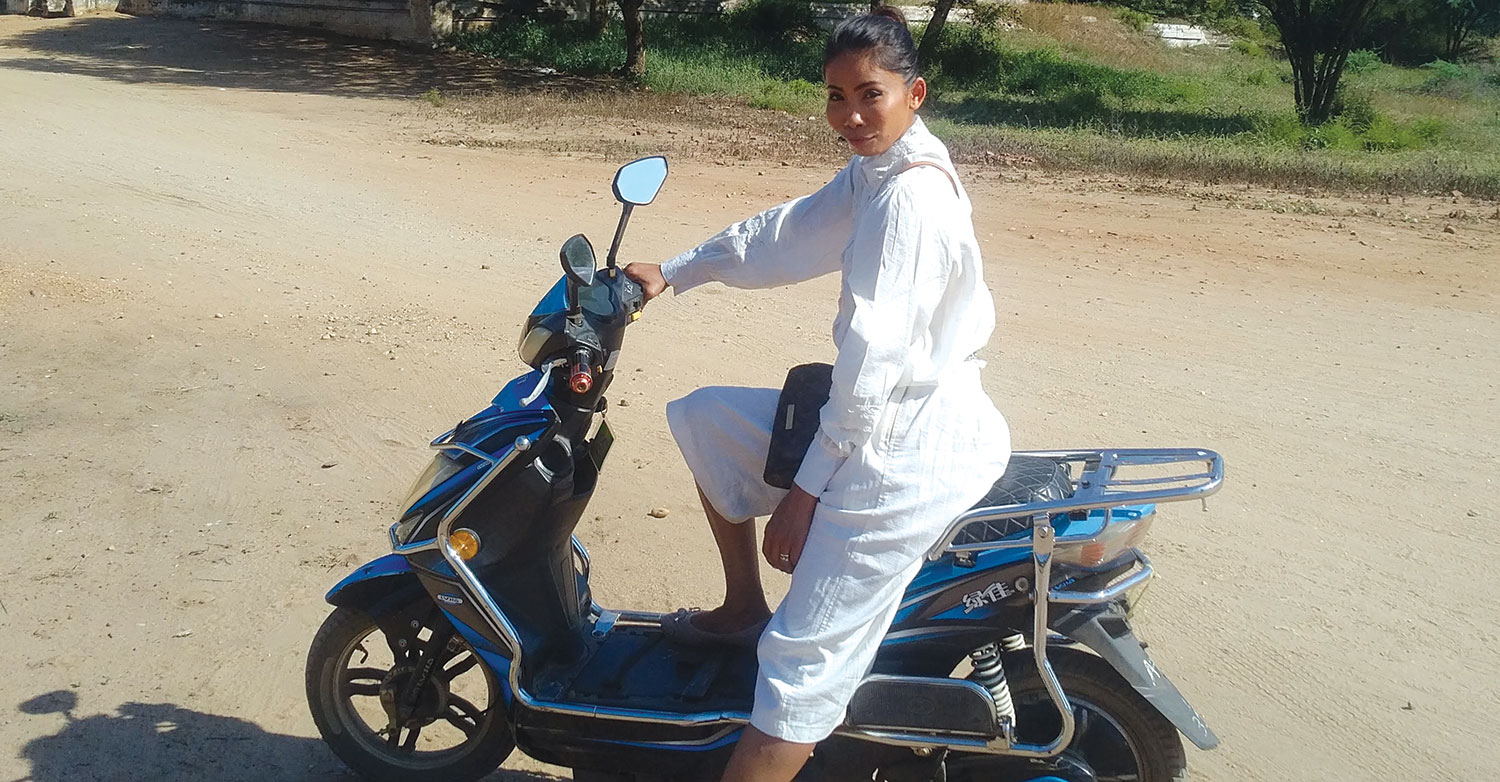 The options to visit the temples are varied; it is possible to take guided tours by taxi, minibus or even horse and cart. The principle temples are Ananda, Shwesandaw, Thatbyunnyu, Dahammayangyt and the Shwezigon Pagoda; none should be missed. As well as joining an organized tour or having a guide it is also possible to walk freely around by yourself, cycle or rent electric scooters. We opted for the latter and happily spent two days quietly whizzing near-randomly from temple to temple, enjoying the large and famous with others but also enjoying the calm and serene isolation of smaller deserted temples off the beaten track.
At some point in the future it is inevitable that Bagan will become modernized and better protected. For historical preservation reasons that can only be a good thing. And yet, with so much of the world controlled and sanitized to its last inch, to wander free all alone along a dirt path, passing the occasional buffalo, and into an unswept, unkempt architectural gem of a 12th century temple is an experience to savor. For me at least, it provided a truer connection through time than rigidly proceeding in one direction behind the ubiquitous red velvet rope while ambivalent workers in security uniforms gaze disinterestedly back at you and closed circuit cameras record every second of the boredom.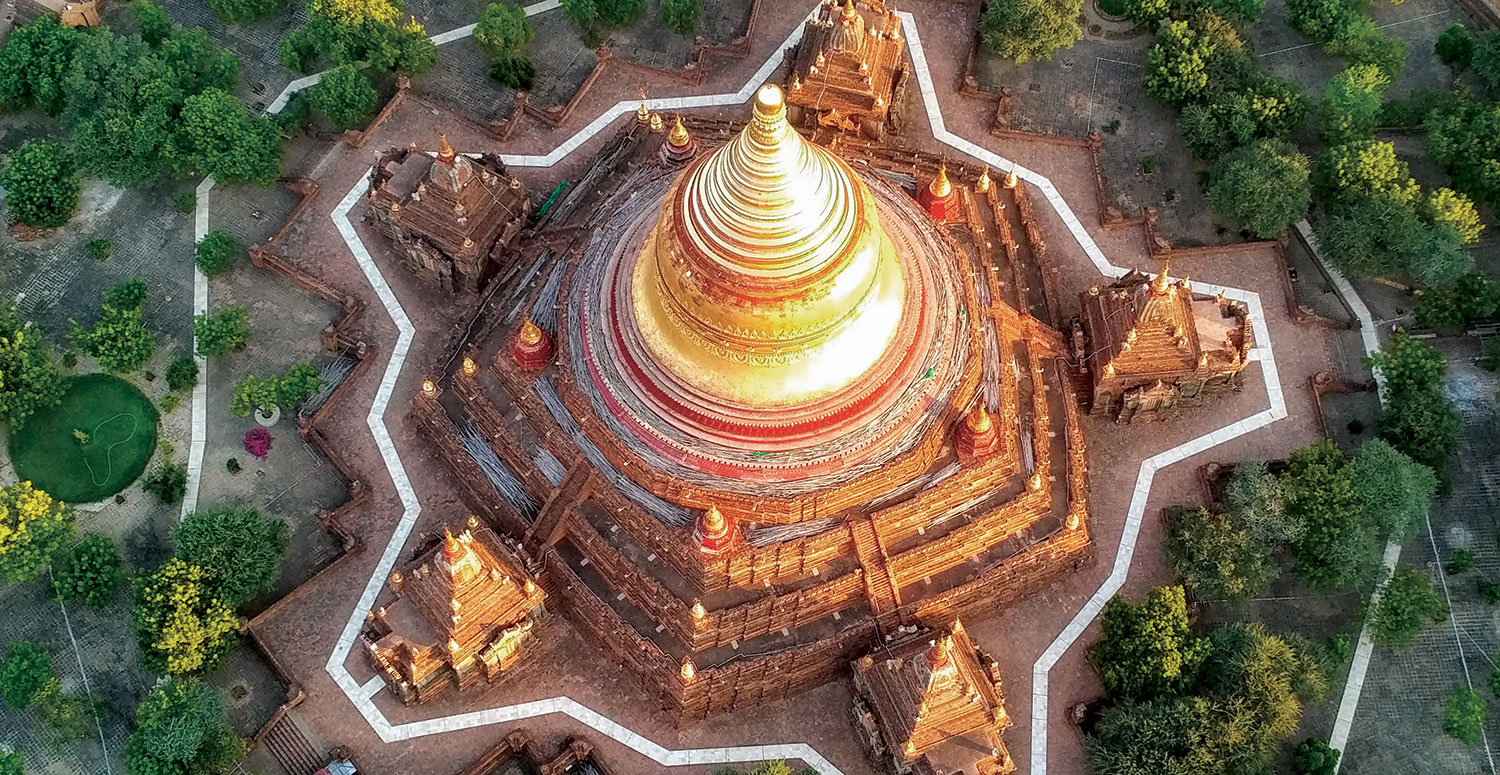 Arguably the best way to see Bagan in its splendid entirety, and certainly in the most unforgettable fashion, is to enter the basket and take a hot air balloon trip. To glide high in Asia's dawn light over the Bagan plain and gaze upon the litany of temples is to marvel over life, time, and this planet. Three separate companies run flights from October to April leaving at dawn and floating gracefully across the plains for 45 minutes to an hour during sunrise. The price is high but the experience is life-memorable, and as you rise you pass over the Bagan golf club allowing you to plot a course for a late morning round—hopefully avoiding the architectural hazards you have come all this way to treasure.