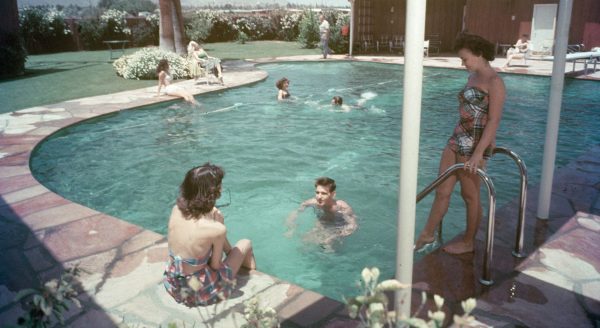 Palm Springs, My Way
The playground of Hollywood's elite for decades, Palm Springs still has that lucky old sun, and a whole lotta stardust.
It's an inevitable truth of any party that if you keep at it long enough, the sun will eventually rise on the revelry. Which, for a party, is the same thing as the sun setting, metaphorically speaking. In the case of Palm Springs, the sun started to creep over the horizon sometime in the late 1960s, but somehow it never really rose all the way, and so the party hung on, long past the point where a graceful exit was possible.
In the last ten years, the party has started to heat up again, but nothing like it was in its heyday. Those days were gone the moment discretion became unfashionable.
Playground and hideaway for Hollywood's Golden Age royalty in the best of times, Yesteryear's celebrities didn't sleep where they ate, so to speak. The work was in LA; Palm Springs was where it all got real, and when the drinks were flowing who knew what could happen? The desert was where playful stars lived by Elizabeth Taylor's maxim that "The key to having a private life is to keep some things private." They wanted their fun in the sun, but out of the spotlight—unlike today's hot young things, who have no desire to hide their vices away in some desert oasis. Ironically enough, the stars of today have nothing on the parties of yesteryear. Guys like Kirk Douglas, Bob Hope, Cary Grant, Errol Flynn and, of course, Frank Sinatra defined trouble in tuxedos long before rock 'n' roll, drugs and blue jeans took over.
It was Sinatra, most of all, who found his place in the desert. And today, while you're unlikely to see the latest top-of-the-charts singers entertaining current celebs in a local club on a Friday night (it's more likely the same crowd as 40 years ago), you can still find a bit of his magic around town.
Frank is no longer with us, but many of yesterday's stars still call the area home, still dress the part, still take their martinis up and still have no time for suckers or squares. You're welcome to join them, but you're not going to impress anyone. These people were there when Frank, Dino and Sammy were playing The Sands in that better-known oasis to the north, and when Marilyn Monroe was melting hearts at the bar. You're late to the party, and they are many, many drinks ahead of you. So if you want to see what's left of Rat Pack Palm Springs, let's get to it…
You'll come in from the west if you're coming from LA, and it's a fun drive—just look out for the odd cop or two sweating it out on the left closer to town. When the walls of Chino Canyon and the aerial tram station come into view, you'll know you're there. This is the way Frank would've come into town, and all the others before him. Palm Springs was happening since the late '30s, when the film people from Los Angeles figured out that the area made a great Shangri La (1937's Event Horizon), Sahara Desert (Sahara, 1943), Mexico (many films), Persian battleground (1953's Veils of Bagdad) and so on. Later they even decided it made a great Palm Springs, as celebrated in 1963's rompy Palm Springs Weekend, a lot of which was filmed at the Riviera Palm Springs resort, where Elvis Presley used to stay and record with his band before heading out on tour.
Shelter
The Riviera should definitely be on your short list of places to hole up psriviera.com, and finding a place to stay should be your first order of business. It doesn't pay to hang around in the sun too long, and the better local hotels will keep you covered with those two desert staples: a cold pool and a good bar.
The Riviera has both, and just finished a major renovation that was kind to businessman Irwin Schuman's Desert Modern resort but which still managed to result in enough modern flair to satisfy the current jet set. You'll get into a room here for something like $150 a night mid-week, closer to $350 for high season weekends, and quite a bit more than that for the room Sinatra liked: the Presidential Suite. The pool is right out of a photo shoot and the Starlite Lounge and Bikini Bar both do the job when it comes to libations. There's a restaurant as well, so you won't starve.
Another good option is the Viceroy Palm Springs viceroypalmsprings.com. The four-acre property opened in 1933 as a bungalow hotel, a kind that was common at the time. Young Angelenos have been flocking here during Palm Springs' rediscovery, and the place can attract a rather frustrating crowd of people who talk loudly about their supposed agents and upcoming film deals. But if you manage to snag a room or bungalow in the "old sections," namely the courtyards to the left or right of the main building, it's heavenly. Here it's all about old-school lazy days, gazing up at the palms and relaxing poolside with a drink. The on-site spa isn't bad either, and the Citron restaurant is one of the best in town. John or Buddy will take care of you at the bar, while manager Don will see to your every need. Highly recommended at near $200 per night, which can include a "Breathe Easy" package rate that gets you 25% off everything—and yes, that means steaks and martinis as well.
Twin Palms
True Sinatra fans will eschew the hotels in favor of Twin Palms, Frank Sinatra's first estate in Palm Springs sinatrahouse.com. The place was built in 1947 at 1148 E Alejo Road by Mid-century Modern master E. Stewart Williams for Frank and his first wife, Nancy Barbato. Sinatra actually ended up living here with second wife Ava Gardner, and now the four-bedroom, seven-bath gem is available to rent for $2,600 per night (with a three-night minimum). It should be said that Twin Palms (which, funnily enough, features two palm trees standing tall over the piano-shaped pool) isn't just a house, it's a part of history. Frank used to run a Jack Daniel's flag up a pole at 5pm to let his neighbors in the Movie Colony neighborhood know they could come around for cocktails. The home hosted better parties than you've ever seen, and has a few personal touches that were left alone during renovations. The most notable: A cracked sink in the bathroom, where Frank reportedly threw a champagne bottle in anger after a fight with Gardner. She'd attempted to catch him in bed with Lana Turner, he grew furious, threw all of her belongings into the driveway then hurled the bottle into the sink, where the crack remains. That's the story, anyway.
Chi Chi Club
There are a lot of stories, and some are even true. One of our favorites has to do with a club that, sadly, is no longer around, and a recording that practically defined a performer.
The record is called Eartha Kitt, In Person At The Plaza, and though it likely did the most to capture the sizzle of her live shows, the title is all wrong.
RCA, which released the album in 1961, was concerned that fans wouldn't have heard of the actual venue where Kitt laid down such hits as C'est Si Bon and Champagne Taste in such startlingly sexy brilliance, and so they implied that it was recorded at the Plaza Hotel in New York, a celebrated venue at the time.
The actual stage was just too hip, too off the map for average Joes, even if it was wildly popular with the "in crowd." Anyone who was anyone knew the Chi Chi Club in Palm Springs. Another Irwin Schuman property, this hep spot was only one of many places in the desert where Sinatra, Monroe and other larger-than-life stars used to ring-a-ding-ding it till the wee hours. Desi Arnaz performed here with wife Lucille Ball in the audience. Sammy Davis, Jr., had a show here, as did Mae West, Milton Berle, Carmen Miranda, Mel Tormé, the Andrews Sisters and a huge cast of others. Dean Martin, Humphrey Bogart and Errol Flynn dined here; Liberace—a startup in the club's early days—was paid $1,500 a week to play here. Cary Grant liked dropping in to see the entertainment and mobster Sam Giancana was a regular sight as well. The Chi Chi Club is also where Sinatra reportedly started his affair with Gardner. As the story has it, he was dancing with Lana Turner at the time, and Gardner was dancing with Howard Hughes. The bandleader shouted, "Change partners!" and there you go.
The hub for top entertainment in the west for decades, the Chi Chi Club was torn down in 1977. Today in its place there's a largely vacant shopping center called the Desert Fashion Plaza, which is currently slated for redevelopment. The club fell to Palm Springs' fading fortunes in the 1970s and '80s, and it wasn't alone. But fans of the swingin' set should take heart: Evidence of old-school Palm Springs endures:
Melvyn's
Inglesideinn.com/melvyns_restaurant
We're not sure if Melvyn's Restaurant and Casablanca Lounge is a living museum of the best time you never had or a monument to party-goers everywhere, but we do know that it's a singular experience and one not to be missed. The restaurant sits on the grounds of the historic Ingleside Inn (which hosted Salvador Dali, Howard Hughes, Spencer Tracy and others) and, though it "only" dates to 1975, manages to preserve a slice of "cocktail hour" Palm Springs not readily visible in quite such an old-school form. The food in the dining room is well reviewed, but the real action is in the Casablanca Lounge piano bar. You'll see dinner jackets, furs and diamonds, some seriously heavy makeup and crazy suits. You'll also see the odd celebrity from back in the day, and perhaps a young hipster checking things out. Word to the wise: The Gimlets are lethal.
Lord Fletcher's Inn
Lordfletcher.com
Another desert peculiarity, this self-styled "Olde England" country-style restaurant serves up Prime Rib and Rack of Lamb, along with heavy wines and European castle-like décor. It's actually in Rancho Mirage, just up the street from Palm Springs, so why do we care? Because Frank liked it. He especially liked the table by the fireplace, over which an oil painting of Ol' Blue Eyes now hangs.
Rico's Barber & Styling
333 S Indian Canyon Dr.
760.322.2541
Rico doesn't have a website, because he doesn't need one. This guy used to cut hair for Sinatra, Dean Martin and the rest, and for something like $18 he'll cut yours as well. Just don't ask him to sing.
Wolfson Park
Sinatra's second Palm Springs-area home—which he shared with his wife of 22 years, Barbara—was a proper compound in Rancho Mirage, with several guesthouses named after his hits, a barbershop, sauna and other amenities. In 1962 he built a helipad and installed a couple of dozen telephone lines in expectation of a visit from President John Kennedy, but the Commander-in-Chief didn't like the rumors of Sinatra's mob associations and so he chose to stay down the street with Bing Crosby instead. Sinatra was reportedly enraged, and supposedly smashed up the helipad with a hammer before turning it into a garden. The house sits behind a huge wall and isn't visible, but just down the street, on Frank Sinatra Drive, there's the charming Wolfson Park, which Frank is supposed to have liked. It's a bit of an oddity in that it features a machine with a button on it that, when pressed, emits a welcome message from Sinatra himself.
There's also one from Dinah Shore (she also lived nearby). The message offers, "Hi, this is Frank Sinatra. The city of Rancho Mirage, an oasis in the desert and the playground of presidents, welcomes you to Michael S. Wolfson Park." If you persist it mentions something about bighorn sheep in the vicinity.
Golf
Sinatra and his pals loved golf, and whenever they were in the Palm Springs area they would make sure to get out on the course. The Thunderbird Country Club in Rancho Mirage was popular, and it's still around thunderbirdcountryclub.com. The site of the original Bob Hope Classic (now the Humana Challenge Golf Tournament; see sidebar on page 46), the Thunderbird is one of the oldest courses in the Coachella Valley, and it's a gem. Likewise, the Arnold Palmer-designed Classic Club in Palm Desert was also the site of the Bob Hope Chrysler Classic and, true to its name, provides a beautiful, old-school experience (classicclubgolf.com). Lastly, the Canyon Country Club 760.327.1321 was one of Frank's favorite places to play (though it's said that Dean Martin was the only member of the Rat Pack who really enjoyed golf). The course opened in 1962 and is a Mid-century standard designed by William Bell.
Desert Memorial Park
Located in Cathedral City, this is where the party in Palm Springs ended for Mr. Sinatra. He was laid to rest on May 20, 1998, in section B-8 of the park, near family and friends. His memorial is visible, and features the inscription: "The Best is Yet To Come."