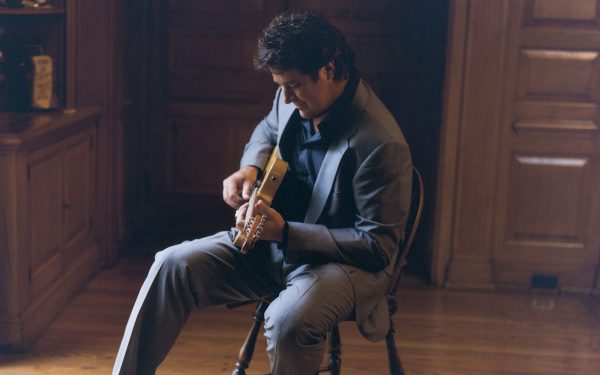 Playing Country
"Anything you want to add?" I ask, preparing to put my notepad and recorder away. Relaxing backstage before a gig in Santa Ynez, California, country music star Vince Gill thinks for a second, then lights up and enthusiastically offers, "Long live the King!" Famous as a musician and humanitarian, Vince Gill is also a killer on the golf course. This October, he spared us a few minutes for a pre-show chat about golf, life, music and his favorite celebrity golf partner. Long live the King, indeed.
There's a moment in vince gill's set in which the singer pauses to recount an anecdote that involves golf. It's a telling break in the music, because it appears that even in the middle of a show the country music legend can't get the game completely off his mind. That makes sense, because to maintain a 1 handicap in a life filled with concerts, television appearances, family and numerous humanitarian efforts, if you weren't playing golf you'd have to be thinking about it. Vince Gill thinks about it a lot.
"The running joke is that you're not allowed to book us where it's under 55 degrees," says the energetic performer, who hits the course as often as possible when he's touring. "I've stayed consistent. I played a lot, just because I really love the game and because a music career is mostly a nighttime event."
If you haven't heard of Vince Gill, you haven't turned on a radio or television in a long, long time. The genial Oklahoman with a beautiful tenor and fantastic skills on guitar has sold more than 26 million albums, earned 19 Grammy awards and 18 awards from the Country Music Association. His songs are the kind of honest, straightforward country your granddaddy liked (though he's happy to push the envelope) and his personality is effortlessly comfortable. He's married to top Christian singer Amy Grant, tours with his daughter Jenny Gill (who has a lovely voice as well), he's a member of the Country Music Hall of Fame and—as we've already mentioned—he's one heck of a golfer, playing to a 1 handicap and setting a course record at Tennessee's GreyStone Golf Club with a 62.
"The first place I ever played golf, was with my dad," says Gill. "He took me to this little 9-hole place, and the greens were made out of cottonseed hulls—the consistency of mulch, a real fine mulch."
Gill said the groundskeeper had rolled a section of the green flat and hard so it would be playable. A string tied to the flag was used to measure the distance from the pin to where the ball landed on the unplayable mulch-like green, and then the ball was moved to the relative position on the playable bit.
"I've played Pebble Beach and Augusta and all of the great places in the world, and that's always going to be the neatest one of all, I think, just because it was with my old man. It was funky, and it was pasture pool at its finest."
A Knack For It
Gill's father was an administrative law judge who moved the family from Norman to Oklahoma City when Gill was 4 years old. According to the singer, "he was a weekend warrior… He probably liked shooting pool more than he did playing golf."
That said, he encouraged Gill to pick up the game—and to pick up a guitar. By the time Gill reached high school, he was proficient not only on guitar, but on banjo, bass, mandolin, dobro and fiddle. His game was doing as well, with Gill playing competitively at the age of 10 and breaking 80 before junior high, mostly playing on the local Lake Hefner Golf Course.
"We had a big playground across the street from our house growing up, so I could stand in our yard and hit balls over to this big empty schoolyard. I just had a knack for it and a love for it," he says.
"And as a junior golfer, we started competing in the third grade. We had these play dates two or three times a week, and you'd go out and play nine holes and somebody would be a medalist, get your name in the paper. All of the public courses were supportive… If you were a junior golfer, you could have a daily green fee for 50 cents or 75 cents or something like that.
"My mother still talks about what a great babysitter the golf course was: 'I gave you $2 for the green fees, a cheeseburger and a Coke and you could play 36 holes and I'd pick you up when it was dark. That's pretty cheap babysitting.'"
Career
Any thoughts of going pro were eclipsed by his focus on music, a pursuit that became official when, after graduating from high school, Gill packed up his guitar and left home to play with a bluegrass band in Louisville, Kentucky. Later came Los Angeles, along with stints as a musician for a host of bands, including Ricky Skaggs' Boone Creek band and Rodney Crowell's Cherry Bombs.
A deal with RCA in 1983 got his solo career rolling, a couple of Top 10 hits followed soon after on his debut record, and it's been gangbusters ever since. In addition to his prolific solo career, he's recorded numerous duets with such artists as Reba McEntire, Dolly Parton, Emmylou Harris, Barbra Streisand, and wife Amy Grant, among others. In 2006, he released a four-CD set featuring 43 new recordings split among four musical styles.
He hosted the CMA Awards for 12 years in a row—a testament to both his affability and to his work ethic—tied legend George Strait for the most CMA Male Vocalist Awards (five) and, if that wasn't enough, he once turned down an offer from Mark Knopfler to join rock group Dire Straits as a full-time member.
The Vinny
Through it all, he never stopped golfing. And in 1993, Gill found a way to bring his two worlds together when he created the Vinny Pro-Celebrity Golf Invitational, which raises money for the Tennessee Golf Foundation. In addition to being a labor of love for junior golf, the tournament was created to be a lot of fun.
"I played in so many pro-ams… And I remember a tournament that [guitarist] Glenn Frey and [pro golfer] Mark Lye did, and it was one of the first times I went to a tournament that was really a blast. Sometimes they can be a little corporate… And then they did this tournament where they had a concert afterward and the whole town came, fifteen- or twenty-thousand people, all to see Glenn and Jimmy Buffett, and we all played music. I said, 'this is a fun way to do this.'"
Thus, the Vinny was born. Now in its 18th year, the tournament and Gill's efforts have raised money for Tennessee junior golf and for a host of other programs, including the First Tee and, in at least one case, a small rural course in need of a crucial piece of grounds-keeping equipment.
"One of the first years we raised a little bit of money and we spread it around how we saw fit. A little 9-hole course somewhere called and said, 'We could really use a mower.' So the money went to buy a mower for this golf course. And the goal was not to turn out the next Arnold Palmer or Tiger, it was just to give the kids an option.
"I really believe in young people, that if you give them an option that's a good one, they'll take it," Gill says. "A lot of kids get in trouble because they make bad choices, but they also are not presented with any good ones. So if all you've got are bad choices to make, you're not going to have much of a chance."
Celebrity & The King
With Gill's enormous success and popularity (and his skills on course) you'd think he'd be able to golf with just about anyone he likes—and you'd be right. Gill has played with a number of Tour players and says he enjoys the challenge, but you might be surprised to find that most of his regular golf partners are just his buddies, not a bunch of celebrities. Of course, there are exceptions…
"I can't believe that I've had the opportunity to play golf with as many of the greats as I have, but the days that I've played with Arnold, they're easily my favorite," says Gill.
"So I'm out there playing pretty hard, and I don't know how many years ago, maybe 20 years ago, I played really well that day but I missed a putt on the last hole, and I think I shot a 68—you shoot four or five under par playing with the King it's a heavenly day. So I missed this birdie putt and shot a 68. Arnold had about a 10-footer for birdie, and he ran it in and looked at me and winked. He'd shot a 67! He knew that I knew what he'd shot, and he knew that I knew that he knew what I'd shot. And it's just that kind of thing—when I get those opportunities, I just pinch myself and go back to the days when I started beating balls and wanting to play golf, and did I ever dream I'd get to play with some of those guys? No I didn't, but it sure has been fun."