Still marching strong: Arnie's Army
The Arnie's Army Charitable Foundation carries on the work that Palmer started, and there's never been a better way to stay engaged with the man who gave so much to golf—and to life.
In the years before he died, Arnold Palmer set to work establishing a philanthropic organization that would ensure the work that he and his family, and particularly he and his first wife Winnie, had started would continue on, growing and supporting others for years to come. The result: Arnie's Army Charitable Foundation (AACF), which exists to provide financial support to institutions and organizations that support the well-being and development of children and youth, to support health and wellness initiatives, and to strengthen communities and the environment. Today overseen by Palmer's daughter Amy Saunders and run by a top team of professionals dedicated to its causes, AACF is poised to have a major impact on many lives, all in the name of a man and a family with a legacy of bettering the world.
Palmer was of course committed to all of the above, but he believed that strong communities begin with instilling key core values in youth. "Making a positive change in the life of a child or young person is the most significant thing you can do," he once said. Accordingly, AACF does much to support youth causes. In parallel, that support extends to child health care (and beyond), with key support going to the Arnold Palmer Medical Center in Orlando, Florida, which is comprised of Arnold Palmer Hospital for Children and Winnie Palmer Hospital for Women & Babies and the Howard Phillips Center for Children & Families.
Beyond just the Central Florida community, those resources serve families from all over the world, with notable achievements in Neonatal Intensive Care and in saving/nurturing babies born prematurely. Arnie was a strong advocate for health, promoting children's well being along with cancer awareness and general fitness, and Arnie's Army is devoted to ensuring his commitment endures on this point.
Palmer's first wife Winnie was devoted to family health as well, and she was also a caretaker of the environment. In addition to her other efforts, perhaps the best example of her commitment in this regard is found in the Winnie Palmer Nature Reserve in Latrobe, Pennsylvania, 50 acres of protected land by the town's beautiful Saint Vincent College. Featuring numerous learning opportunities for children and adults, hiking trails and native plantings, it is a tranquil place in which to reflect and to contemplate the gifts nature offers. As an educational resource, it adds great value to its community as well, with five undergraduate research studies completed on the Reserve grounds since 2008. It is but one example of the ways in which AACF is devoted to the environment and to ensuring that we leave a better world for future generations.


Driving and supporting Arnie's Army is a well-established network of operations, including various golf tournaments and other efforts. Among them, the Arnold Palmer Invitational Presented by MasterCard is one of the PGA TOUR's most beloved stops. Similarly, the Ryder Cup-style Arnold Palmer Cup, which sees the top 10 collegiate players from the United States and Great Britain & Ireland face off each year, is helping to grow and to support the game in a great-spirited competition that, as of 2018, will feature both men and women golfers. The following year, in 2019, the competition will be hosted at the famed Alotian Club in Arkansas. Designed by Tom Fazio and built by noted Little Rock businessman and Club Chairman Warren Stephens, the club is a lauded but reserved venue and so hosting the event is quite a special affair—but then Stephens recently offered that saying "no" wasn't an option.
Speaking in November during his acceptance into the Arkansas State Golf Association Hall of Fame, the President and CEO of Stephens, Inc., explained how the tournament came to Alotian:
"Mr. Palmer called and asked me if the Alotian would do it," he said. "What do you say to that? You say, yes. I told him what you've done for golf, and what you've done being nice to me and the friendship with Dad, the answer is yes."
Stephens' father, Jackson T. Stephens, chaired Augusta National from 1991 to 1998, and he and Palmer became friends. The tournament is sure to be extra special in 2019 due to the incredible venue.
Also in terms of tournament and event support for AACF, Arnie's March Against Children's Cancer bridges the Arnold Palmer Invitational Presented by MasterCard and the Arnold Palmer Medical Center with a family-led initiative that raises funds for cancer research and clinical trials at the Arnold Palmer Hospital for Children, while numerous other family and golf initiatives also further the causes near and dear to Arnie's heart.
To find out how you can help Arnie's Army Charitable Foundation with its numerous goals and worthy pursuits, please visit arniesarmy.org.
Arnold Palmer Apparel Company
"It's been a labor of love for me," says Mike Shea, chairman and CEO of Arnold Palmer Apparel Company, the new line of golf and leisure wear recently created on an "all profits to charity" model that benefits Arnie's Army Charitable Foundation. Shea and his partner have been making quality sports apparel for a number of brands and clients for more than 25 years with their Sport Casuals company, and when the idea of doing a line with Arnold Palmer came along the businessman said he was inspired. Like Newman's Own, the line of products from actor Paul Newman that supports numerous causes via sales, Shea said a light bulb moment of sorts hit him at dinner one night when he was considering an Arnold Palmer line of apparel and the Arnie's Army Charitable Foundation.
"I was home having dinner, I reached for the salad dressing, it was Newman's Own, and on the label it said 'All profits to charity,' and I thought we could do this, what if we were to give all profits to charity?! After that, everything seems to have fallen into place, it's been terrific."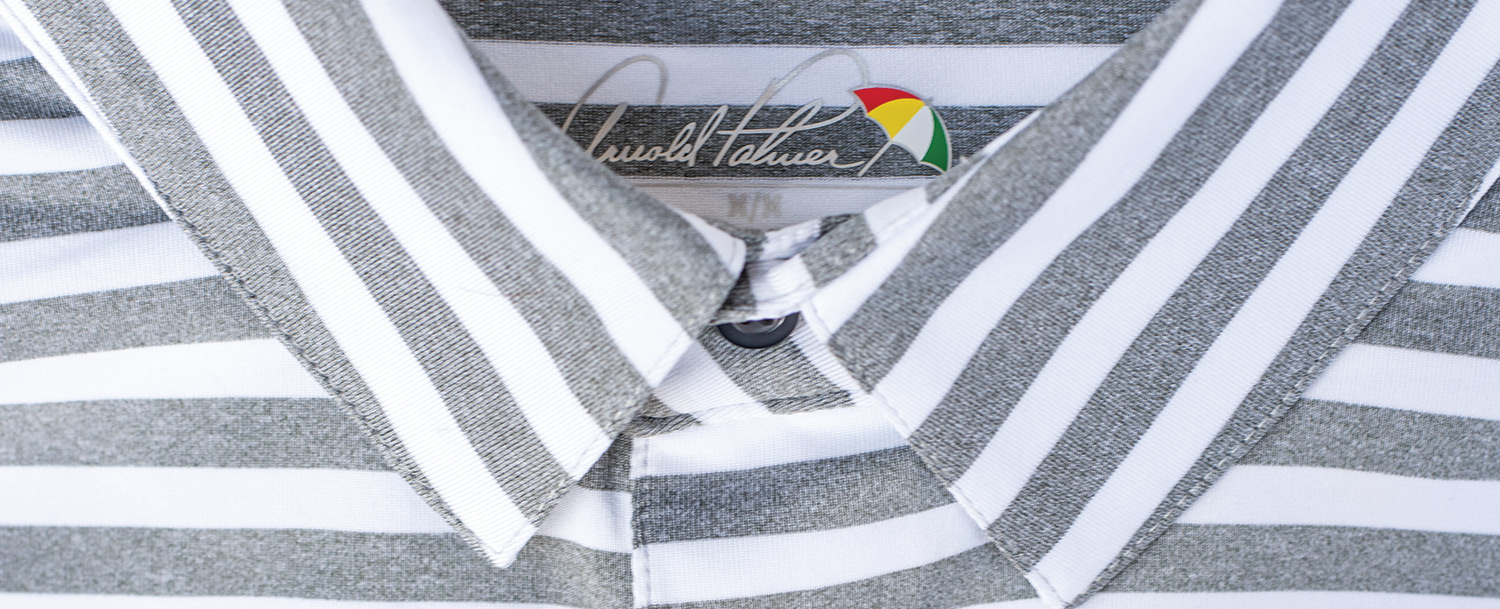 With modern designs inspired by the classic cuts and lines Arnie himself wore, the line of shirts, pants, shorts, jackets and more utilizes the latest performance fabrics and technologies to ensure it's on par with other leading brands. With a price point above "private label" brands but below the upper limits of golf retail, "we're right where Mr. Palmer would want us, accessible to the everyday golfer but with high-quality pieces that look great—and it seems to be resonating," Shea says. Arnold Palmer Apparel is available at select Dick's Sporting Goods locations, Golfsmith, PGA TOUR Superstore and others, as well as being available in premiere resort shops like those at Pebble Beach, Bay Hill and others. Find out more online and help Arnie's Army Charitable Foundation by looking your best on course—or as Shea has it: "Look great, do good."
arnoldpalmerapparel.com/apparel
The Arnie's Army Story As told by Arnold Palmer
It was 1959 when I first saw the words "Arnie's Army." I only wish I knew the name of the young man who was clever enough to coin the phrase. I was the defending champion at the Masters that year, and, as he always did in those days, Clifford Roberts—Augusta National's co-founder along with Bob Jones, used GIs from nearby Camp Gordon (now Fort Gordon), the military installation where Cliff spent two years as a young soldier, to work the scoreboards.
Many people don't realize that the Masters was not a sellout in those early years. Anybody with five dollars could walk up to the gates and buy a ticket for the day. Elementary school teachers had boxes of tickets on their desks with signs reading, "Masters Tickets: Please Help Support Our Town." Cliff wanted as large a gallery as he could get that year since the Masters was being televised for the second time, so he gave free passes to any soldier who showed up in uniform.
A lot of the soldiers did not necessarily know a lot about golf, but when they found out that I was defending champion they joined my gallery. That prompted one of the GIs working a back-nine scoreboard to announce the arrival of "Arnie's Army," which is what it looked like. I can't remember another time, other than my stint in the Coast Guard, when so many uniformed soldiers surrounded me. A year later, when I won my second Masters title, I thanked the "army" of supporters who came out to follow me.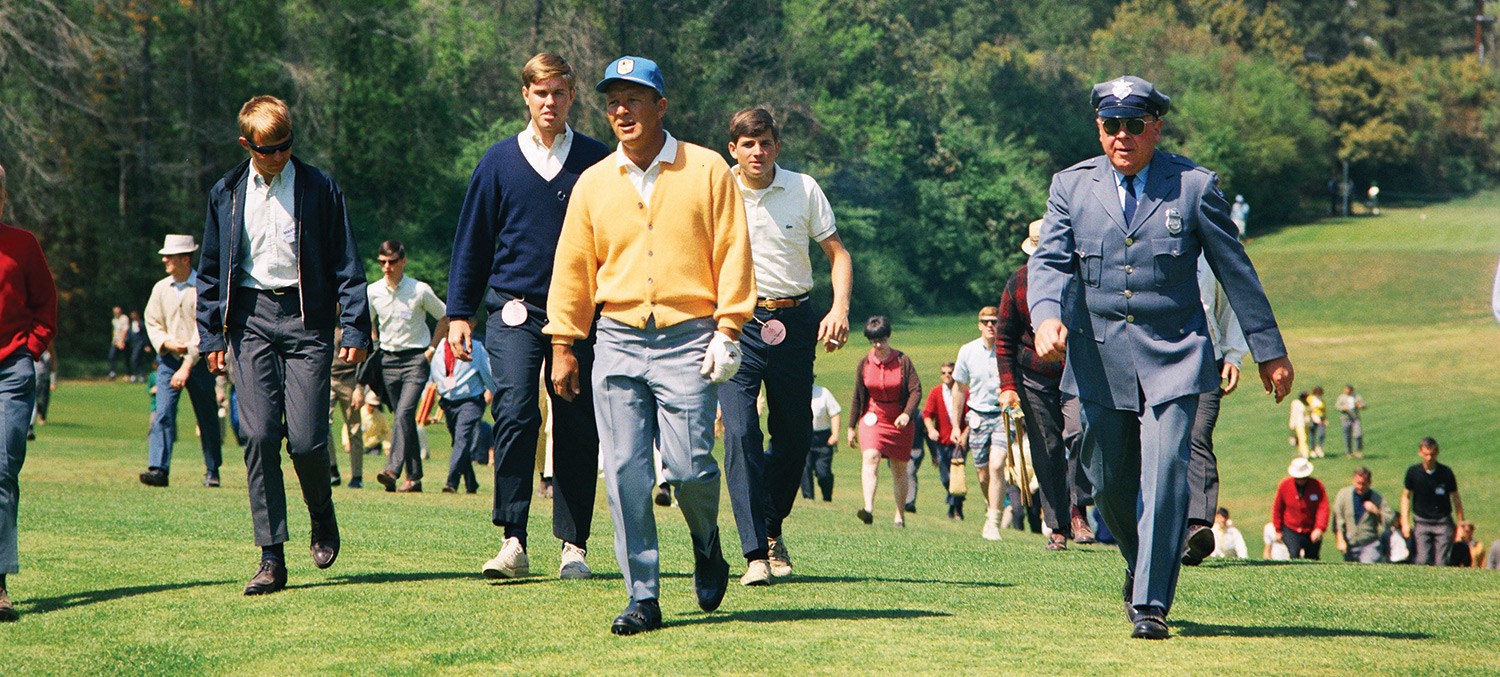 Johnny Hendricks, a reporter from The Augusta Chronicle, picked up on the phrase and ran the headline "Arnie's Army" for the first time. Boy, did it ever stick! Before I finished my playing career I think every newspaper, magazine, or television station that covered golf used the phrase at least once.
In 1960, during the U.S. Open at Cherry Hills in Denver, the gallery was back in my corner like never before. After the third round on Saturday morning I trailed the leader, Mike Souchak, by seven strokes. I knew I could catch him.  That afternoon my "charge" began and my "Army" was there supporting me. I birdied the first four holes and by the time he reached the fifth tee, it seemed like everyone at Cherry Hills was rooting for me to win. I went on to shoot 65, the lowest (at that time) final round score in U.S. Open history, for a total of 280.  I won my first U.S. Open having completed the largest comeback in the 65-year history of the Open.  The cheers of the crowd that day will always be among my greatest memories. I know the support of Arnie's Army had as much to do with my winning the championship as the shots I played.
When I was a boy learning to play golf in my hometown of Latrobe, Pennsylvania, I never could have imagined that one day I'd have an "Army" of fans or that people would call me "The King" of the sport I love. For me, it started with a dream—to play the game with unmatched perfection. As I pursued that dream you were there with me every step of the way, at every tournament, in every town, cheering me on, united as Arnie's Army.
I believe that the members of Arnie's Army are leaders far from the fairways; that they always do things the "fair way." I believe Arnie's Army knows that in order to make a better future for all of us, the children need our support. We need to ensure a bright future full of opportunities for everyone. Golf gave me the opportunity to make a significant impact in the world, to invest in a better tomorrow. For those of you who followed me during my life, I am eternally grateful for that. But now I'm calling on you—all of you—to join me again. We have more work to do. Join me. Join Arnie's Army.