The Magic Kingdom of Golf
Families the world over know Disney as a premiere source of magical entertainment that delivers pure joy to young and old alike through dynamic creativity and engaging stories and characters. Fewer realize that Disney's magic touches some of the finest fairways and greens in Florida, and that there's a whole world of golfing wonder waiting to be discovered at Walt Disney World® Golf. With 54 holes of golf over three18-hole championship courses and a 9-hole family-play golf course that's an adventure in its own right, the resort is one of the most unique golf resorts in the country. Managed by Century Golf Partners through Arnold Palmer Golf Management, these courses offer professional challenges and family fun alike, simultaneously serving up high-quality play while remaining true to the Disney ethos. Make no mistake: this is serious golf, with the Resort's Magnolia course hosting final round play for PGA TOUR events from 1971 through 2012 and the Lake Buena Vista course hosting PGA, LPGA and USGA Tour events in previous years. But through the magic of Disney, with a little help from the Arnold Palmer Design Company on the Palm Course, the courses are also tremendous opportunities for family play, with golfers of all ages and abilities left smiling after the last putt.
Though many people might not immediately associate Disney and golf, the company's relationship with the game began the same year Walt Disney World® Resort opened in Florida: 1971. That year, Disney's Palm and Magnolia courses opened to great fanfare. Both were designed by "Gentleman" Joe Lee, who also designed the course at Palm Beach National and the original course at Bay Hill (with Dick Wilson). The Lake Buena Vista course came the next year, opening adjacent to what is now the Downtown Disney® Area and Disney's Saratoga Springs Resort & Spa. Some years later, Disney premiered what was then a new concept in golf when it opened the PGA Tour Wee Links Course in October, 1980. With six holes and a par of 23, the course was intended for newcomers to the game, and it always aimed to be a great place for family fun. Over the years it developed into a 9-hole track that's now known as Oak Trail, but the family fun hasn't changed a bit. Together, all of them comprise a whole new kind of kingdom, and golfers the world over—especially Palmer Advantage Golf Magic Members—couldn't be happier.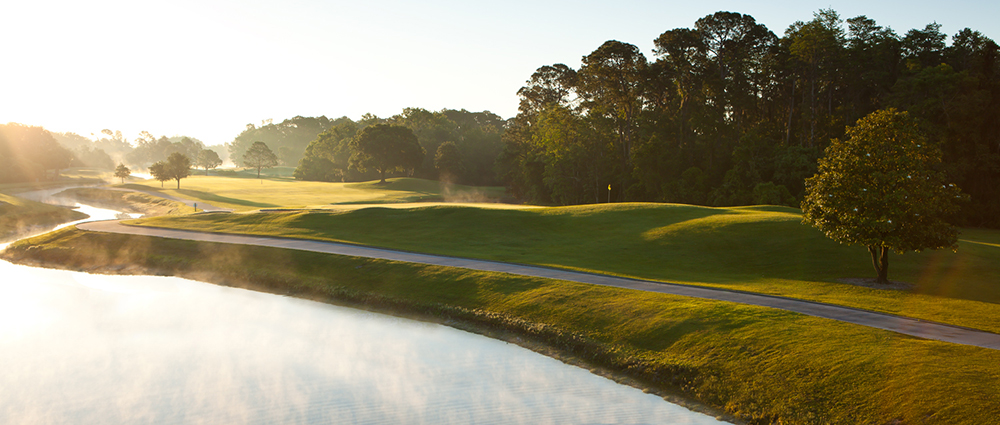 Disney's Magnolia Golf Course
While there are numerous well-known courses in golf, there are relatively few specific sites in the game instantly recognizable both to fans and to non-golfers alike. Among them, certainly, is the Mickey Mouse bunker on the Magnolia Course's sixth hole. Built in the shape of a giant Mickey Mouse silhouette, the sand hazard has fiercely guarded No.6's green from amateurs and pros since 1971, when it opened. In fact, the Magnolia Course opened on the same day as Magic Kingdom® Park, and the course immediately began hosting a PGA TOUR event, the Walt Disney World® Open Invitational, which eventually became known as the Children's Miracle Network Classic. The event was a beloved televised event for many years, showcasing top play and the beauty of the course and the more than 1,500 magnolia trees for which it's named. Joe Lee, who did the original design, came back around in the early 1990s and restored the course to its original standards, adding better grass and improving the ladies tees, among other changes. The greens are generous in size, as are the landing areas, but the challenge here is no animated prank: the elevated greens and rolling terrain are made all the more challenging for serious hitters when combined with the course's full distance of 7,182 yards. And as for the "Mickey bunker," it's one of 97, meaning you don't have to drive to the coast to find the beach—there's plenty of that right here in Lake Buena Vista. All bunkers will be renovated this summer.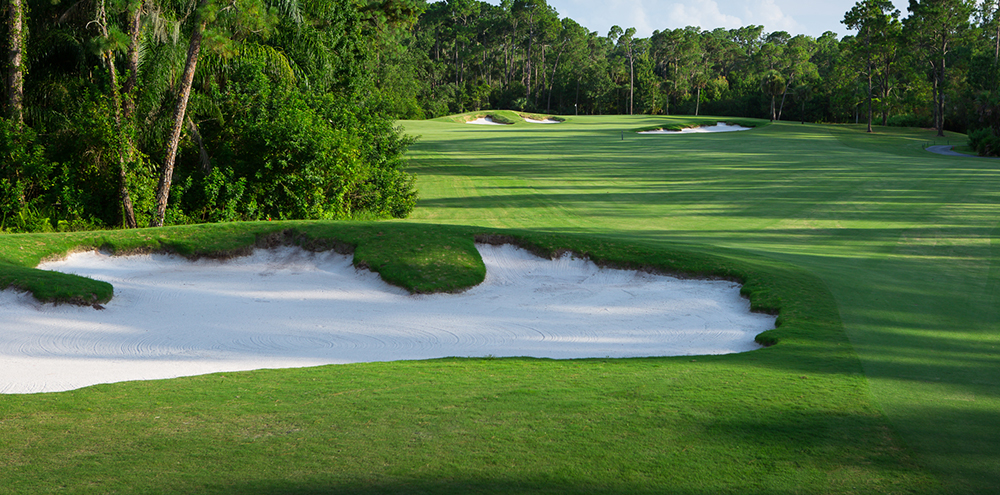 Palm Course
If the Magnolia Course has a novel bunker, the Palm Course—which opened the same day as Magnolia—has traditionally been regarded as a course with exceptional natural beauty. For decades that likely was due to the Palm's stunning array of water and woodland, along with the oh-so-Floridian palms and sand utilized throughout. More recently, the course has been enjoying renewed admiration from a whole new generation following a 2013 redesign by the Arnold Palmer Design Company, which completely overhauled the Palm. All new green complexes were built, newly shaped tees were introduced, and the bunker design was fully changed to modernize the course, while retaining its picturesque natural features, making it an exciting modern classic with an even more classic history. Like Magnolia, the Palm course has hosted its share of Tour events as well, but its reputation as one of the country's top resort courses is the personality that suits it best, and it's no wonder: playing at 6,870 yards, there are as many ways to play this course as there are chances at seeing wildlife among its rolling fairways (that's a lot, by the way). That said, No.18 won't let you leave without a fight. Plenty of length leads to a green protected by sand and water, making for a substantial finish that's been rated among the 10 toughest holes on the PGA TOUR four times since 1986.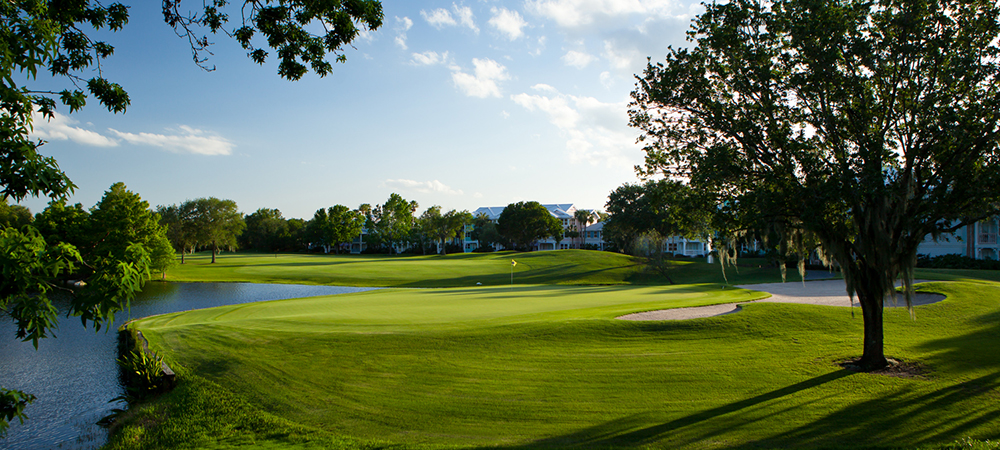 Lake Buena Vista Course
Course architect Joe Lee said he wanted this course to reflect his philosophy of an "exciting challenge, yet fun to play," and it's done just that since 1972. Beautiful, charming and demanding in terms of accuracy, the course is also one of the few to host LPGA, USGA and PGA TOUR events in the same year (1996). Like the other Disney courses, there's plenty of nature to be seen here (this course, Magnolia and Oak Trail are all certified Audubon Cooperative Wildlife Sanctuaries) and the natural Florida landscape is showcased with the Lake Buena Vista's array of pines, palmettos, reflection ponds and more. But added to that, are a few course-specific novelties as well, including opportunities to tee off near boats navigating a canal and enjoying views of a lighthouse while playing. It's a Florida classic, to be sure, and is as much a fond part of a top Orlando vacation as a trip to the Magic Kingdom itself.
Oak Trail
Its original name, "Wee Links," may have been somewhat misleading as this course is far more than a simple family-fun track (though it certainly is that). Playing 2,913 yards (2,552 from the front tees), this par-36 9-hole wonder features holes ranging from 132 yards to 517 yards, meaning every club in your bag can get a workout. The greens are small and challenging, the hazards are quite real and the course's two par-5s are absolutely fantastic. No.5, specifically, is the longest hole on course at 517 yards. With a double dogleg (left then right) to a green guarded by bunkers and by a narrow strip of water along the right side of the fairways, it's a challenge to even the most seasoned pro. Still, the course's aim has always been to welcome new players to the game while offering experienced golfers a place to work on their shots, and so Oak Trail hardly punishes. One of the most popular courses of its kind, the course presents a perfect opportunity for family fun, camaraderie and fitness in a learning environment that's beautiful as well. Bring your love for the game, your friends and family and your walking shoes—this is a walking-only course, and your day will be better for it.
Finally
All of the Walt Disney World® Golf courses offer family fun and great golf in a Florida setting. But each has its own personality, pace and aesthetic sensibility. As fun as they are, the courses are also truly exceptional golf experiences, and it's no wonder that Tiger Woods, Jack Nicklaus, Vijay Singh, Payne Stewart and Mark O'Meara all count wins at Walt Disney World® Resort Golf Courses among their total victories. Whether you're looking to compete at their level or you simply want to put smiles on your entire family's faces, Walt Disney World® Resort Golf Courses offer the kind of magic that only Disney can provide. Now more than ever for golfers, Walt Disney World® Golf really is the "happiest place on turf".