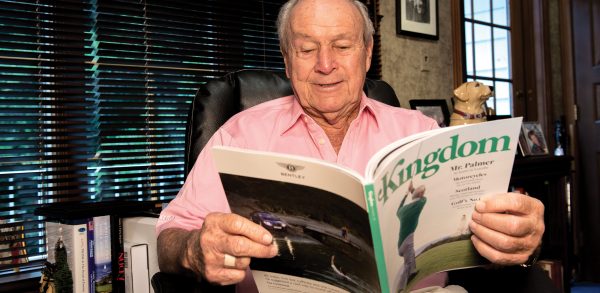 Treasured Times
For all of us at Kingdom it was the greatest privilege to work with Arnold Palmer. We saw first-hand that what other people have always said about him was true: he really did make everyone feel comfortable and happy, and he genuinely cared. Arnold Palmer did not have to be like that but, unfailingly, he was. Here, then, are some personal tributes from members of the Kingdom team.
Matthew Squire
Publisher
About 10 years ago I was invited to join Arnold and the APDC [Arnold Palmer Design Company] team at the opening of the Oceanico Victoria Golf course in Portugal, which is now home to the Portugal Masters on the European Tour. APDC kindly asked me to join their team for an 18-hole competition while Arnold toured the course and played a few holes with each group. It was a shotgun start and although it was midway through our round, when Arnold joined us we were playing Oceanico's 17th.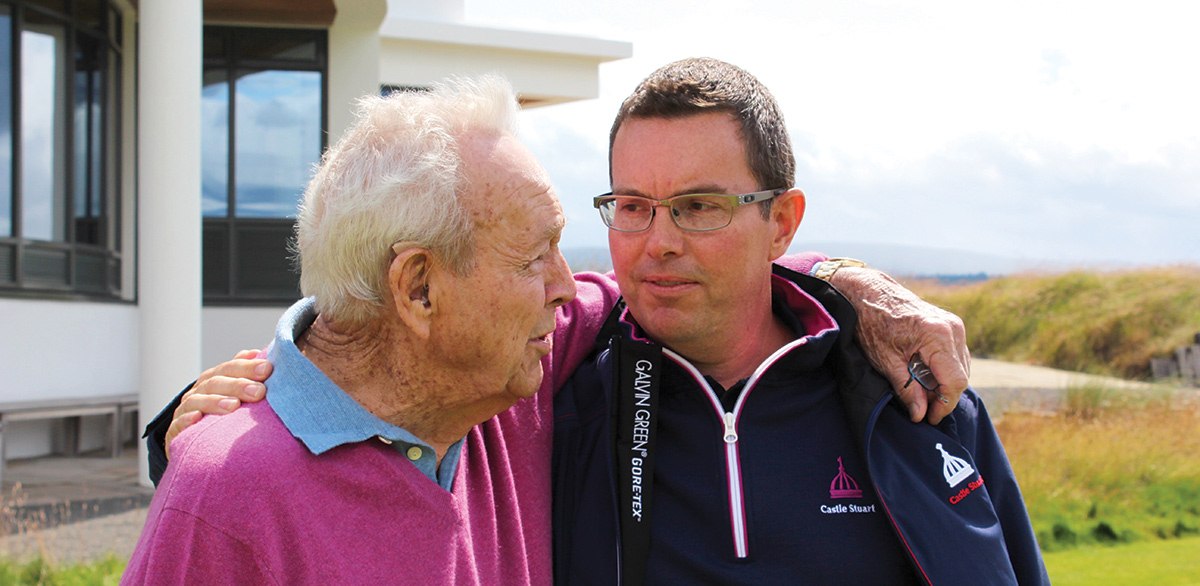 On 18, Arnold blocked his second shot into heavy rough to the right of the green, about 40 yards from the hole. The ball was so deep-set in the long grass you could hardly see it, and if Arnold could get the ball in the air he would need to clear a stream that ran in front of the green. Arnold stood there, quietly shaking his head. We wished him well. He didn't say a word. There was a back-left pin position so the ideal shot was to find the middle of the green and let the contours bring the ball down to the hole.
Arnold hit this shot and I will never forget it. The ball popped right out of the heavy lie, landed softly on the green and ran down, straight into the hole for a birdie three. It was incredible.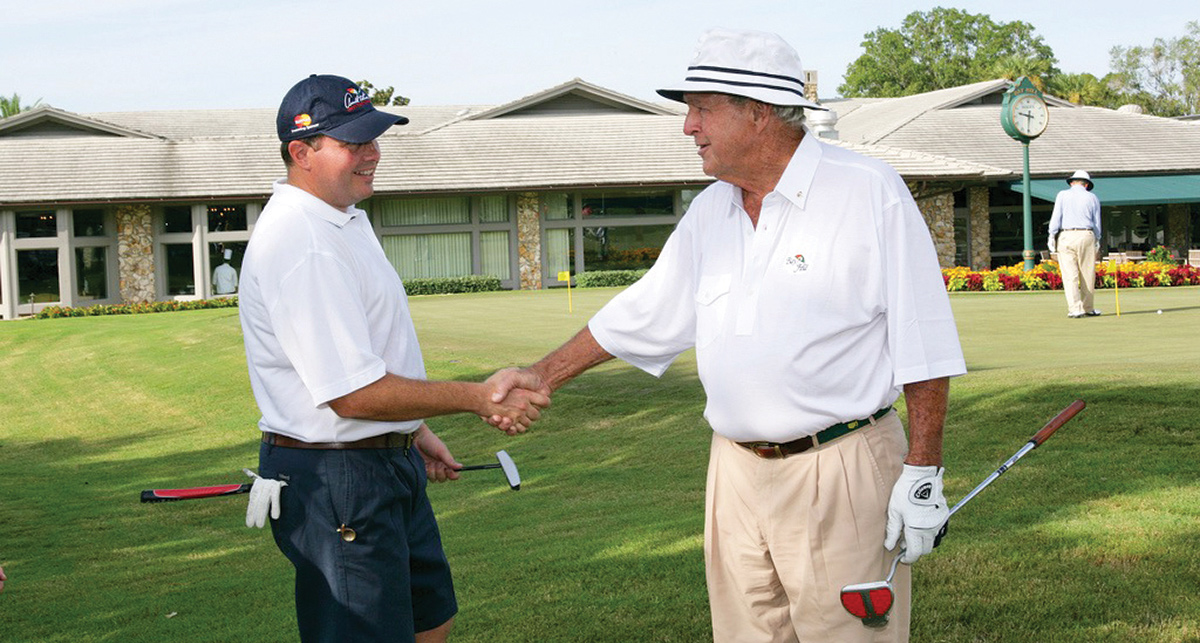 People often talk about Arnold's powers of recovery, his great short game and putting, and you know it was no exaggeration. Right into his 80s he still had a magic touch around the greens. It never left him. You need a little good fortune to hole out from distance, but Arnold executed that shot perfectly. He made his luck. I was standing reasonably close as he played the shot and you could see the lightness in his grip on the club. No tension, no digging the ball out. It was great to see up close.
Talking of up close, Arnold saw my putting up close once, in another instance that will stay with me always. It was at Bay Hill about four years ago, and we were working on an instruction feature with Arnold on putting. Once the photo shoot was finished Arnold beckoned me onto the putting green and said, "Come on then". So I started putting while Arnold watched. After half a dozen putts he said, "You're gripping the club too tight," and a moment later, "You're moving your head."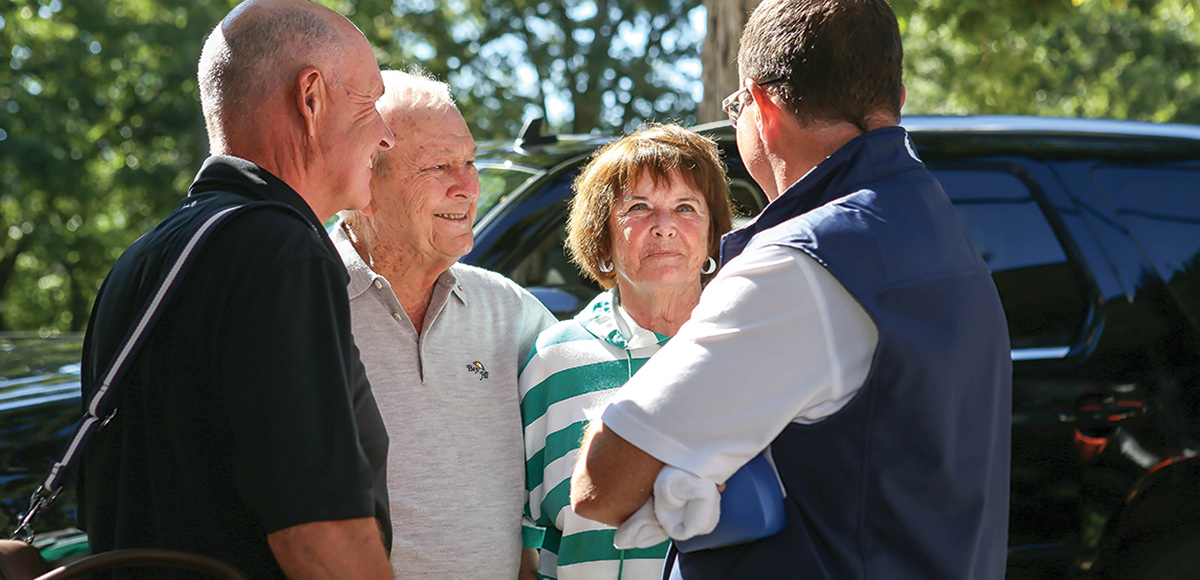 So he stood opposite me and held my head still while I hit some putts. The drill worked perfectly while Arnold was there holding my head still, but it's a drill I think back to during every round I play.
I still don't understand how Arnold managed to be so generous with his time. He always had a hundred things going on, but he would never make you feel like he did.
Reade Tilley
Editor in Chief
They phoned and asked if I could fly down to Florida to interview Arnold Palmer. I was just 30 or so, a freelance writer living in New York City, and though I didn't know much about Palmer I knew enough to say yes. A week later the magazine—this magazine—had me on a sofa outside of Mr. Palmer's office at Bay Hill, drawing circles on my notepad to ensure that my pen worked. I was early for the interview and Janet, his secretary, offered me an Arnold Palmer drink before she hit me with some bad news: "I know we said you could have 15 minutes or more, but his plans have changed. He has to leave soon and so you'll only have five. I'm sorry." Five minutes… My mind raced. I'd been in similar spots before with celebrities; schedules and minds change, and writers have to be adaptable. But five minutes… Still, there was nothing for it. Janet said he was ready, I set the timer on my watch for 5:00 and followed her into Mr. Palmer's office.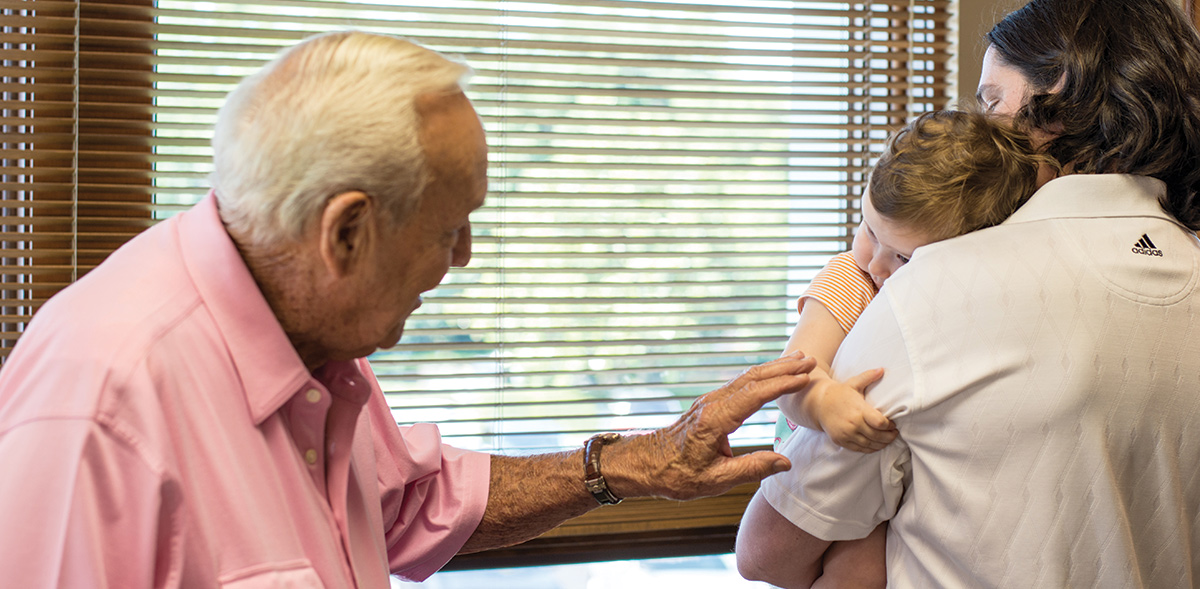 He rose and, like many others have remarked, I was surprised at the large size and strength of his hand when he shook mine. We sat down, exchanged a few pleasantries—one of his sisters had married a Tilley, "good family, " he said; "It is," I agreed [1:02 gone]—and then it was time for questions. This was my first assignment for Kingdom, I had four pages to fill, and with less than four minutes left I figured I had time for one question, maybe two. Walking in I'd hastily come up with a kind of strategy, and now I hoped that it would work.
"You and Jack Nicklaus had a celebrated rivalry over the years," I began as Mr. Palmer nodded his head. "Does that rivalry continue with your course design businesses—do you try to beat Jack at course design?"
"I'm not sure what you mean," Mr. Palmer started, looking up… "Well, what's your favorite Nicklaus course?" I asked. "You must have played and enjoyed plenty of Nicklaus courses…?"
Palmer looked at me, his mouth went slightly open in a smile and he said, "Well I don't think I have to answer that!"
"I think you just did," I said, glancing at my watch. "One more question: Does your dog Mulligan like flying with you or does he get scared?"
"He likes it just fine," Palmer said, still smiling but with what I would call a puzzled expression. I tucked my pen into my pocket, stood up, and bid him adieu: "They told me I had five minutes and we're at 4:59. It's been an honor."
We shook hands and I walked out, undecided if I'd left him amused, confused or annoyed. I'd aimed for the first and stuck to the schedule in hopes of prompting a follow-up phone call—and a few minutes later I was relieved to get it: "I'm not sure what you said to him," Janet offered, "but he has an hour for you tomorrow if you're free."
Within the year I was Kingdom's editor, within two years Palmer was echoing my mother in pushing me to propose to my then-girlfriend (now wife), and more recently we were sharing drinks or he was entertaining our daughter Beatrix, tickling her feet and making her laugh. So many of my memories of the last 12 years are tied to Mr. Palmer, even if he's not part of them directly. The treasured friends I've made with his family and via his professional and social networks, the places I've traveled, the business I've done… For more than a decade all of that has been connected to Palmer, and how different my life would be today had I not met him.
But then how different his life could have been as well. As my wife said recently, consider the parallel lives this man led: golfer; pilot; Golf Channel; IMG; his apparel; the shops overseas; course designer; drink magnate; benefactor and health care leader; his contributions to the modern sports world in general; his advocacy and input in business aviation—all of that while raising a great family and keeping in constant contact with fans. Any of those pursuits would have yielded a rewarding and respectable career. All together, looking back, it's incomprehensible how one person simultaneously could have managed so much. And yet when you sat down with Arnie he almost always seemed relaxed, to be freely and happily giving you his time.
Among the greatest male role models in my life was my grandfather, a decorated ace and Air Force colonel. He instilled in me the virtues of professional discipline and accountability, setting high standards, owning mistakes and never giving less than 100 percent. My uncles in Nebraska, hardworking blue collar men, taught me about family, the ugliness of judging people and how to be at ease in even the roughest room. They, and later my stepfather, taught me that hard work is essential, and it is. I drank bourbon with my grandfather, I drank beers with my uncles (still do), and I love all of those men. It occurs to me that the best parts of each of them was in Palmer: the dignity and class, the fighting spirit, the blue collar work ethic, the respect for family and for others, the ability to fit seamlessly into any situation, being right at home at the bar with friends or at a White House dinner with the Queen. In just one man there was every best attribute from my entire world of role models. And indeed, how much better the world would be if everyone decided to emulate even a single aspect of Arnie's character. From such a man, who packed so much into his 87 years, five minutes was really all one needed, offering so much more than most could give in a lifetime.
Jon Edwards
Head of Sales
We used to hold an annual auction at the Kingdom Cup, in aid of Arnie's Army. One year we received a donation of a bottle of very special Glenmorangie Pride 1881 whisky, which had a market value of around $3,500. To call it a very limited edition doesn't do it justice. Bidding started for this bottle and the room was in good form. The bids kept going higher and higher and comfortably passed the value of the bottle. It was reaching $5,000 when one of our guests got up from his table to have a world with Mr. Palmer. He said, "Mr. Palmer, I will pay $7,000, double the bottle's value, if you will do me the honor of having a nip of whisky from it after the dinner with me."
Mr. Palmer immediately said, "Absolutely, the bottle is sold!"
After the dinner a group of us sat down to open this bottle of whisky, and Mr. Palmer said, "Right, I want to drink this like the cowboys do in the movies." With that he slapped his hand down on the table, sunk the shot of whisky in one gulp and declared, "Okay, let's have a party!"
Some of us were a bit slower than usual at breakfast the next morning.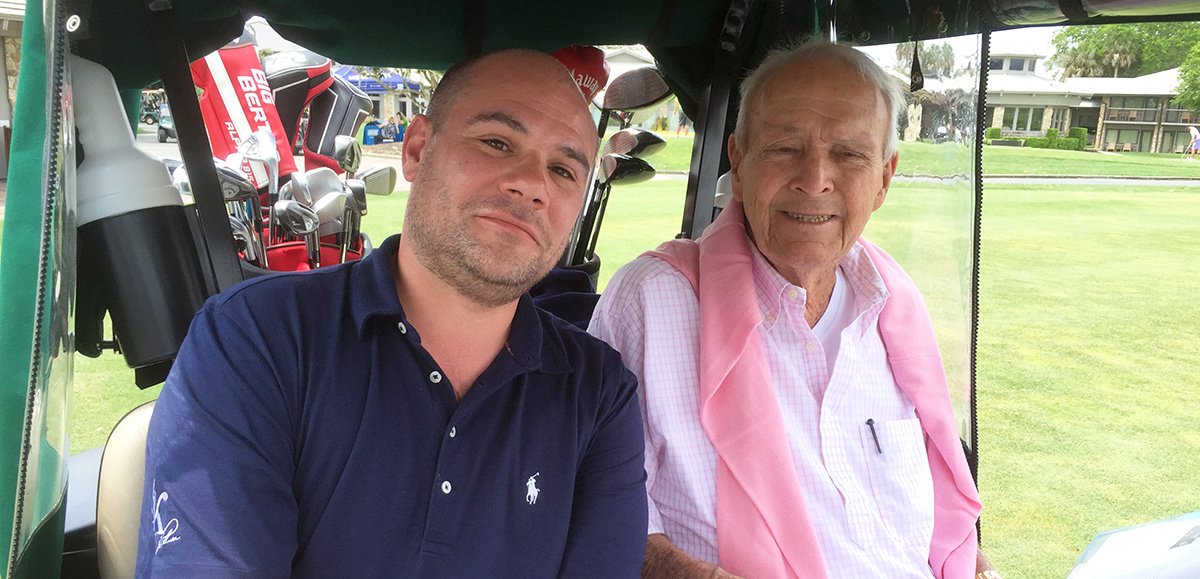 Those annual auctions have always been very well supported by our guests. It is heart-warming to see the generosity of a lot of people and we have been very proud to support Arnie's Army and the Arnold Palmer Hospital.
These are quite significant dinners at the Kingdom Cup. It's a big room, full of 150 people who have been playing golf and enjoying a few drinks. So the volume level rises as the evening progresses and that's great. But as soon as Arnold Palmer would stand up to talk, you could have heard a pin drop. Absolute silence.
And the first thing Mr. Palmer would do is thank his staff and remind people that it doesn't matter who you are or what you do, but without a hard-working team, nice events like the Kingdom Cup and that dinner can't happen. It stood out how Mr. Palmer appreciated all the people around him. And it inspires you—it inspires everyone who has the privilege to be in the room. We can never match Mr. Palmer but we should all try!
Paul Trow
former Editor & current contributor
My father took up golf in the summer of 1960. Aged nine and somewhat intrigued, I asked him who was the best golfer in the world. Fellas called Pele and Laver were dominating soccer and tennis at the time, so surely golf had someone to match their exploits.
"Arnold Palmer," he said, without hesitation. "He's the reason I started playing. He makes golf look like fun and, at the same time, like something worth trying your best at."
I went on to become a sports journalist. On the road I met and interviewed many legends. One of them was the "King," though on those early occasions in the 1980s I was accompanied by hundreds of other reporters in the media center at the [British] Open.
Whenever I ventured a question from the floor, often to tutting from mandarin writers who believed whippersnappers should remain silent in the presence of the great man, he was unfailingly courteous and made friendly eye contact while spelling out his reply.
I was hooked then and must confess to a tinge of emotion when he bade farewell to the Open, the major he did so much to revive, from the Swilcan Bridge at St Andrews in 1995.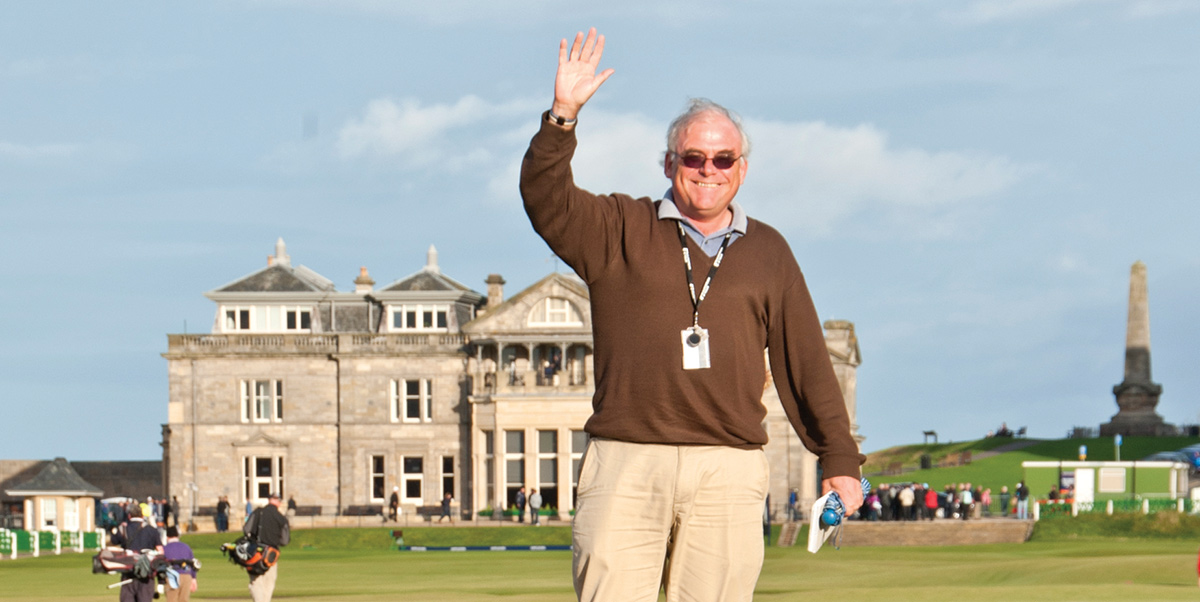 So imagine my delight when, nearly 15 years ago, I was invited to work for Kingdom. This meant I got to interview Arnold Palmer, not as part of the gang but one on one—on the phone and in person. We met well over a dozen times. My Dad couldn't believe my luck.
Our interviews—in reality, they were more like chats, discursive, sometimes rambling, mostly across a desk though occasionally by a fireside, always fascinating—took place either in his office at Bay Hill or his winter bolt-hole at the Tradition Golf Club in California's Coachella Valley.
But my hour-long windows enjoying the undivided attention of one of the most influential people in the history of sport, not just golf, have left me with a lifetime badge of honor.
He would reflect on events just passed and look forward to what lay in store. He always had an opinion on the issues of the day—would Tiger eclipse Jack, does the ball go too far, how can golf attract more participants, should courses have fewer than 18 holes, when will Rory play in his tournament?
He loved to reflect on his triumphs—his U.S. Amateur and Canadian Open wins meant as much to him as the four Green Jackets, two Claret Jugs and that iconic U.S. Open charge of 1960. But he would never shirk the disappointments—losing to Gary Player with a closing six at Augusta in 1961, blowing a big U.S. Open lead to let in Billy Casper in 1966, and continually stumbling in the PGA Championship. Nor would he deny the lessons learned. Such experiences hurt him to the quick, half a century on, but he was too grounded to make more of a deal than that.
Meeting Arnold Palmer was always fun, just as my Dad intimated it would be all those years ago.
"Is your golf as bad as the last time we met?" he chortled when we shared a beer in the grill room at Bay Hill. Later that evening, I was told: "Stop calling me Mr. Palmer, that's bullshit, I'm Arnold."
Another time, while accessing my cellphone messages in the car park, I spotted him out of the corner of my eye hurtling toward me in his buggy after his pro-am round at the Arnold Palmer Invitational. Luckily, he swerved at the last second, cackling with banshee-like mirth at the terror in my eyes.
Whatever he did, he always gave his best. His thumb was always up, however rotten he might have felt, and his autograph for each and every fan was never less than painstakingly immaculate.
But he was persistent and he usually got his way. Rory finally showed up last year after a decade-long courtship, had dinner with Mr. Palmer and was enchanted. As, indeed, my Dad had been despite never meeting him.
Dad passed away nearly 10 years ago, aged 81, playing golf till his final year. In truth, he wasn't much of a golfer. But he was a foot soldier in Arnie's Army, loyal and committed to its five-star general to the end. And that's what really mattered.