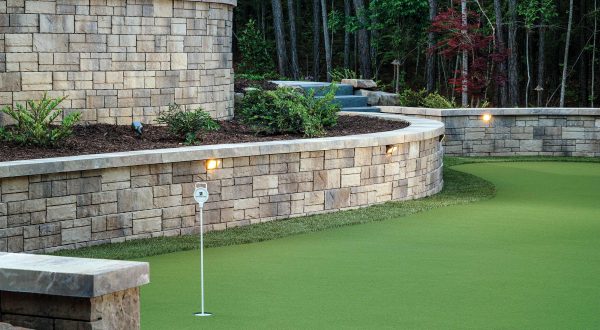 Ultimate Backyard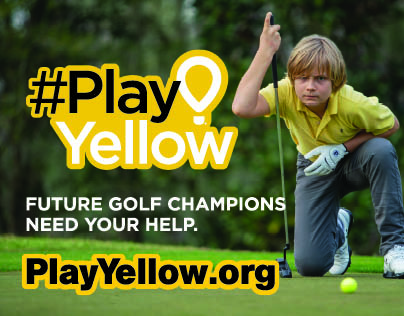 It's a blank canvas, a field of dreams just waiting for your vision. Your backyard can be so much more than just a good lawn and pool. In spaces of nearly any scale, it is possible to have your own private putting or golf facility and an elegant patio and landscape to complement your lovely abode. Make the most of what's behind your house, add value to your home and to your life by extending your usable square footage with a private playground that's as exciting, usable and beautiful as you can imagine. Barefoot golf in your bathrobe followed by morning coffee by the firepit? Why not, when the dream is right outside your back door
Inviting definition and beauty
A stunning backyard with a private golf facility is one of every serious golfer's best dreams, but without well-considered quality hardscape that dream is incomplete. A broad, beautiful patio to hold seating for summer days and quiet evenings, a dedicated area for an outdoor kitchen and BBQ, elegant trim to frame and organize your yard's features—and, of course, the hardscape components of your putting area or larger golf facility…
All of it is possible with high-quality products from Belgard.
As the company has it, "Belgard Paves the Way," and they certainly do, offering not just luxury hardscape products but also a range of design services to ensure that your vision—no matter how modest or how elaborate—comes true. Their concrete pavers come in a wide range of patterns and textures, and their design-forward porcelain pavers bring new levels of frost- and skid-resistance while providing incredible durability and ease of maintenance.
Along with the pavers and surfaces, Belgard also offers retaining wall products to complement any environment. Enhance pool areas with hardscape design elements or create functional guides for landscaping, framing and helping to define your ultimate backyard vision.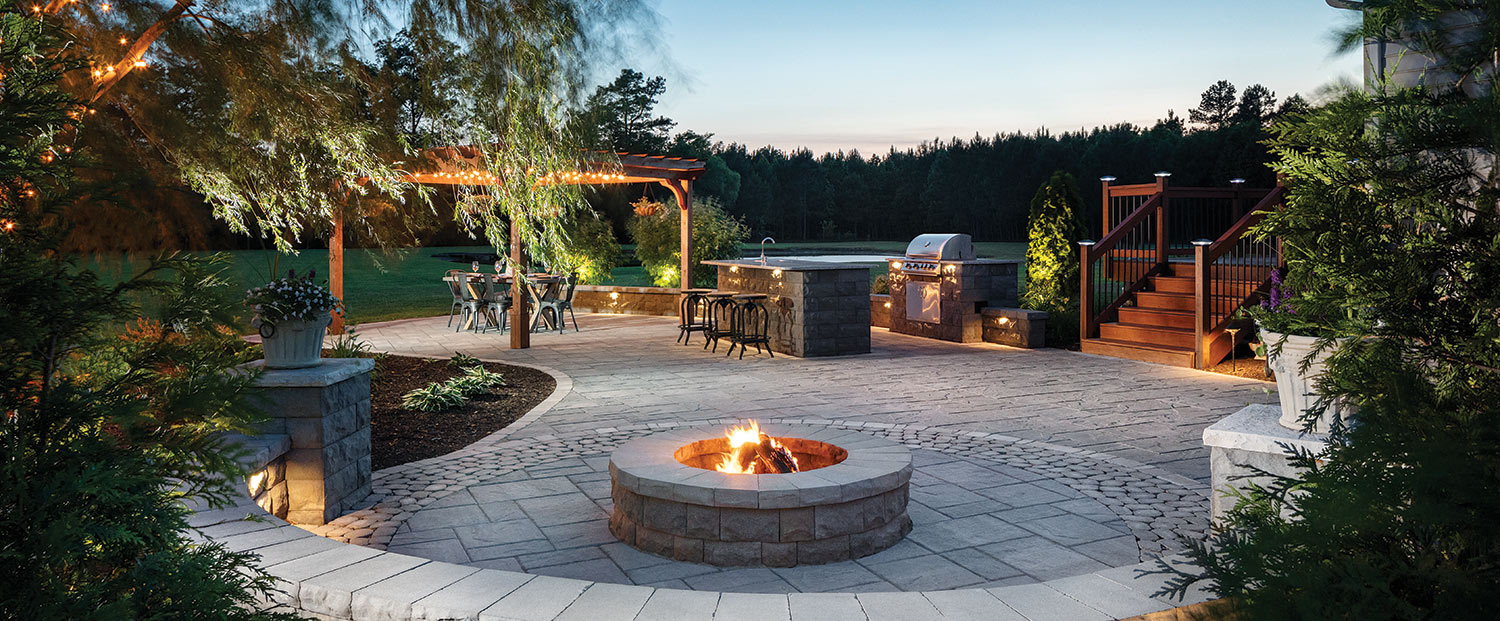 For backyard golf facilities, Belgard will work with your designer or existing design to maximize functionality, durability and beauty, ensuring the golf blends seamlessly into your backyard and that it is supremely functional and long-lasting as well. Belgard products are the materials of which top outdoor spaces are made, sincere design elements that enhance and add value to your home while ensuring longterm use.
To keep your project moving, Belgard's Elements Collection offers pre-built pieces that fit seamlessly into your design with less install time with features such as an outdoor fireplace, kitchen, fire pit, brick oven and more. Add the finishing touch with an elegant curb system and your backyard will be the envy of friends and neighbors, a landscape that adds enjoyment, purpose and value to your home while providing you the space you've always dreamed of having.
To help turn your vision into reality, Belgard has a great Design Studio and a network of expert contractors specifically trained on working with and installing Belgard products. If you're building the ultimate backyard, do it once and do it right—then enjoy it for years to come.
Discover more at belgard.com


Home is where the golf is
At some point, every golfer has dreamed of having the entire golf course or practice area to himself. Now, for anyone with a backyard and a vision, that's possible. Advanced synthetic turf options and streamlined design/build services have made owning a bespoke golf facility a practical possibility—be it a top-quality putting green, a world-class practice area or even a private course. Among options, Tour Greens offers a comprehensive full-service solution, taking projects from dream stage all the way to club-in-hand enjoyment. The range of services it provides, and its quality products have made Tour Greens the official synthetic turf provider for the Arnold Palmer Design Company (APDC), and the provider of choice for many PGA Tour pros and top-end golf facilities. No matter the size of your yard, the company can design and install a facility to meet your needs, whether you're looking for a serious practice area or a purely recreational option. Tour Greens' in-house designers are available, and the company also offers exclusive green designs from APDC via its partnership, meaning the architects Palmer himself hand-picked to run his company can have a hand in transforming your backyard into a stunning, pro-quality golf environment.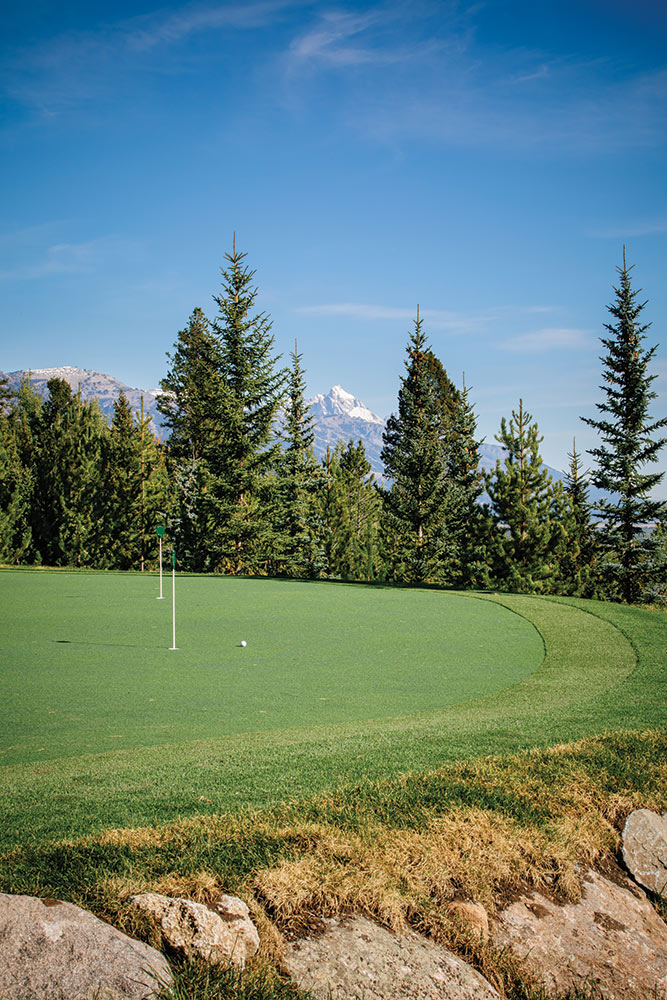 In terms of surfaces, Tour Greens offers many types of artificial turf solutions of only the highest quality. Greens, for example, can be built to simulate characteristics of some of the best golf courses in the world, convincingly approximating the finest natural Bentgrass or Bermuda. And the greens receive shots as well as any natural grass green. Also, Tour Greens engineers its installations to allow owners to adjust the speed of the greens by simply brushing and rolling them, expanding the experience of the green and enhancing its longterm appeal and utility.
If you have more space and are looking for something more ambitious, Tour Greens can design and install a more versatile putting and chipping area or even an entire backyard golf course, again with the synthetic turf options behaving like natural grass throughout, offering the look, feel and bite one would find on a natural grass course. Every detail is considered, such as using green infill for the turf to complete a more natural look.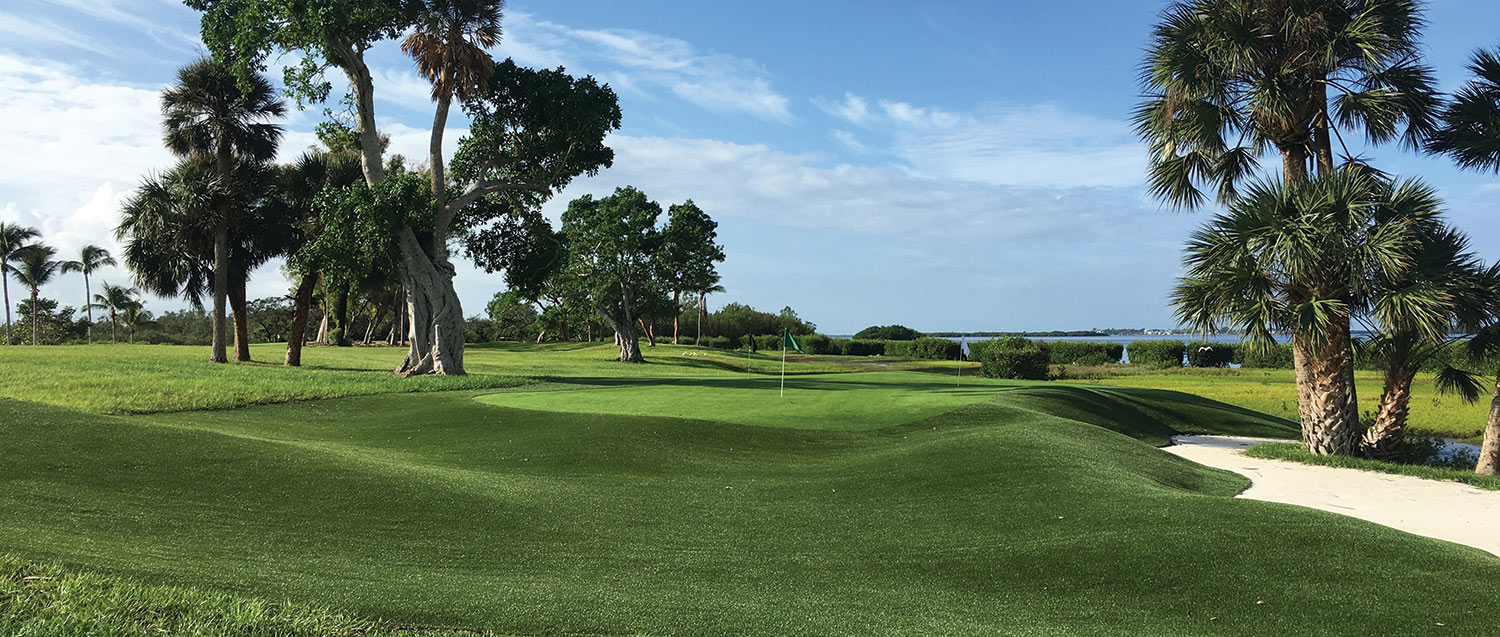 PGA Tour pros like Fred Couples and Abraham Ancer own and love home installations from Tour Greens, while hundreds of commercial property owners choose them for the quality and the fact that Tour Greens installations are virtually maintenance-free. Tour Greens worked with APDC on a fantastic Palmer Park chipping and putting facility at The Village at Penn State; they've built private practice areas for the likes of Rich Beem, Steve Flesch, Chris Dimarco and numerous other pros, coaches and top amateurs; and they've even designed and built a complete eco-friendly, 9-hole synthetic turf golf course on a private island in the Bahamas. Beyond golf, Tour Greens is part of The Recreational Group, which offers a wide range of products and services to accommodate installations for other sports as well—bocce, soccer, basketball, inline hockey, a playground or almost anything else you can imagine can be handled by the firm.
With hundreds of residential and commercial installations for top clients, a partnership with a top course architecture firm, and testimonials from some of the best ever to play the game, Tour Greens can be trusted to deliver the backyard of your dreams, a golf facility that you can share with friends and family or, as you like, keep all to yourself.
Find out more at tourgreens.com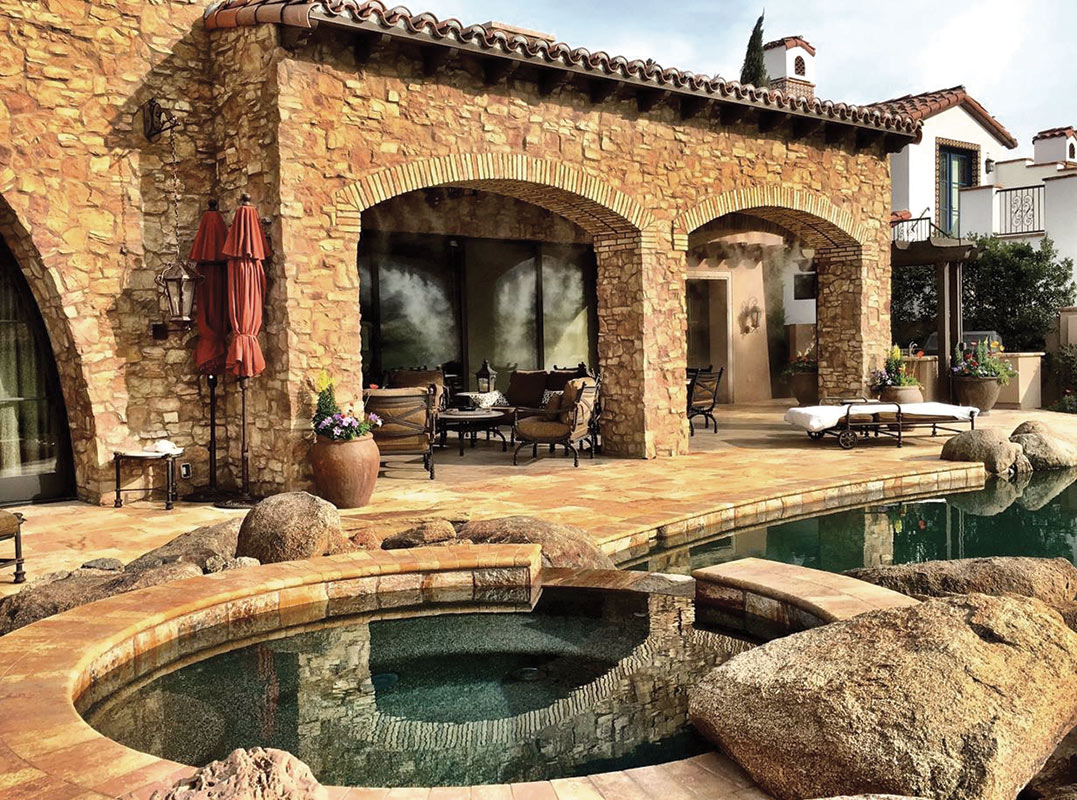 Something pleasant in the air
If you live where temperatures range from "hot" to "volcanic" in summertime, a patio misting system can help. They work by pressurizing water and forcing it through a small opening in a specially engineered mist nozzle, which creates fine water droplets. When this droplet-dense mist evaporates the resulting cooling effect can be up to 35˚F. Such systems need to be properly installed, but when they are they create a kind of curtain that can mean the difference between enjoying your backyard or just looking at it from inside your house. We like Koolfog as a supplier as they're able to handle any projects of any scale, from themepark installations to smaller home projects, extending homes' usable square footage and turning backyards into functional summer spaces. If you're planning on actually using that amazing backyard and golf facility you just built, their range of misting and fogging solutions is worth investigating.