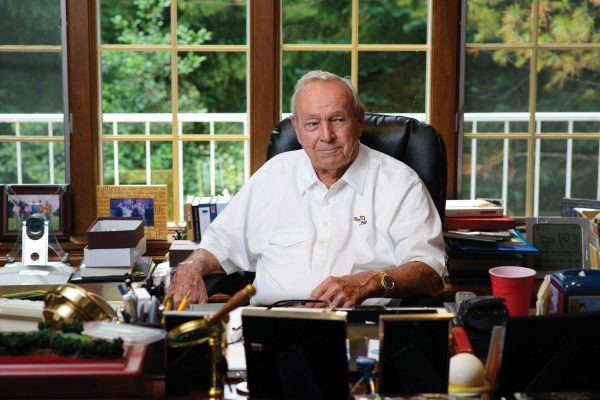 A Life Well Played: My Stories
"That's the guy who has been grilling me."
As I took a seat at Arnold Palmer's usual table in the grillroom at Latrobe Country Club—the one closest to the bar and just outside the door of the men's locker room—he was nudging his wife Kit while pointing in my direction. Palmer wore an impish grin and he wanted me to know he was needling me.
Then the smile dissipated and he turned a serious eye back to Kit. "You know, I don't know why I'm doing this." Without missing a beat, she replied, "Because you still have something to say."
His lips tightened. He nodded his head in agreement.
Just a few minutes earlier we had wrapped up a 90-minute interview session in Palmer's office across the road, in the small cottage that had been his work place for decades. It was the last day of summer in 2015, just 11 days after golf's most beloved figure had celebrated his 86th birthday. Our discussion, one of several over nearly a week, probably did seem like a grilling to the legendary golfer as I probed his memory and prodded him about details of his life and career for the purpose of helping him write a final memoir.
It was a challenging endeavor for both of us, but the end result speaks for itself. "A Life Well Played: My Stories," was published on Oct. 11, and it represents one final blast of the charisma, charm and uncanny insight from an individual who was so much more than an athlete, someone who might just qualify, legitimately, as the world's most interesting man. And that's what is borne out throughout the 258 pages of the small, simple book that contains wonderful stories and anecdotes.
He did have a lot yet to say, and he expressed that best at the end of the book when he noted: "Though I have written a number of books in the past, this one was particularly important to me, because, as I delved into the process, I realized just how much I still wanted to say to my friends in golf and to fans of the game in general. Going through the exercise of getting it all down has been personally satisfying…"
It was timely, too, after Mr. Palmer passed away September 25 in Pittsburgh at the age of 87. Curtis Strange, a fellow Wake Forest alumni, said it best when he heard the news. "That's a life we should all celebrate and emulate," said Strange. "He treated everyone like a friend. And he left nothing on the table."
For this writer, who first met Mr. Palmer in 1992, the opportunity to collaborate with one of my golfing heroes was amazing. He was kind, humble and unfailingly considerate throughout the process, which was hardly a surprise, since it was those qualities that largely endeared him to generations of people in and out of golf. He was witty and funny and that side of his personality I hadn't seen enough until this chance to spend extended time in his company.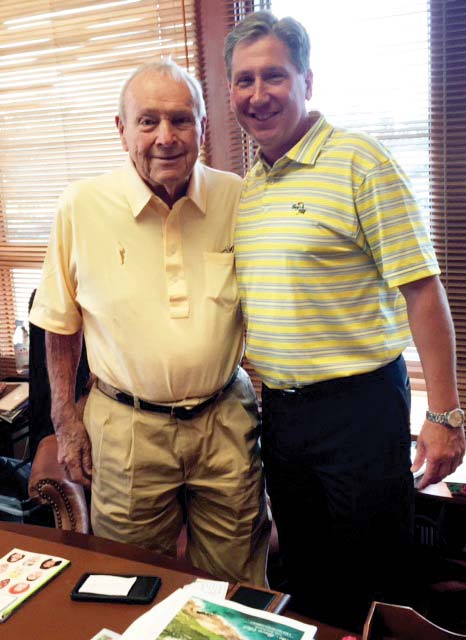 The process did require considerable research on my part. I read nearly every book he had authored or which was written about him, and also delved into video archives and his long list of interview transcripts. I sought input from some of the people who best knew him. Together with him and his team, particularly Cori Britt, Doc Giffin and Alastair Johnston, we whittled down an immeasurable amount of material to a collection of stories that were the most important to Mr. Palmer, even if they entailed difficult details. He wanted the book to be an honest accounting of his experiences.
Many subjects are familiar to long-time Palmer fans, but he was able to provide fresh perspective on them or share a lesson. Sometimes he would struggle to remember a certain episode only to return to it later with a burst of insight. There was one afternoon in particular that remains one of the most special of my career, when we talked for nearly three hours, largely uninterrupted. It was not so much an interview as just a loose conversation ranging from his mother's influence on him as a boy to his role in helping Pebble Beach prepare for the 2019 U.S. Open. He always had an eye on the future, even as he delved into his rich past.
Longtime friend and advisor Charlie Mechem, the former LPGA commissioner, perhaps best understood Arnie's mindset over the last few years, which might have fueled his interest in another book. Their conversations segued in many directions, understandably so. "As the years pile up, we begin to reflect on how wonderful our lives have been," Mechem said. "I think very understandably he thought more and more about his friends, and the amazing things that had happened to him. Because he never forgot where he came from."
"He always had an eye on the future, even as he delved into his rich past"
Thus do we have a parting gift from The King, who, sadly, missed out on seeing the enjoyment his legion of fans might derive from his final literary effort. But what a gift it is, his words and wisdom carrying on when he can no longer give voice to them.
"A Life Well Played: My Stories" is published in support of the Arnie's Army Charitable Foundation (arniesarmy.org)