Arnold Palmer: An eye for design
Arnold Palmer's career as a course designer was every bit as spectacular as his career as a golfer. In some ways it was even better, because in design he won every time…
Today, if you look west on a clear day from the top of the lighthouse in Cape May, New Jersey, you can just make out the tip of Cape Henlopen in Delaware.
In 1951, from the same vantage point, you might have been able to see the U.S. Coast Guard training base at Cape May, and a man with a shovel and a rake tirelessly working a weed-choked bit of grass between the base's runways. That was Arnold Palmer building his first golf course.
Today, the Arnold Palmer Design Company has built more than 300 courses and clubs around the world. Arnold Palmer Signature courses appear in more than two dozen countries, including Kazakhstan and China. Incredible success has been built with a team of the world's finest golf course designers, but it all started with one man's vision and endeavor.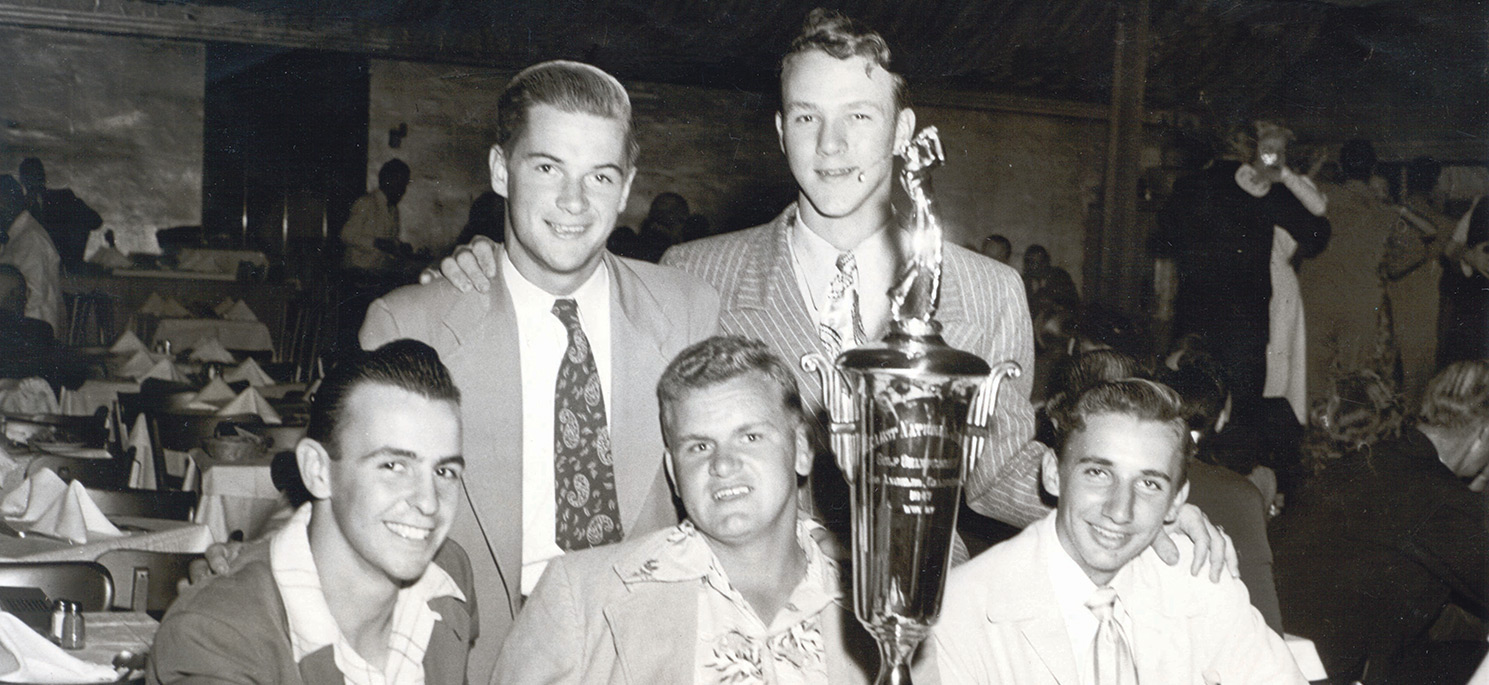 During a lull in studies in his sophomore year at Wake Forest University, Palmer—along with his best friend Bud Worsham and a few other members of the university's golf team—built Wake Forest's first grass greens. The college already had a nine-hole course, but its greens were made of sand. As Palmer wrote in his book, A Golfer's Life, he and the other guys replaced the original greens "with something that at least resembled a competitive putting surface," and they were paid 50 cents an hour for their work.
Having grown-up working for his father at Latrobe Country Club in Pennsylvania—the original nine holes of which were effectively built by Deacon Palmer with his own hands—the hard graft of golf course landscaping was a toil intrinsic to Palmer.
The athletic department didn't appreciate it at the time, but the improved practice grounds were the foundation for putting Wake Forest's golf team on the map. Historically the team hadn't done well, but with golfers like Palmer around—and with the new greens—they started to clean up in the Southern Conference.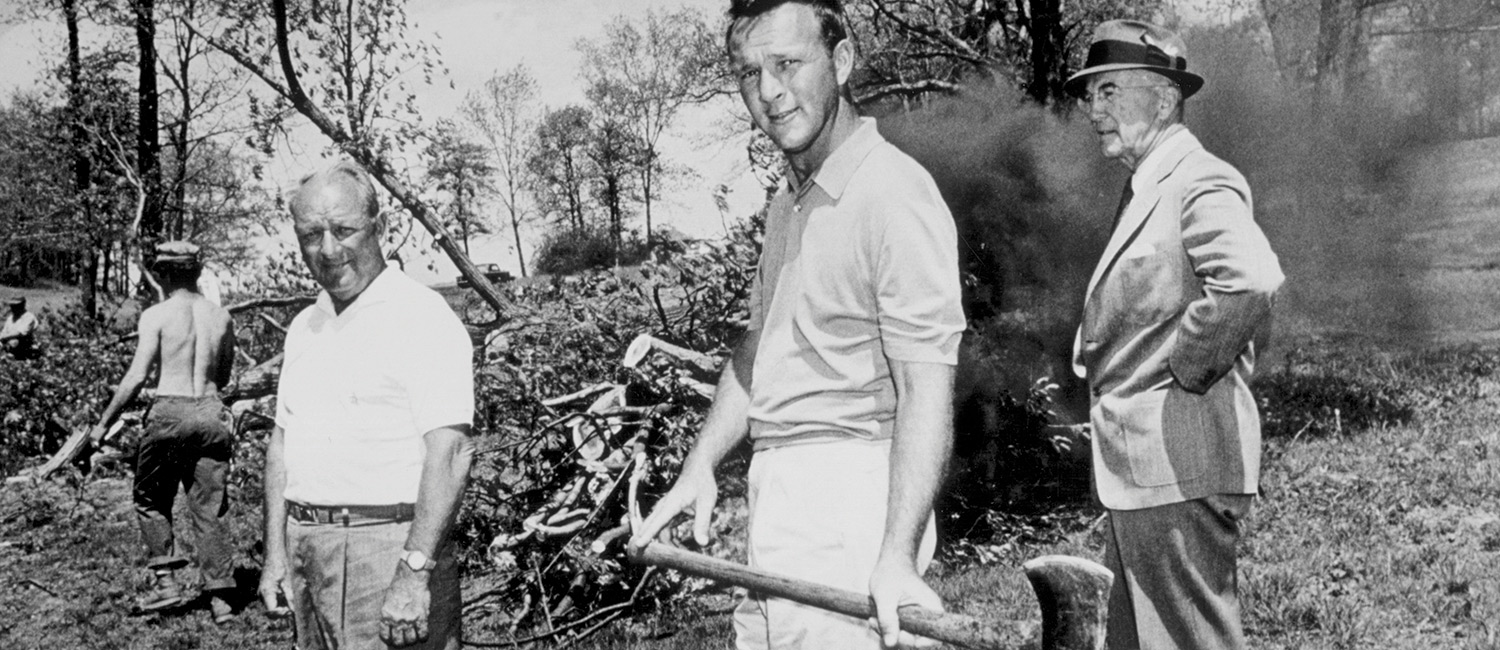 Palmer's next design venture was Cape May. Following the awful death of Worsham in a car accident, Palmer decided to take some time off from college. He joined the Coast Guard, distinguished himself in training and proudly served in an honor guard. After he completed training, his commander asked Palmer to stay at the base in Cape May to train new recruits. In addition, the budding golf star was asked to build a golf course on the base. Palmer wrote, "I enthusiastically agreed to do the job and was summarily handed a rake and a shovel, placed in charge of an elderly hand-push mower, and directed to a weed-choked grassy patch of ground located between air runways."
The end result was a nine-hole chip-and-putt, but much appreciated on the base all the same. Mowing, shaping, grooming… Palmer had to do it all himself, and in the middle of a stifling New Jersey summer. Of all the courses he built, Palmer said, "That first one was probably not the most challenging layout but certainly it was the most physically exhausting to create."
A decade later—in 1963—Palmer was a six-time major champ and world famous but was coming out of a rather rough season (if you can call seven victories in 20 starts a rough season). In the fall he returned home to Latrobe where his father was beginning work on the new nine at the country club. "Not surprisingly," Palmer later recalled, "being the original hands-on boss, he did much of the manual labor and almost all of the design work himself."
Never one to shirk a hard shift, Palmer temporarily escaped the pressures of his fame to help build the new nine, and it was the therapeutic tonic he needed. "I suppose I was anxious to lend a helping hand, shaping some of the fairways and greens with a bulldozer," said Palmer.
"Latrobe Country Club is a really special place up there in the mountains," Thad Layton, Vice President and Senior Architect at Arnold Palmer Course Design, tells Kingdom. "It is a cozy course and you can see how it developed Mr. Palmer's game. You can connect those dots backwards. You need to be very accurate. No matter how straight you are your ball is going to find the woods half the time, and that was the incubator for his genius for recovery shots, for making birdie from the trees. There is an honesty about the place. It feels frozen in time, like it can't of changed in 50 years."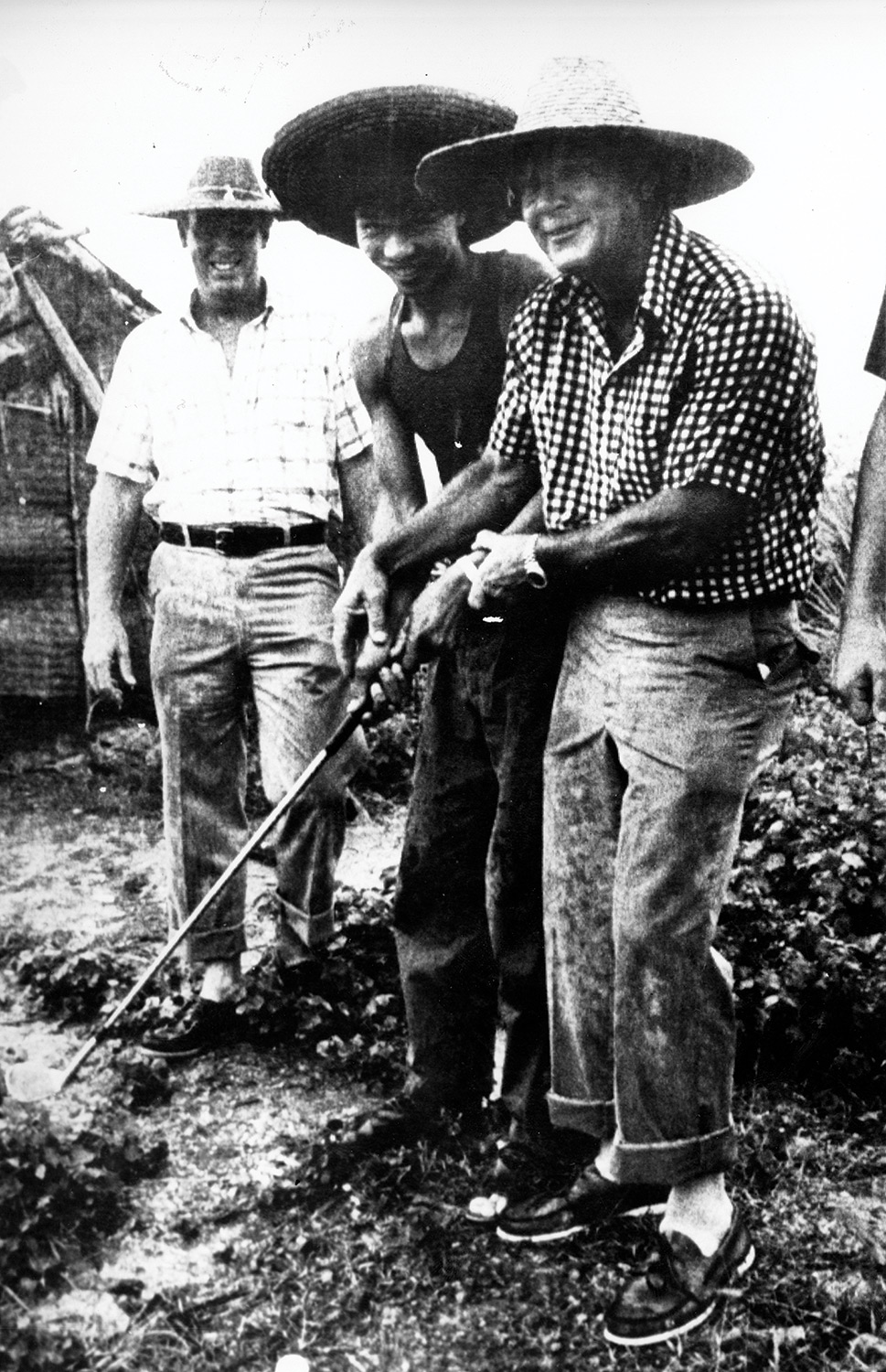 In pursuing his dream to be a tour-caliber golfer, Palmer's early life also saw him complete an apprenticeship as a tour-caliber course designer. An ad hoc apprenticeship it may have been, but it was an apprenticeship all the same. And it hadn't gone unnoticed.
Disregarding the 50 cents an hour "gratuity" he was paid at Wake Forest, Palmer made his professional design debut locally in 1964, in designing and laying out nine holes at Indian Lake in Somerset, just 40 miles from Latrobe, which are still regarded today as nine of the finest holes in Western Pennsylvania.
As the offers and inquiries mounted, Palmer capitalized on the momentum by teaming up with Frank Duane, a former president of the American Society of Golf Course Architects and a respected designer. Duane would work out the designs and Palmer worked as the field supervisor and on-site consultant. Just like his dad Palmer was hands-on, often climbing up in a bulldozer to personally move earth and shape courses. Courses built by the pair include Myrtle Beach National and the Bay Course at Kapalua, in Hawaii.
"Mr. Palmer was a field guy and he brought a very discerning eye as a player, and a player who won seven majors," adds Layton. "He wasn't a big fan of things like propping up a bunker that is 50 yards short of the green so that it looks from a distance like it is right on the green. Especially for golfers who were playing one of his courses for the first time, he wanted it to be intuitive. He wanted golfers to know what they need to do with a shot."


With Duane's partnership, Palmer refined his design sense and devotion to classic course architecture. Among his inspirations he cited the work of Tillinghast, Ross and Mackenzie. Winged Foot, Merion, Oakmont and Brookline "were the Holy Grails of our design thinking," Palmer wrote. "They were the kind of beautiful, honest, classically shaped layouts golfers of every skill level could appreciate and enjoy playing."
About the time Duane's health declined, Palmer met Ed Seay at an exhibition match in 1970. Seay, a former Marine, had co-designed Bermuda Run, and Palmer liked what he saw. Six days later Palmer had a new partner and friend for life. The company that is today APDC (Arnold Palmer Design Company) was born in 1972, and the pair designed and built more than 250 courses all over the world. Sadly, the world lost Seay in 2007—aged just 69.
"He was about as smart and talented as anyone I have known in the golf course design business," Palmer told Kingdom at the time. "His designs were brilliant. Ed could very quickly size up a job, envisioning the final layout of the course just from looking at topographical maps, and he had a knack for anticipating where the challenges would lie."
Palmer and Seay collaborated on China's first mainland golf course in 1981, while other celebrated successes include The Tradition GC in La Quinta, California; The Palmer Ryder Cup course at the K Club in Ireland, on which the 2006 Ryder Cup was played; Kapalua Village Course, Maui, Hawaii; Old Tabby Links, Spring Island, South Carolina; and Tralee in Ireland.


"We traveled all over the world designing golf courses and playing golf, and you never knew what Ed was going to get you into," added Palmer. "He was a big, likable guy. He could be tough when he had to but his charm and sense of humor served him well."
One of Palmer's and Seay's most successful and high-profile renovations was at Palmer's very own Bay Hill Club in Orlando, home to the Arnold Palmer Invitational, a course which continues to benefit from the close and regular attentions of APDC.
"Bay Hill is a great test of golf," says Layton. "It's a tour venue where Tiger Woods has won eight times—it identifies the best golfers."
Adds Brandson Johnson, Vice President and Senior Architect at APDC: "Once, Mr. Palmer was talking to us about Bay Hill and he told us he wanted the golf course to play like a U.S. Open off the tee and like Augusta around the greens. Mr. Palmer had a knack for explaining things succinctly. For the U.S. Open he meant tight fairways and thick rough, and around Augusta's greens you can find situations where it seems the ball is never going to stop rolling. He took two very different characteristics, brought them together to create something different and for a course designer that gives you a lot of latitude on the one hand, while also setting you in a certain direction."
Between Palmer and Seay, a gold standard for design and course construction was set. Renowned talents such as Erik Larsen and Vicki Martz have also carried the torch for APDC, while the company thrives today under the talented leadership of architects Layton and Johnson.
"The Palmer family wants to continue Mr. Palmer's legacy and the course design company is a major part of that," says Layton. "Brandon and I have worked closely with Mr. Palmer, we know his design philosophy and the family has entrusted us to carry that torch."
Recent successes for APDC include the restorations of the Arnold Palmer Signature Course at Frenchman's Reserve at Palm Beach Gardens, which re-opened earlier this fall, while a new 18-hole design at Lakewood National, Sarasota, will open on January 1.
"We also have a lot of clients for whom ground has not broken yet," says Layton, who started with APDC as an intern in 1997, "and they are more determined than ever to build tributes to Mr. Palmer. We continue to field calls from properties that are interested in our design services. This is the strongest brand in golf and there is also a great body of work for us to continue to service with those 300 existing courses."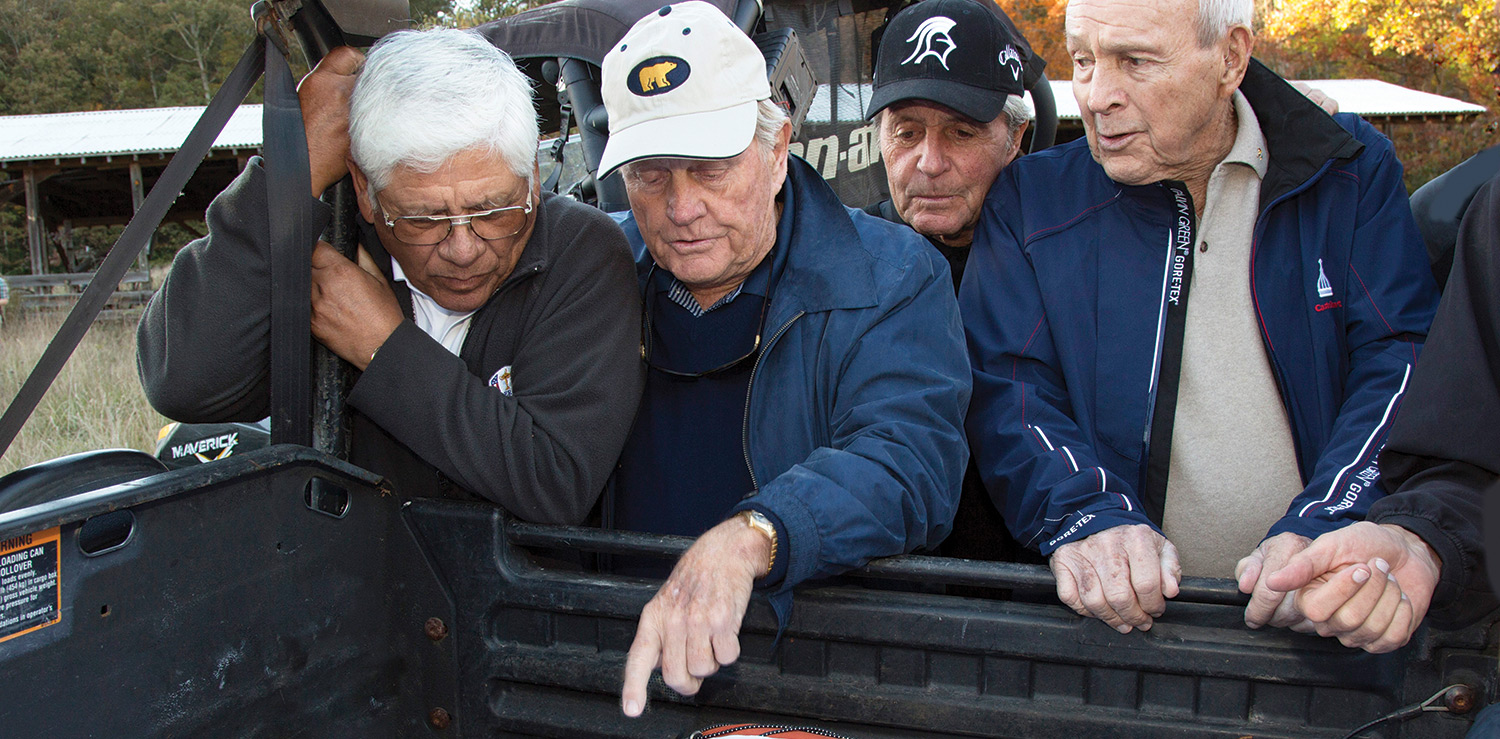 Among ongoing APDC projects is the new layout in the Oakhurst development at The Greenbrier Sporting Club in West Virginia, for which Palmer collaborated on design with Jack Nicklaus, Gary Player and The Greenbrier's resident major legend, Lee Trevino.
"It looks like it will open in 2018 and it is going very well," Layton tells us. "There are five or six holes roughed in and the trees are cleared. It is literally mountain-top golf and the views you get across the property are stunning."
"We have fit the golf course into the land and it has been a true collaboration between the design teams," says Larry Klein, Vice President and General Manager at The Greenbrier. "There is certainly a piece of Arnold in that golf course. The last time he was here it was a beautiful day on the ridges—where one vista is more impressive than the last—yet photographs can't tell you how quiet it is up there. It is one of those places where you can go and forget about everything."
As it happened, Palmer's very last site visit for APDC was to the King and Queen course at Royal Golf Club in Minnesota, where he co-designed the course with long-time friend Annika Sorenstam.
"We have the entire golf course shaped now," explains Layton. "It was a 27-hole club which we have paired down to 18 and so we have done some re-routing and there is a glacial geo-morphology that once basically carved through the site and created some beautiful topography.
"Annika has been very involved and hands-on throughout the process. It has been a lot of fun working with her, and Annika and Mr. Palmer were on site together not so long ago, which happened to be his last site visit. The boss had so much enthusiasm and energy for the project."
Palmer may no longer be at the helm of APDC but the strength and depth of his legacy will certainly endure.
"He was the ultimate communicator, across all segments of society," adds Johnson, who joined APDC in 2006. "It wasn't just words either. It could have been a look or a touch and that is what drew people to him. There was an energy around him. You know, any day we spent with him on site was just magical. He just made the people around him happy. There is something to be said for that."