60 years since 1960 U.S. Open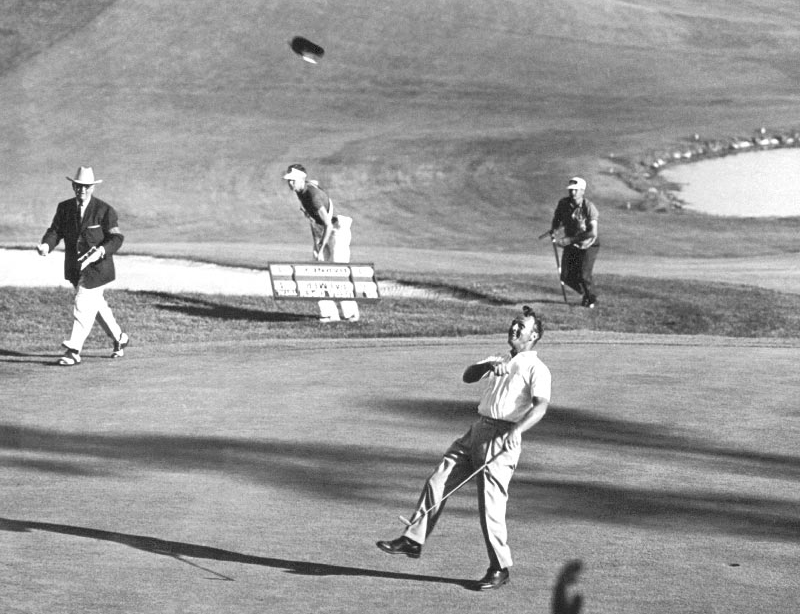 Arnold Palmer could do almost no wrong during the summer of 1960. Fresh from claiming his second Green Jacket at the Masters in April, he won the U.S. Open after starting his final round seven shots behind. 60 years on, Kingdom turns the clock back to golf's ultimate feat of derring-do at Cherry Hills Country Club
Cherry Hills Country Club on the outskirts of Denver, Colorado was the scene, and Saturday, June 18, 1960 was its appointed date with destiny.
Until then Arnold Palmer had endured a frustrating relationship with the U.S. Open. A string of missed opportunities. In seven previous tilts at the coveted old silver trophy he had missed the cut three times and recorded only two top-10 finishes—seventh at Oak Hill in 1956 and tied fifth at Winged Foot in 1959.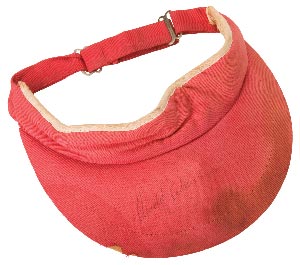 "But almost from the beginning, 1960 had a different feel about it," Palmer said. "My confidence level had never been so high, my desire to go out and play the golf course so intense."
"Cherry Hills, abutted by the Rocky Mountains, stretched 7,004 yards, but because of the added distance a ball would carry on a course that is 5,280 feet above sea level it was felt [Ben] Hogan's 12-year tournament record might be in jeopardy."
As it happened Hogan's landmark was safe, but as the dust settled on perhaps the most dramatic day the U.S. Open has ever witnessed his pride most definitely was not.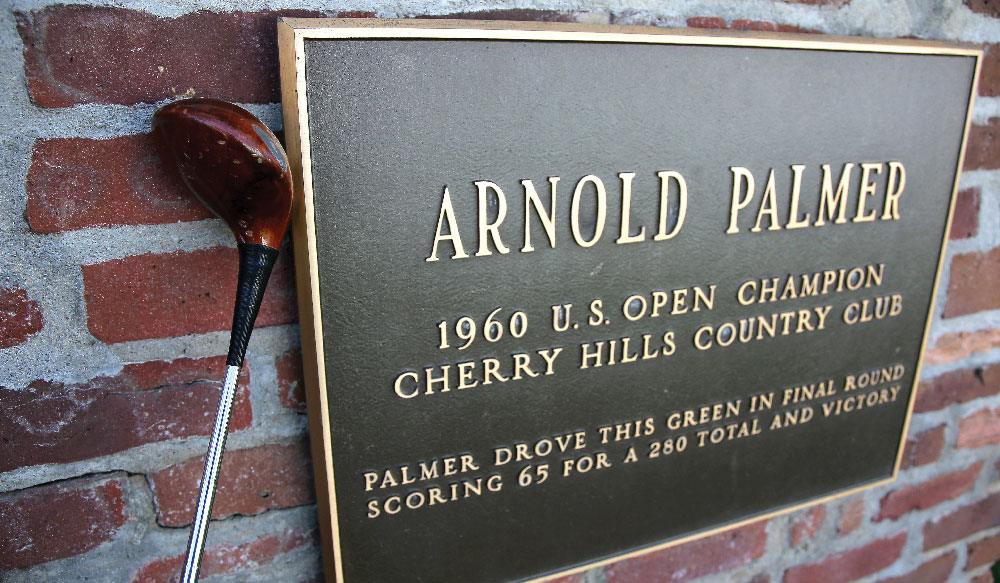 The Cherry Hills course previously had challenged the world's best players at both the 1938 U.S. Open and the 1941 PGA Championship, won respectively by Ralph Guldahl and Vic Ghezzi. Anticipation for the 1960 U.S. Open was electric, with Cherry Hills producing a program in which 210 advertisement pages were sold at $1,000 per page, while pre-tournament ticket sales rocketed to $65,000.
At the midway point of the competition, 30-year-old Palmer, the tournament favorite and a magnet for galleries' focus and affections after winning the Masters for a second time that April, trailed 36-hole leader Mike Souchak by eight shots.
This was still the era when rounds three and four were crammed into the third and final day. While this tradition gave neither players nor spectators much time to keep abreast of and reflect on the second half of the championship, the potential for wild fluctuations in fortunes and excitement was immense. Souchak, who tied for third the previous year, still led by two shots after the morning round despite hitting his tee shot out of bounds at the 18th, having been unnerved by the clicking of an amateur photographer.
Palmer, who added a lackluster 72 to his opening efforts of 72 and 71 to stand two over par after 54 holes, was still seven behind Souchak and a further 13 players were also ahead of him on the leaderboard.
Then, in the locker room between rounds, one of golf's most famous conversations took place—between Palmer and longtime Pittsburgh sportswriter Bob Drum. Palmer, on 215, pointed out that "280 traditionally won the Open" and asked Drum what he thought a 65 might do for his chances. Drum responded: "For you, nothing—280 won't do you one damn bit of good. You are too far back."
His answer angered Palmer, who was dead serious even though only one player had ever posted a 65 in the last round of the U.S. Open—Walter Burkemo, to tie fourth at Inverness in 1957.
Palmer used the final 20 minutes before his starting time to unleash his anger and frustration on the range. All week, he had tried to drive the 318-yard, par-4 1st hole, only to double-bogey via the creek to the right of the fairway on day one and three-putt for bogey in the third round.
His very first shot of the championship dropped into water after clattering into a tree
His very first shot of the championship dropped into water after clattering into a tree, prompting a quaint exchange of views with Joe Dey, the USGA executive director at the time, about whether he should drop his ball at the point of entry or where it finished downstream beside the green.
"As I watched the ball rolling down the stream Joe came over," Palmer recalled. "I said to him, 'I think I'll let it roll down to the green and take a drop there.' But he wasn't taking it that way and said, 'Now Arnold, you know better than that!' Of course, I was trying to be light but he was too serious for that and I made six, on the first hole of the Open that I eventually won. It didn't put me off trying to drive the green again."
Finally, at the last time of asking in the fourth round, he achieved the feat, Palmer's mighty drive rolling onto the front of the green. "There was an explosive cheer from the gallery on the tee and around the green," said Palmer. "Marching off the tee, I felt a powerful surge of adrenaline."
That adrenaline had an instantly counterproductive effect because he needed to hole, in his own words, "a lengthy comebacker for a birdie."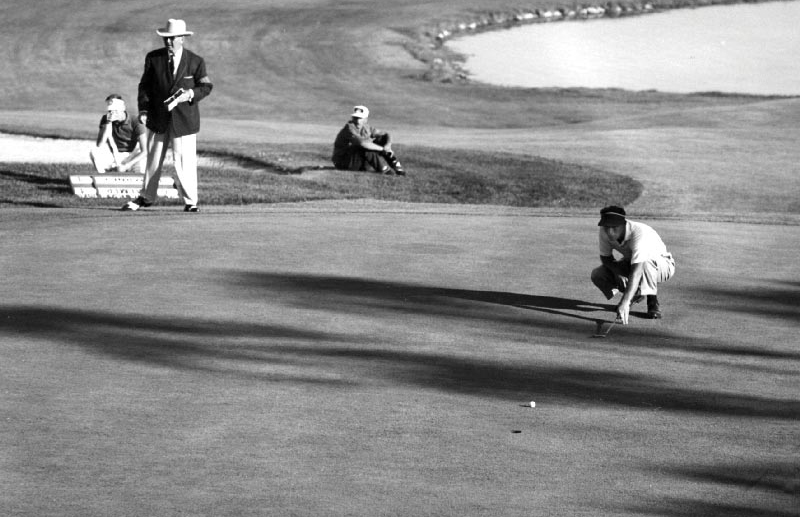 He sunk the testing putt and Palmer was up and running and he duly birdied five of the next six holes en route to an outward half of 30. Despite the fireworks, though, Palmer was still only tied on four under at the turn with Souchak, Hogan, Julius Boros, Jack Fleck, Dow Finsterwald, Jerry Barber and a distinguished amateur, the cabaret singer Don Cherry. At this stage they all trailed 20-year-old amateur Jack Nicklaus by a shot.
After bogeying the long par-3 8th—the only hiccup of his round—Palmer spotted Drum in his gallery.
"I asked him, 'Well, well, what are you doing here, since I have no chance?'" he said.
Palmer's form cooled on the back nine but steady play got him home in 35 and enabled him to match his nominated clubhouse target of 280. Meanwhile, Souchak and Nicklaus each missed several putts down the stretch, though the latter still claimed second place, two shots back. It was the best finish by an amateur since 1933 and a portent of some stunning achievements to come.
At the time it was the best finish by a U.S. Open champion in the history of the championship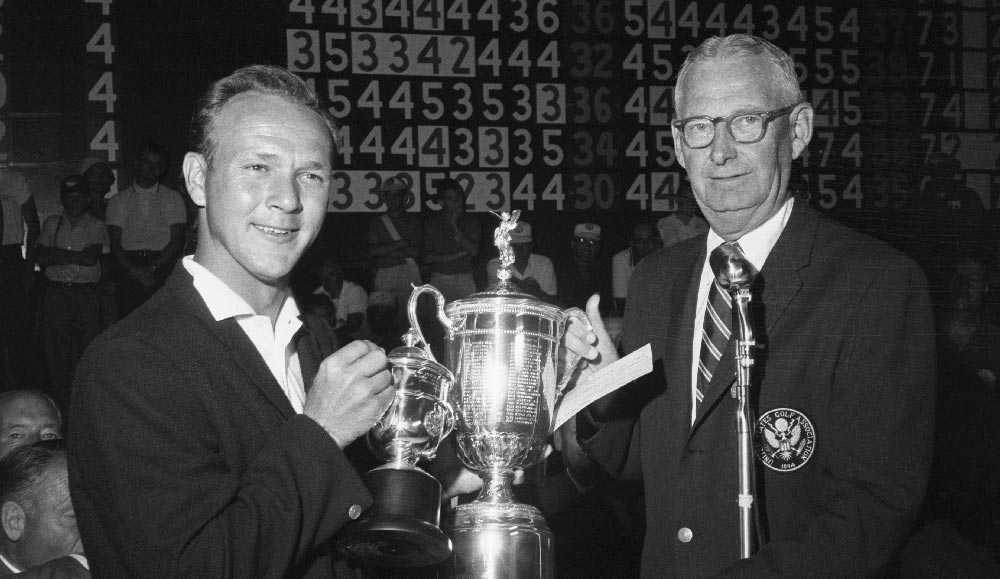 Hogan, gunning for a record fifth Open at the age of 47, sealed his own fate at the par-5 17th when his third shot spun back into water (a birdie would have given him a one-shot lead over Palmer). He followed that bogey with a triple-bogey on 18 after finding water again and his challenge was drowned. Hogan, who died in 1997, once told CBS: "I find myself waking up at night thinking of that shot [at 17] right to this day. There isn't a month goes by that it doesn't cut my guts out."
For Palmer, though, the U.S. Open of 1960 was an endless source of bliss, one that far out-reached a first prize of $14,400. Ever the gentleman, he gave much of the credit for his success to local caddie Bob Blair, who was a regular "looper" for Cherry Hill members but quite inexperienced at shepherding top tour pros round a U.S. Open.
Ultimately, Palmer's final round proved his friend Drum wrong. The 65 saw him overtake 14 golfers to the top of the leaderboard. At the time it was best finish by a U.S. Open champion in the history of the championship, bettering Gene Sarazen's closing 66 in 1932 by a shot.