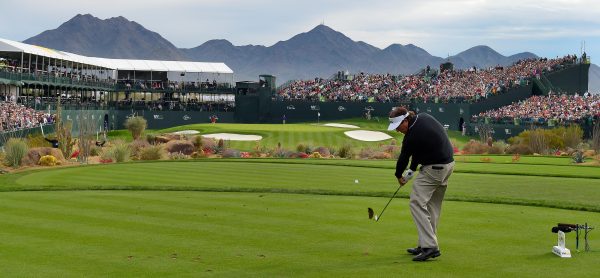 Beyond the Noise: TPC Scottsdale
Its tournament draws more fans than any other event on the PGA Tour. Its 16th is one of the most iconic holes in the game. And the exciting records set here include the only hole-in-one on a par-4 in PGA Tour history. But when the tournament is done, and when the crowds are gone, TPC Scottsdale goes back to being a golf club—a very good one, in fact. And certainly much quieter than it is in February
There's a story told that goes something like this: an Arizona State University student asks her dad for $50. "Why do you want $50?," he asks. "So I can go to the Waste Management Phoenix Open at TPC Scottsdale," she says. The dad says OK and gives her the money. The next day the father asks, "So who did you see?" "What do you mean?" she replies. "Well, did you see Phil Mickelson or Sergio Garcia or Rickie Fowler or…?" She blinks for a second, then laughs and says, "Oh dad! I didn't go for the golf!"
The club that hosts "The Greatest Show on Grass," as the Phoenix Open is called, counted roughly 190,000 people on Saturday in 2014 and more than 563,000 for the week, setting both single-day and tournament-week attendance records. Incredibly popular among college students from nearby Arizona State University (which counts Phil Mickelson among its alumni), the tournament is the biggest party in golf, with concerts by leading artists, all kinds of food and drink on offer and, of course, great displays of golf for those who are watching. But it's not as if TPC Scottsdale closes down after the tournament. Most of the year, it serves as one of the top public golf resorts in the country. Now, one year from a massive renovation that saw drastic improvements to both the clubhouse and the Stadium Course, the 36 holes on offer at TPC Scottsdale are more inviting than ever—not that the club has ever lacked for fans.
"You'll hear some questions: 'Are there really that many people?,'" says TPC Scottsdale General Manager Brad Williams, talking about Saturdays at the tournament, when the college crowd shows up in force. "I tell people that it's pretty darn close. And even if you're off by 10 percent, that's still 170,000."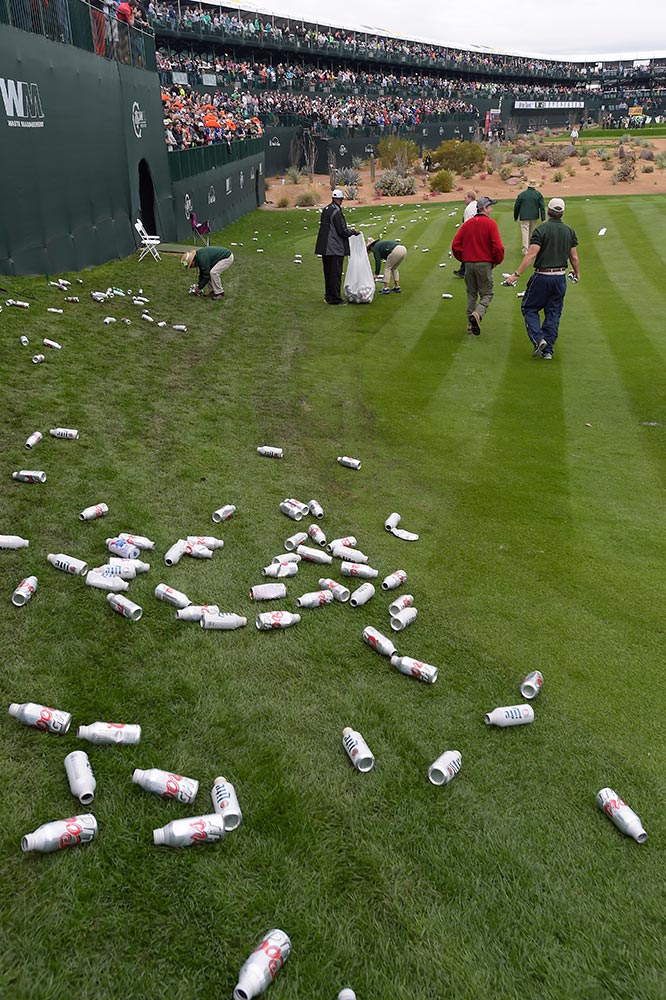 Most of the action is at the Stadium Course's 16th hole, also known as "The Loudest Hole in Golf." If Caesar had placed a 162-yard par-3 hole on the floor of the Roman Colosseum, it would hardly have looked different. Players come off the 15th green and walk through a tunnel before emerging into an arena filled with 30,000 roaring fans, filling the grandstands that frame the TOUR's only fully encircled hole. Good shots are loudly cheered, bad shots are loudly booed and occasional bursts of brilliance—like holes-in-one by Tiger Woods (1997), Jarrod Lyle (2011), and Francesco Molinari (2015)—result in complete mayhem.
"It's a mess to clean up," admits Williams. "But the only real downside of it, when those bleachers are up, is that it creates some issues for us with shade. The right-hand side of the tee box and right behind the green, it's tough to grow grass for us. It takes four months to build [the seating] and two months to take it down, so for six months a year that hole has some construction going on—it's not quiet. We can't stop working when a group comes through, and you would think that some guests might not like that, but I think most love it."
The shade issue, along with permitting issues and other variables, prevents the club from simply leaving the seating in place year round, but whether it's up or down the attention generated by the hole is "all positive" during the year, Williams says.
"Guests think it's really great, actually, to pull up through the tunnel off the 15th green, and arrive in the stadium, for lack of a better word. They just stop and look. This is the only place in golf where you can drive in and get this kind of experience. It's pretty darn cool."
Much like TPC Sawgrass with its iconic No.17 island green, Williams says that some people can seem to forget that there are 17 other holes on TPC Scottsdale's Stadium Course.
"It's funny," he says. "It's one of the most recognizable holes in golf when the bleachers and skyboxes are up, but when they're not up it's just like any other hole. The 10th green and 16th green are kind of back-to-back, and the original routing had that as a double green, oddly enough—which would have been interesting—and so the 11th tee ends up being adjacent to the 16th green, and people will be like, 'Wait, is that…?' They have no idea.
"We'll also have guests come in, and it's similar to No.17 at Sawgrass, where they're not playing golf, they just want to go out and see 16—but it's just an ordinary hole in summer. When you play the hole and the stands are down it doesn't look anything like you see on TV.
"Of course, even in summer when there are no stands up, we'll still see our golfing guests booing each other if they miss the green—that's what you do there!"
Just past 16, No.17 gets its share of attention as well. Williams says The Thunderbirds, the local group that has organized the Phoenix tournament since the event's inception in 1939, has built a new 20,000-square-foot hospitality space on the left-hand side of 17 that will be just 20 yards off the green—"which is pretty darn close," as Williams has it. This is the 332-yard par-4 famously aced by Andrew McGee in 2001, the only hole-in-one on a par-4 in Tour history, and "it's a great place to watch golf," says Williams. "A very exciting hole."


For visitors who come to TPC Scottsdale's Stadium Course when the tournament isn't on, "I think you're going to experience a really well-designed and playable golf course with a little bit of a desert feel," he says. "It's easy to maintain playability. You're always going to be able to find your ball and be able to hit it again. Maybe you're not in a great lie, but it won't be rocks and really nasty native desert, and so it's really well-conditioned and it's a great golf course for players of all levels in that regard. You're going to have the opportunity to hit every club in the bag at some point and have a really good time."
Recent improvements to the course have certainly enhanced the experience, with one of the most significant changes coming on the 450-yard, par-4 14th hole.
"It was a pretty mundane or pedestrian par-4, 440-450 yards, straight. There was nothing to it really. We made a change on that hole late in the renovation to move the green back 30 or 40 yards. We put it up on top of a hill, a little more left, and changed it into one of the most visually attractive holes on the golf course—and also one of the hardest holes on the golf course. It plays 495 yards uphill and the green sits diagonally with bunkers at the front. It was always the weak link on the back nine, but now I think it's a really fun stretch of finishing holes to play. No.11 is a demanding par-4, 480 yards. No.12 is kind of a peninsula green par-3, with water in play on the right-hand side. No.13 is reachable with water right. No.14 is the changed hole, and so on until No.18, which is a very good par-4 with water on the left-hand side. The back nine has turned into a fun and dynamic way to finish. It's great to watch on TV, and for our guests that play it's really fun and enjoyable. If you're playing a match with buddies, all sorts of things can happen on the last five holes. It's really, really positive."
The actual changes to the course proper were led by original architect Tom Weiskopf two years ago and included the relocation of four greens, resurfacing of all greens, reshaping and re-grassing of all tee complexes, relocation and reshaping of all bunker complexes, replacement of cart paths and re-landscaping of desert areas. TPC Scottsdale has been irrigating and handling some operations with reclaimed water for a long time, anyway, so they were ahead of the curve on that one.
While the recently renovated Stadium Course is getting all the attention, there's another course at TPC Scottsdale: the Champions Course. Designed by Randy Heckenkeper and built on the site of the former Desert Course, Champions received its own renovation in 2007 and is very popular as well, with a pleasant mix of rugged/elegant character and a price point that's roughly half of its more famous sibling.
"One of the things that we like here is that the two golf courses on property are really quality golf courses. The Champions Course doesn't get the recognition of the Stadium Course, but we like that they are both high quality at two really different price points. We're not trying to fill up two golf courses at the same rate.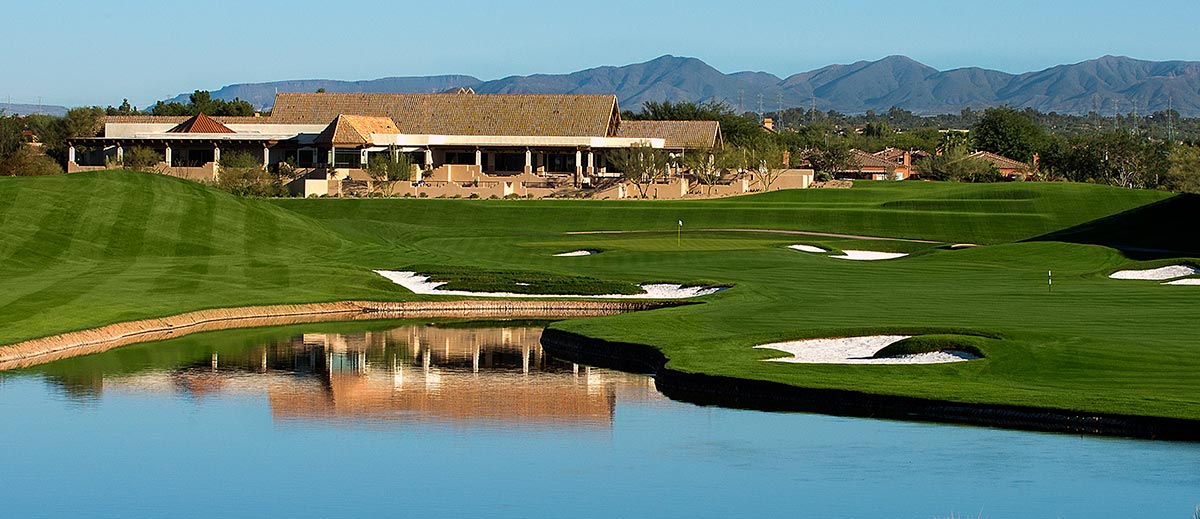 "In summer we swing back to a pretty significant local crowd, especially on the Champions Course. But over the year I would guess maybe 85 to 90 percent of players are from out of town. We'll see 45,000 rounds on each golf course—it's a busy place, and we're only open 10 months a year."
Williams explains that TPC Scottsdale is closed for maintenance in July, that 11 days go to the tournament, and 17 for over-seeding, making it "a busy and active place year-round," as he puts it.
With all of the impactful changes to the Stadium Course and with all of the basic maintenance going on, the clubhouse has not been ignored. In fact, the transformation there has been sincerely dramatic. Working with architecture firm Allen & Philip, TPC Scottsdale (which is owned by the city of Scottsdale) added locker room space and meeting areas and truly fixed up the overall property, yielding an altogether different visitor experience.
"The clubhouse we had before had gotten really dated," says Williams. "We refreshed it aesthetically, and added a new locker room with 156 lockers, which has been really well received, added a new meeting space with about 2,000 square feet which is also used for tournament player dining… We created a lot more space for [the players] and their families to be comfortable when they're here. Before, there couldn't have been more than 800 square feet, and we tried to jam them and their families in there for dining, plus a little patio. The improvements were very well received.
"We also use the space for receptions and meetings. We never had it before, never had a place for a group of over 24 players, nowhere private for them to go and do any function before or after golf."
Visitors to TPC Scottsdale might notice that the sustenance options on offer are slightly different than what they might be used to as well, and that's because the excellent Fairmont Scottsdale operates the club's food-and-beverage services. In a definite departure for a standard golf property, the on-site restaurant is a full-on themed dining experience called Toro, which was part of the renovation.
"Honestly, it's a little different for a golf clubhouse," says Williams. "It's a Latin restaurant and rum bar, and there's a Latin concept and a little flair to it. It's very different for a golf crowd but so far it's been really well received. It's opened with really good response and reviews, and it's definitely a step up and improvement."
Beyond that, "it all looks a lot more modern, better than before," says Williams. "The feedback on the renovations from players during the Waste Management Phoenix Open has been fantastic on both counts, both the clubhouse and the course. It all turned out really well."