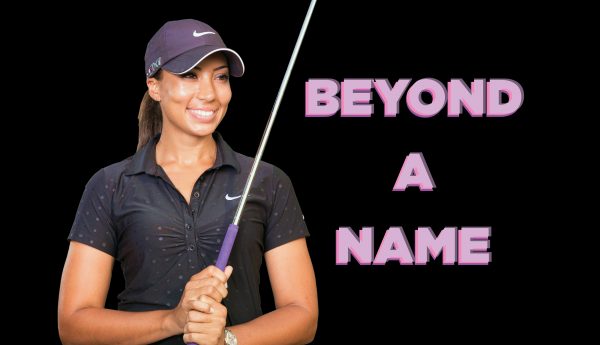 Cheyenne Woods
Sometimes a name can open every conceivable door to success, sometimes it can be a millstone round the bearer's neck. Tiger Woods' delightful niece, now 18 months into her career as a tournament golfer and still grinning from ear to ear, tells Paul Trow how she is taking the positives out of her life in golf's ultimate goldfish bowl.
Arguably, Tiger Woods has the frostiest relationship with the media of any sporting icon. And to describe his default reaction to even the politest enquiry about his private life as somewhere between disdain and belligerence is no exaggeration. So when an intrepid young reporter popped her head above the parapet during the 2013 U.S. Open at Merion to ask the world No.1 a vaguely personal question, the more seasoned occupants of the press tent ducked instantly for cover. Buttressed by the cutest of smiles and the insouciance of youth, though, the embryonic journalist ploughed on undeterred: "With it being such a stressful and demanding week, what do you do off the course to relax and get your mind off golf a little bit?"
A harmless enough query on the face of it, if directed at most sports stars that is, but surely a gamble with career oblivion on this occasion. What happened next, though, took everyone pleasantly by surprise, most of all Tiger. The questioner turned out to be none other than his niece, Cheyenne Woods, who had been given a roving brief that memorable Pennsylvanian week by Back9Network.
After takes by her uncle that were more quintuple than double, Cheyenne got the answer she was hoping for as Tiger dissolved into mirth. "He didn't know I was going to be there so he was a little taken aback when I poked my head up," she explains disarmingly, flashing a smile as bright and wide as a neon light strip.
"I was the only female journalist in the room, which was intimidating, having all those men there. I know they're all real journalists and I was just getting a feel for it for the first time, but I'm a golfer—I know golf—so I had a bit of confidence in my questions. I got to question several other players at Merion, including Rory McIlroy and Graeme McDowell. It sure was a fun week."
For most trainee reporters fresh out of college with a communications and broadcasting degree, these exchanges would have represented not just a bit of fun but a significant step up the journalistic ladder. For Cheyenne, however, it was a logical staging post on the path she has traveled since picking up a cut-down golf club at the age of three, a path that is leading her from fame by reflection to independence, success and public recognition in her own right.
That first infant encounter with the game took place at the home of her grandfather, Earl Woods, Sr., in Cypress, California, 35 miles southeast of Los Angeles. Little did she know that the miniature iron had once been wielded by her Uncle Tiger—by then 18 years old, a three-time U.S. Junior Amateur champion and well on his way to becoming the biggest name in golf. Before Tiger celebrated his fourth birthday, he had already shot 48 for nine holes at the Cypress Navy course, where his father played regularly. By comparison, Cheyenne, who turned professional in May 2012 at the same age (21) that Tiger did, was a late developer.
Judged against normal standards, though, hers has been an alpha success story to date. Her father—Earl Woods, Jr., the oldest of Earl Sr.'s three children by his first marriage—brought her up with her two older brothers in Phoenix, Arizona. So as far as golf was concerned, she was restricted to occasional pieces of grandfatherly advice over the phone or on vacation to Orange County.
"I was only on the course with my grandfather maybe a handful of times," she says. "Neither of my parents played golf, we didn't know anything about it. At first my mom and I didn't even know what a driving range was, so we would just go to the local park and hit balls in the grass there. I started playing and taking lessons when I was five or six, which was very young. But I played a lot of sports growing up so golf wasn't my entire life. I danced competitively, I ran track and I played volleyball. My parents wanted me to be pretty rounded and left me to decide which sport to concentrate on."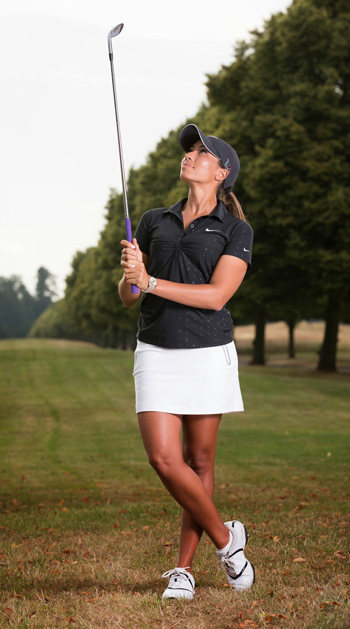 Nevertheless, it is tempting to imagine that, like Tiger, Cheyenne is another product of Earl Sr.'s vicarious pursuit of world domination: Tempting, but completely wrong. True, he was her mentor, "the one who guided me through junior golf and told me what events I should play in," but he passed away in May 2006 when she was only 15 and in her junior year at Xavier College Preparatory, a Catholic, all-girls high school in Phoenix.
He did, however, take the trouble to write to International Management Group (IMG) citing her as a future star. "He wouldn't tell me what he wrote. He just said: 'One day you'll get to that point where they're going to recruit you and then you'll finally see what I wrote.'" Last year IMG did indeed sign up Cheyenne as a client. "It was a huge moment for me to see that report in his handwriting. They'd kept it on record for me all that time. When they gave it to me, it was surreal. Of course, I had it framed and everything."
As for Tiger, while she was growing up she mainly saw him when he came to Scottsdale to play the Phoenix Open. Her clearest memory dates from 1997, a few months before he won the first of his 14 Majors at Augusta National, when he holed in one at the 16th in front of the loudest gallery on Tour. "During the week of that tournament, we would go and see my grandfather and Tiger, say 'Hi!' and spend a bit of time with them. I was there for his hole-in-one and that was huge. I always watched him on TV at weekends. I thought it was really cool that my uncle was famous for playing golf. But I guess I didn't realize how big the whole thing actually was. I was seven when he won that first Masters, and I remember watching Tiger walk off the green. Tida [Earl Sr.'s second wife, Kultida] and my grandfather were there, giving him a big hug."
Cheyenne the golfer has never really been out of the public eye. At junior tournaments, TV cameras tracked her every move while photographers delighted in capturing the image of Tiger's tiny niece proudly dressed in her uncle's trademark Sunday Red. Now 23, she cannot help but laugh at the absurdity of it all. "I have a picture of me from when I was eight or nine years old. I was doing an interview after my event and I had literally six cameras surrounding me," she says, rolling her eyes. "I'm just this little girl on a chair. It was big, I guess. You know: 'Tiger Woods' niece is playing golf.'
"For me now, the media is just like second nature. I'm a normal person. I just happen to have a big last name. Anyway, it would be stressful to compare myself to Tiger. Not many people can achieve what he's achieved, at such a young age too. But being a Woods is definitely not a burden. Yes, I do have that added pressure of expectation—I'm always reminded of it. But I realize it comes with the territory. It's normal to me and I can turn it off when I get on the course.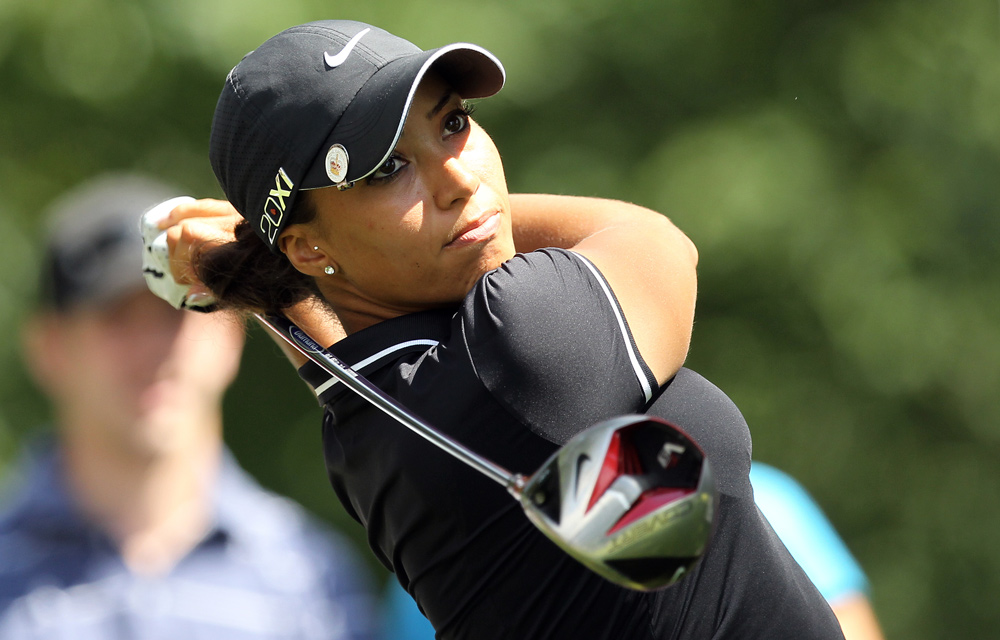 In any case, the name certainly has its advantages and gives me opportunities that I wouldn't have otherwise.
"It's an honor to have the last name Woods, but I want to be known for my own golf. I want to be an established player on the LPGA."
Her surname may have helped secure her an endorsement deal with Nike, the company that has never wavered in its support of Tiger, and more recently with Rolex.
But it was irrelevant to the golf scholarship she received from Wake Forest University—the prestigious North Carolina seat of learning that includes Arnold Palmer, Lanny Wadkins, Curtis Strange, Webb Simpson, Laura Diaz and the Haas dynasty among its alumni. That honor was entirely due to the quality of her golf game.
She won more than 30 amateur titles, including back-to-back Arizona 5A state high school championships in 2006 and 2007, and by the time she sank her last putt for the Demon Deacons in May 2012 she had a lower career scoring average (74.31) than any female player in the school's history. She was a two-time All American and romped to a seven-shot victory at the 2011 Atlantic Coast Conference Championship—an achievement she rates as her finest to date, along with qualifying for the 2012 U.S. Women's Open. "Receiving a Wake Forest education was definitely a great privilege," she says. "But it involved a lot of hard work—many 12-hour days. For four years, I had to fit practice, competitions and gym sessions around my studies. We missed a lot of school because we played so much golf, so we were constantly studying books and preparing for class during our bus rides to and from tournaments."
She describes her style of play as "very steady—I feel like my personality reflects how I am on the course, very laid back, just go with the flow. I'm never too errant and I like to think my putting is one of my strongest points. For me it always comes down to whether I'm making the putts or not."
Three months after turning professional, she claimed her maiden winner's check ($3,000) in a SunCoast Ladies Series tournament over the Champions Course at LPGA International in Daytona Beach, Florida. But Kipling's truism about those twin imposters, triumph and disaster, hit home less than a week later when she missed the cut at the LPGA Q-School over the same layout.
From the ecstasy of that first victory in the paid ranks to the agony of knowing that she faced 12 months in limbo from her vocation: The journey had lasted just one lousy stop. But the resilience and resourcefulness that saw her through Xavier and Wake Forest came to her rescue. Her solution was to ply her trade on the Ladies' European Tour instead, and see the world at the same time. Thus she began an altogether different and much longer journey, one that took in Australia, New Zealand, China, South Africa, Morocco and India along the way as well as historic European capital cities like Amsterdam, Madrid, London and Prague.
"It's been a good experience learning the different courses and adjusting to the weather and jet lag and so on because I haven't really traveled a lot in my life and I'm not an organized person at all. In college the joke was that I would always get lost or lose something.
"This year I've been out on my own, so I'm definitely getting better at keeping things on track. But traveling every week to a different country means I have to be careful when I use my cell phone because it's so much more expensive than at home. Dating is pretty difficult too!
"Before this year, I'd visited St Andrews in Scotland with a minority golf group once when I was 17 and played the Castle Course. And one May, during the summer term at Wake Forest, we all got invited up to Latrobe and Mr. Palmer hosted us. It was a wonderful experience to meet him, and we were able to thank him for donating the money that paid for our practice facility on campus."
Dianne Dailey, the long-serving women's golf coach at Wake Forest, believes a glittering career awaits Cheyenne on the LPGA tour. "She's a steady player, unflappable. She stays very even-tempered, calm and under control, and showed a lot of mental toughness and focus [while at Wake Forest]," Dailey says. "She has a good feel on the greens and I think she's learned how to handle the pressure.
"Back in 2009, she missed the cut by one shot when she played as an amateur in the Wegmans LPGA [at Locust Hill Country Club, Pittsford, New York], but it was what she did off the course that impressed the folks running the tournament. She put on a clinic, visited a hospital and was gracious with her time while she was there. I had one of the organizers call me afterward, and she told me Cheyenne was great to work with and was so cooperative. She should be known for being a good player, not for who her family is."
For the moment, that won't happen. She's had a steady year in Europe, but the intent to forge her own, Tiger-free identity is clearly there. "My whole life I've just tried to go about my own path. There's really no rush for me to get out there and win 14 Majors like Tiger did. I'm happy with my own game's pace of growth and I'm excited for my future."
Even though Cheyenne sees little of her uncle, they are still only a text or phone call apart. "The one piece of advice he always gives me is to trust my ability," she says. "That's been huge for my confidence on the course. We're both extremely busy but he keeps up with me playing in Europe. He's aware I'm out here and doing my thing on tour. But if I ever need something, I know I can always reach out to him."
Being articulate, poised, photogenic and uniquely well-connected, Cheyenne could probably earn more from a media career than from life on tour. Her interviews with Tiger alone would surely command seven-digit fees, but at present she has other ambitions and a few points of her own to prove. "For the moment, being a player is my No.1 priority. I want to achieve my goals there first," she says. "Sometime after my golf career I can maybe get involved in that [broadcasting]." Tiger should be much mellowed and on the Champions Tour by then.