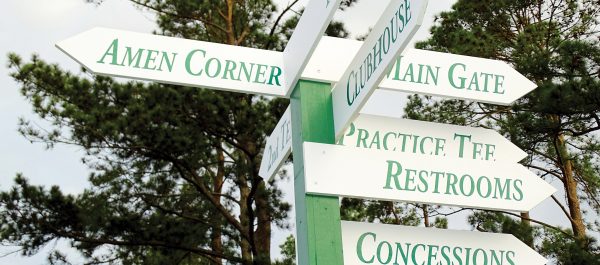 All in a day's work: playing Augusta National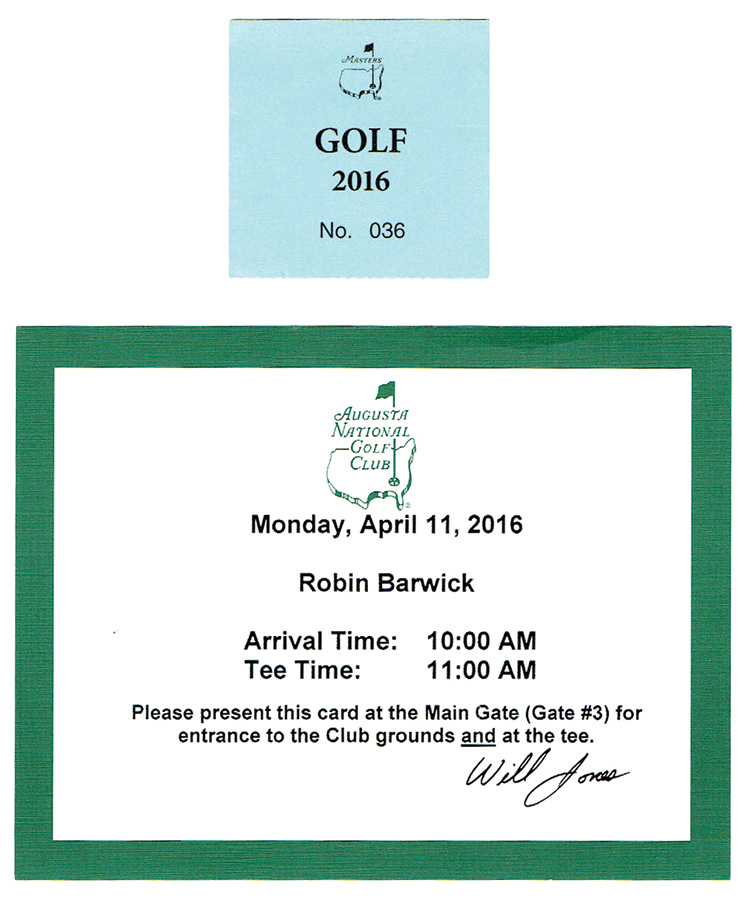 While working at the 2016 Masters, our managing editor Robin Barwick saw his number—36, as pictured above—pulled out of the media draw to play Augusta National the day after the final round. He told us he had a meeting with a guy about a story…
Receiving the greatest media perk in golf was electrifying, but also more than daunting.
It was my fifth Masters and the third time I had entered the media draw. A handful of "working media" fourballs are invited to play each year, and Augusta National likes to spread around the opportunity, the joy, the sleepless anxiety. In advance I had even arranged my travel home for the Tuesday after the Masters, just in case my name came up (a couple years ago, one writer played his tee shot on 13 before rushing off to catch a flight; it gives the "walk of shame" new meaning).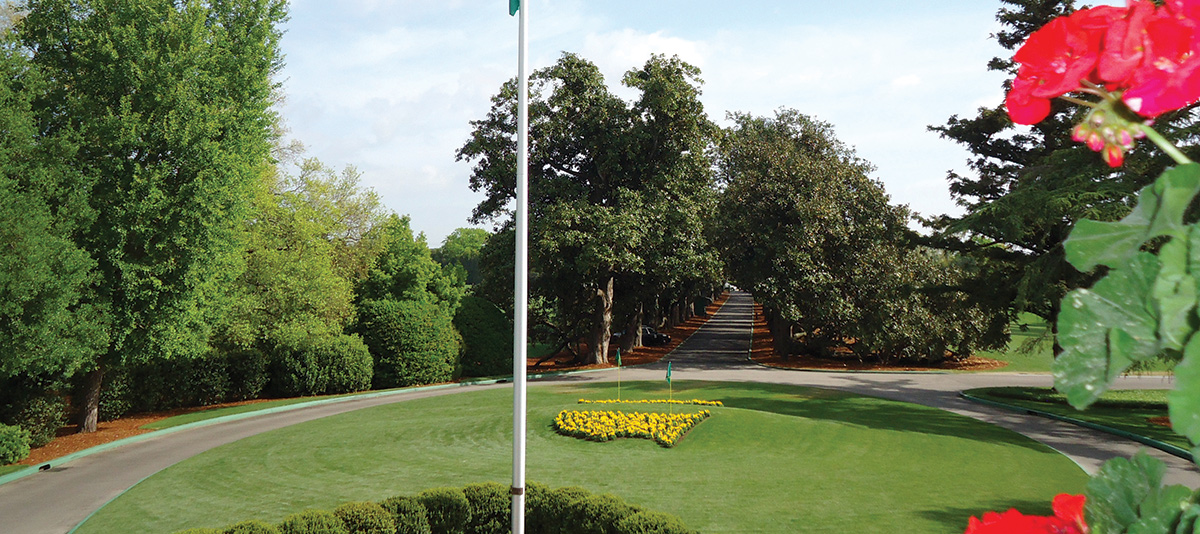 I love golf but I am not very good. There is a song by Chris Isaak called Baby Did a Bad Bad Thing. It's about a woman, but whenever I hear the song it's about my golf ball. It's about a long line of failed, short-term relationships. Many rounds of golf end for me the way Isaak sings it: "I feel like cryin', I feel like cryin'…"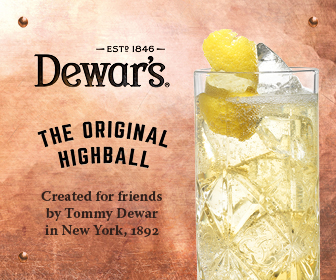 Monday, April 11, 2016
Having set a new land slow-speed record driving up the shady idyll of Magnolia Lane, I was anxious to head out to the tournament practice ground to get some swings in on a set of brand new clubs lent to me by a local country club. Mint condition Titleist cart bag, pristine Titleist AP2 forged irons, unblemished Titleist 917 woods, gleaming Scotty Cameron putter. Beautiful, but totally new to me and my fragile game.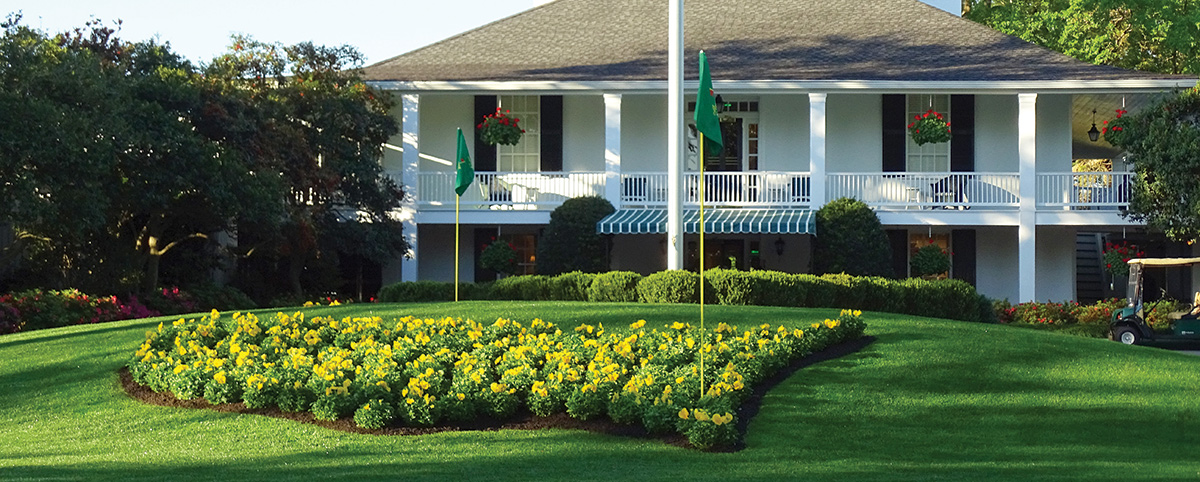 So it was a quick turnaround in the Champions' Locker Room—yup, we were allowed in there—and so the day unfolded, with one highlight rolling in after another: Magnolia Lane, Champions' Locker Room, the world's finest practice ground, the first tee, the first green… You get the sequence, and it ends where it began, back in the Champions' Locker Room, Magnolia Lane.
The most striking feature about the Champions' Locker Room is its quiet intimacy, which is typical of the central section of Augusta's clubhouse, the original plantation manor house built in 1854. The building has been painstakingly preserved and extended since it was converted into a clubhouse by club founders Bobby Jones and Clifford Roberts in 1931, and the manor house steadfastly retains a beautifully antiquated feel, including its limited proportions.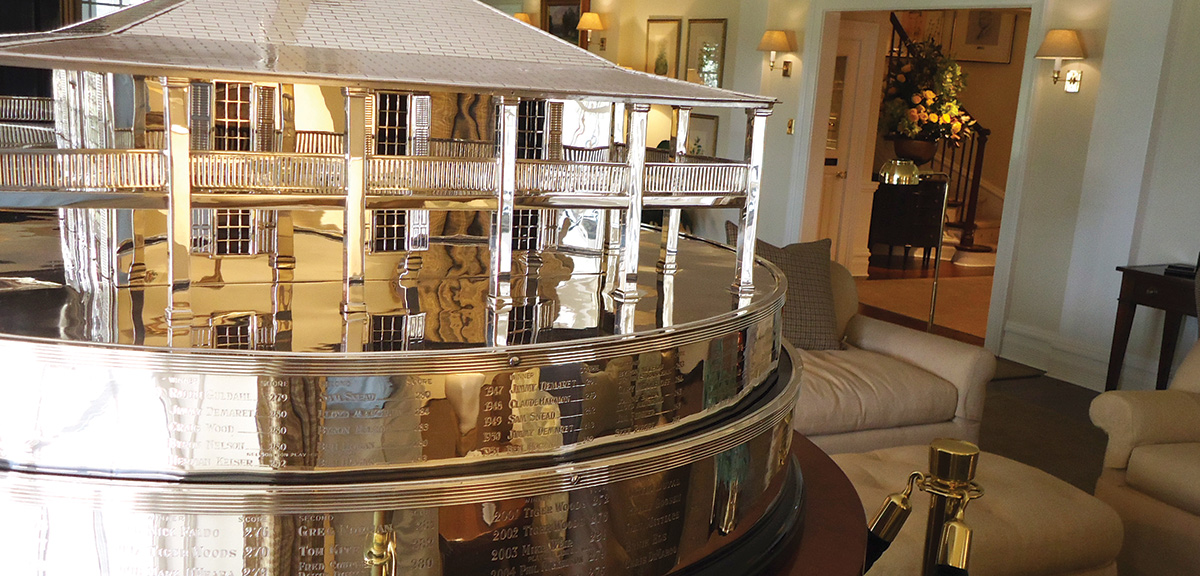 On the range, my caddie, Charles, was standing by my Titleist tour bag in white Augusta overalls, standard issue, polishing the clubs (not that they needed it, but thanks anyway).
I started with the ol' reliable 7-iron, the safe play. I had asked for regular steel shafts but I now discovered—on the turf upon which the world's finest had been warming up just 24 hours before—that these glinting shafts were as stiff as reinforced iron. There I was, a moderately high handicapper heading out at Augusta National with a set of clubs made for Adam Scott.
Tense and swinging too fast, I miss-cued a couple, the balls skimming wildly towards sand traps. Then I hit a couple of sliced line drives, so I turned to the 8-iron, while trying to laugh about how I'd never seen these clubs before. Charles' heart must have sunk at the prospect of zigzagging around Augusta with this heavy cart bag.
After a handful more ugly step-sisters, I choked down on the grip, slowed down the whole sorry display and hit some half-swing pitches, which assured me these irons did have sweetspots after all. Running out of time, I turned to the 3-wood—which at least had a graphite shaft—and I don't know if Amen Corner delivered an answer to my desperate prayer, but I finally found a club I could hit out of the middle, straight and high.
Hole No. 1: Tea Olive
Jones wrote how he never forgot his first walk out back from the manor house of what had been Fruitlands Nurseries, in the spring of 1931.
Previously, I had only stepped onto the unfailingly green turf of Augusta during Masters week but this atmosphere, the morning after the night before, was completely different and it took a few moments to compute. There was hardly anyone out there—just other, distant fourballs making their progress. I don't know the tee-time intervals but there was no sense of hustle. No security guards. All the fairway ropes had been taken down overnight and so here was a true sense of what Augusta National is like. This stunning tranquility is what the members enjoy and we were given an inkling of what Jones must have felt 89 years ago.
We could appreciate how much space there is at Augusta, and never more so than off the first tee, particularly if you take aim with a 3-wood from the Member tee. Over 18 holes, the Member tees cut 1,070 yards off the Masters scorecard, from 7,435 down to 6,365, and on the first it is a decent walk down from the Masters tee at 445 yards, to the Members' at 365. Even so, the fairway is more than generous.


I had never met the three guys who made up our 11:00 slot. We were an Englishman (me), an Irishman and two Americans and I hoped I would not be the butt of the joke.
Sentiments around Jones' first visit and enjoyment of Augusta's warm, spring sunshine vanished when my name was called to tee off. Well, I don't know how, but blessedly—almost unbelievably after my awkward swipes on the range—I striped a tee shot right up the middle. High and straight, I nearly called it a day right there. I somehow stumbled my way to a 6 after that but who cares, the tee shot is the one I'll remember.
I am not going to chart my round shot by shot, none of us would make it to the end. And as we all know, some things are best left unsaid.
But I can report that playing Augusta National—from the Member tees remember—is not as tough as you might imagine, even with the Sunday pin positions. Before we teed off, Charles assured me that losing golf balls did not happen often at Augusta, because the "second cut" here is shorter than some "first cuts" elsewhere, and beyond that most of the ground is carpeted with pine needles. Almost the only spots where golf balls are in mortal danger are where water comes into play, and how much water features on the front nine at Augusta National? Zilch.
Water does not feature until the 11th, and—having been worried about running out of balls—I did not lose one until I did a "Spieth" at the 12th. Back to that in a moment.
First there were two pars to report on the front nine, neither of which would have occurred without Charles' reading of the greens. A chip and a putt on the par-3 fourth produced my first, followed by holing an almost straight 15-footer on the par-5 8th. I was made up already.
Rae's Creek
Readers who have not visited Augusta National might not know that Amen Corner is the lowest part of the course. In fact, Rae's Creek is the lowest point. "If in doubt, all putts lean towards Amen Corner," was one of Charles' many Southern-grilled nuggets, echoing Jack Nicklaus, who once warned that when putting at Augusta National, "You always have to remember where Rae's Creek is."
On a quiet morning with its huge grandstand completely empty, the sense of peace and seclusion at Amen Corner is magnified, hemmed in by towering woodland apart from the green avenues of the 11th and 13th fairways. One way in, one way out. During the Masters, Amen Corner—the Mecca of American golf—has a constant hum. On this idyllic morning though, all you could hear was the trickle of Rae's Creek, the singing bluebirds, a heron paddling at the creek's edge. The swirling breezes for which Amen Corner is renowned were at ease on our visit, which heightened the tranquility.
I have walked the course many times and was sold on the attractions of Augusta a long time ago, but taking a welcome pause on the 12th tee—the pivotal point of Amen Corner—dug a deeper appreciation of this golf course.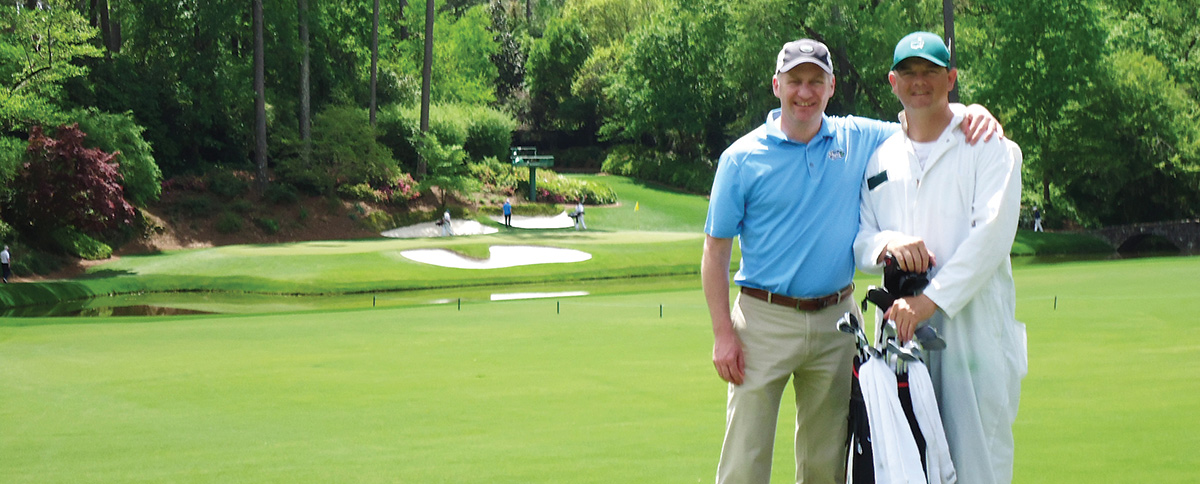 By the time we reached the 12th—Golden Bell, one of the all-time great par-3s—I had adjusted to Scotty's irons a bit, particularly with attempts at shorter back swings. From 145 yards on the Member tee I had nothing to lose with a three-quarter six-iron. I nearly got it just right, aiming over the front bunker—as Nicklaus and Bernhard Langer, among others, always do—and my ball soared high, and while it looked for a moment that it might reach safety, the ball faded and dropped into the same spot of Rae's Creek that Jordan Spieth found on his first attempt in the previous day's final round. Admittedly, Spieth's ball bounced back off the bank whereas mine was a slam-dunk. Minor detail.
And Isaak wails: "It hurts so bad when you finally know just how low, low, low, low, low she'll go."
Yet the truth is I have never been less disappointed to find water off the tee. If it's good enough for Spieth, it's good enough for me (and the young Texan would hate that).
It was not until I crossed the Ben Hogan bridge and approached my second ball—over the green, back right—that I got a true realization of how small the 12th green is. You hear the pros going on about it, but credit where it's due. There is nothing of it, so little wonder that despite being the shortest par-3 at Augusta, it has inflicted an average score of 3.23 over Masters all-time history.
Similarly to the first tee, for golfers like me who opt for a 3-wood off the Member tee on 13 (Azalea) there is more space than you would imagine. A hook should result in a ball lost among the azaleas (unless you hit a left-handed "slap cut," as Bubba Watson calls them, 366 yards onto the fairway, as he did in the final round in 2014 on his way to a second Green Jacket), but the high fade I struck had all the fairway in the world.
After a grass-cutting hybrid, I hit a 6-iron onto the 13th green from the left of the fairway to snag another cherished moment. But that 13th green is long, and while my ball was front-left, the pin was back-right, 50 feet away.
"This putt is shaped like a candy cane," explained Charles as he paced it out. "You need to putt the ball past the hole before it turns right around back towards the hole."
Another read I would never have seen. Slightly downhill, with a ridge to cross, I hit the putt pretty hard to make sure it rolled clear past the hole and Charles liked its chances. As the ball slowed down past the hole, as if pulled by a magnetic force, it turned around in a 180-degree loop and started a new course straight for the hole. It would be stretching editorial license too far to say I holed it—no fake news here—but it stopped less than a foot shy of the cup for a tap-in par. I won't forget the candy cane putt.
Another cut-down 6-iron found the 16th green and left me the only genuine birdie chance of my round from 12 feet, with a hint of right-to-left. With that back-left pin position my putt was one all Masters viewers have watched a million times. I had a clear vision of how the ball would turn into the hole, but it wasn't to be. It wasn't a bad putt but it skirted around the lip for another tap-in par. I was moderately ecstatic but tried to keep it contained.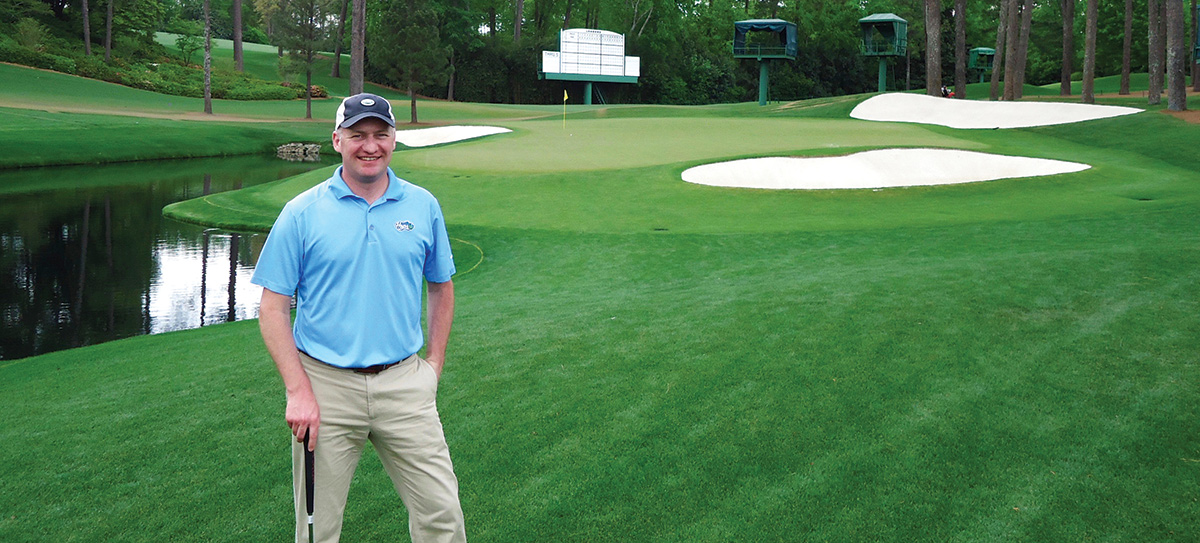 This was the only round when I wanted pace of play to slow down. I didn't want it to end and could not believe it as we marched up the 18th (which, as you may know, really is much steeper than in the pictures).
But the round did end, and I walked back up to the Champions' Locker Room with a single, clear thought: now I wanted to play the course again more than I did in the first place. Augusta National had not been brutal after all. It was the golfing experience of my lifetime—but in future I will pack my own clubs for the Masters, just in case.