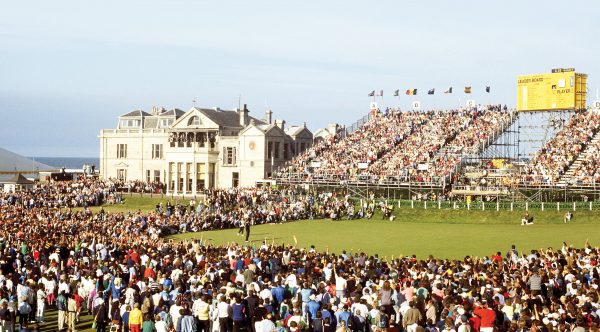 Faldo to make final bow
Sir Nick Faldo—Sir Nick Faldo MBE to be exact, in accordance with Royal decree—has announced that the 2015 [British] Open will be his last. An Open champion three times, and winner of three Masters titles too, Faldo is England's greatest post-war golfer and it will be fitting for him to bid farewell to the Open at St Andrews, not only because it is the 'Home of Golf' and spiritual home to the Open, but it is also where Faldo enjoyed the crowning glory of his career in winning his second Open title in 1990. Twenty-five years ago, that was Faldo at the height of his dominance.
"The Open and St Andrews will forever hold a significant place in my heart," says Faldo, who will turn 58 during the 2015 Open. "My fondest moments on my journey with this great sport are woven with pictures and emotions in this setting. It all means a huge amount to me. I look forward to celebrating all that golf has given me as I cross that storied bridge and the wonderful memories I share with many people. I am grateful for it all and grateful to golf."
It was a classic Open setting in 1990, as warm sunshine lit up the Old Course and crowds flocked to St Andrews to see if Faldo could live up to his billing and defeat world number one Greg Norman. The gentle, warm conditions fuelled the lowest ever scoring in the Open over the first two rounds. The cut mark was a record 143, one under par, which meant that Arnold Palmer, shooting two rounds of level par at the age of 60, was among those to cruelly miss the cut by one.
Faldo's form was indeed menacing, shooting 67-65 to share the halfway lead with Norman (66-66), the two matching the record low for 36 holes set by Henry Cotton in 1934. So the golfing world got the final pairing they had hoped for in the third round. Norman's putting went ice cold on the back nine on the Saturday though, and while Faldo held his composure to shoot another 67, Norman flopped to a 76 to leave him nine shots adrift. Faldo's 54-hole total of 199 was another Open record and he led by five from Payne Stewart and Ian Baker-Finch.
Stewart got to within two shots of Faldo midway through the final round but Faldo remained at his blinkered, uncompromising best, posting a controlled 71 for a total score of 270, to win by five and set a new Open scoring record.
I said to Fanny, 'Take a good look at this. We may never see anything like this again'
"As I crossed the Swilcan Bridge I deliberately scratched my spikes on the stone," recalls Faldo of the moment he walked up to the 18th fairway, with the Claret Jug all but won. "I wanted to leave my mark next to the scuffs of both Tom Morrises and all the other past St Andrews champions. I soaked up every second. To stand in the middle of the fairway, facing a straightforward wedge to the 18th green at St Andrews, surrounded by the packed grandstands, and gazing towards the magical clubhouse knowing you have won the Open Championship, is surely an experience to be savored. As we made our way through the crowds who had spilled out from beyond the ropes to encircle the 18th I said to Fanny [Fanny Sunesson, Faldo's caddie], 'Take a good look at this. We may never see anything like this again'."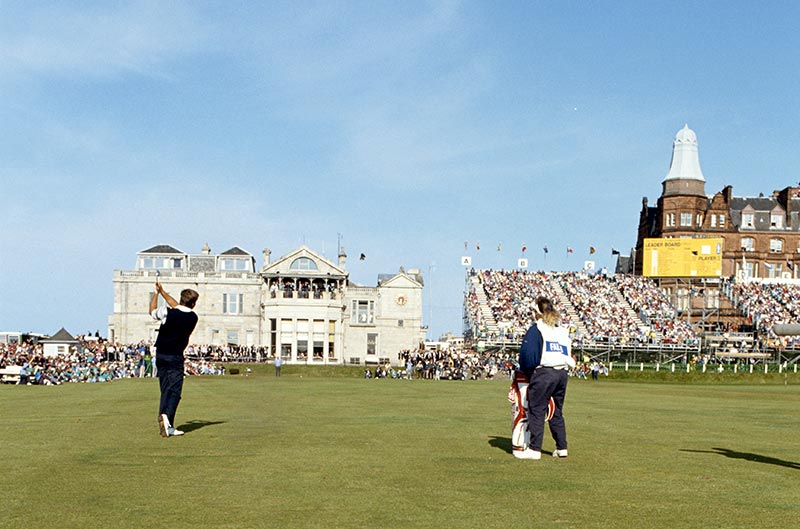 "Sir Nick Faldo is an inspirational figure in British golf and has enjoyed a remarkable career in The Open," says Peter Dawson, chief executive of Open organizers the R&A. "He has delighted the galleries over many years with his three victories and consistently outstanding performances. I'm sure there will be great anticipation among the galleries at St Andrews to see him play in The Open once again and he will receive a rousing ovation worthy of a great Champion."
Joining the club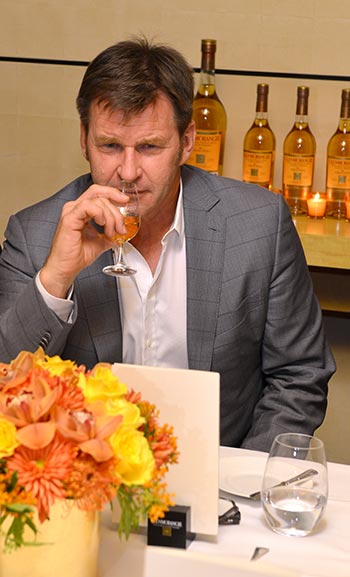 As the 2015 [British] Open approached, the R&A announced that Faldo and fellow Open champion Sandy Lyle MBE had accepted invitations to become honorary members of the Royal and Ancient Golf Club of St Andrews. Stalwarts of the European game in the 1980s and 1990s, Faldo and Lyle joined fellow Open Champions Palmer, Thomson, Gary Player, Jack Nicklaus, Roberto de Vicenzo, Tony Jacklin, Lee Trevino and Watson in becoming honorary members.
"I am honored to receive this invitation and look forward to celebrating nearly 40 years as a professional at the home of golf in July," says Faldo, with the 25th anniversary of his 1990 victory tying in neatly with the 25 Years Old single malt Scotch whisky produced by 'Spirit of the Open' Glenmorangie.
George Macgregor OBE, the Captain of The Royal and Ancient Golf Club, said: "Sir Nick Faldo and Sandy Lyle have enjoyed long and successful careers and are wonderful ambassadors for golf around the world. They were instrumental in leading the resurgence of British golf and have undoubtedly been role models for subsequent generations of golfers."