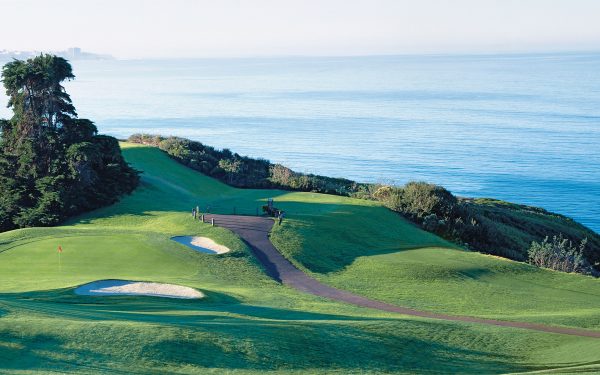 Golf Along The 1
California's Pacific Coast Highway is a road for every driver.
Featured in commercials, movies and most automotive enthusiasts' dreams, California's Pacific Coast Highway is as much a part of America's image as it is the state's. The familiar pictures of blue waves crashing against golden bluffs, sea lions lazing on rocky beaches, surfers, hot rods and rolling green hills join more than a few iconic golf courses to make "The 1," as Californians call it, one of the greatest paved experiences in the world.
Winding from near San Juan Capistrano at its southern end to its termination an hour north of Mendocino in the town of Leggett, the PCH runs for 656 miles past the towns of Malibu and Pismo Beach, Hearst Castle, the cliffs at Big Sur and the Golden Gate Bridge, among other landmark stops. Along the way you'll also find some of the best golf on the planet. Great scenery is a given, with the Pacific on the west side of the fairways and greens, but most will find coastal courses offer great challenges as well. Whether you're at the storied Pebble Beach or the quaint Little River Inn, the PCH is as much a top golf trail as it is a driver's paradise. The following represent ten of our favorite stops along the way, from southernmost to northernmost. Fly into San Diego, then rent something fun and sporty with good handling—just make sure there's enough room in the trunk for your clubs.
Torrey Pines
Located a few miles south of where Hwy 1 officially begins, Torrey Pines cannot be excluded from any list of West Coast golf destinations. The property's North and South Courses may be the most beautiful in Southern California, making it no surprise that Torrey Pines is host to the PGA Tour's Buick Invitational every February. Bordered by mountains to the north and the ocean on the west, the course features deep ravines, steep cliffs and the famous pine trees for which it's named. That the golf is as spectacular as it is, what with the unbelievable setting, isn't as surprising as the fact that Torrey Pines is a municipal course, maintained by the City of San Diego and open to all comers. Rarely is this level of golf so accessible.
Four Seasons Aviary
Like Torrey Pines, the Four Seasons Aviara isn't on The 1 exactly, but as it's just 30 miles south of where the PCH begins—and because it's absolutely fantastic—we thought it was safe to sneak in. This fine resort features great dining, great accommodations and incredible amenities (along with a top bartender in the lobby bar) but it's Aviara's golf offerings that really impress. Honored by Condé Nast Traveler as Southern California's No.1 golf resort for 2008, Aviara features a stunning Arnold Palmer-designed course that winds around the natural topography and includes water hazards as visual extensions of a central lagoon. There's a TaylorMade Performance Lab on site, where guests can be computer-fitted for clubs (just like the pros), which can then be ordered and delivered to your room direct from TaylorMade, headquartered just a few miles away. Top instruction is available as well, and the clubhouse is a two-storey, 32,000-square-foot Spanish colonial wonder that has to be seen.
Pelican Hill
Roughly 20 miles from Dana Point, Pelican Hill is one of the first golf resorts one reaches traveling north from the southern end of the PCH. Thirty-six holes of Fazio-designed wind-swept golf await visitors to the town of Newport Coast and the resort's 400 acres. Along with the beautiful ocean setting, the resort's courses border the protected Irvine Ranch Land Reserve, ensuring views are great no matter which way you're facing. As is the case with many PCH courses, Pelican Hill features more than a couple of holes along the cliff's edge. Bring a camera, and a few extra balls.
Trump National Los Angeles
Billed as The Ultimate California Golf Club, the Trump National Los Angeles is as visually stunning and professionally operated as one would expect from Trump, himself an avid and excellent golfer. Top restaurants and service complement magnificent views to create a must-play experience just outside of—but a world away from—the lights of Hollywood. With more than $250 million invested, it's well worth a visit.
Rancho San Marcos Golf Course
This lovely course is an absolute must-play just over the hill from the charming city of Santa Barbara. The property sits in the beautiful Santa Ynez Valley, home to many top Central Coast wineries, celebrity ranches and unequalled sunsets. Ancient oaks and 19th century adobe structures dot the property, built on the grounds of the ranch for which it's named, while a historic stagecoach trail adds a bit of original Valley flavor. Originally a Robert Trent Jones, Jr. design, recent renovations by owner Ty Warner have made it even better.
Morro Bay Golf Course
Often referred to as "The Poor Man's Pebble Beach," Morro Bay GC is indeed a less expensive round of golf, but it doesn't short players on challenge or setting, both of which are fantastic. Elevation changes are dramatic and club selection can be puzzling, with coastal eucalyptus and other trees bordering the thickly lined fairways and predictably picturesque shots at every turn. Situated in Morro Bay State Park and Estuary just 12 miles north of San Luis Obispo, this is one not to be missed.
Sea Pines
Basking in the sun on the southern tip of Morro Bay, Sea Pines Golf Resort is old-school California, with grand pine, cypress and eucalyptus trees rising above wind-swept dunes. Featuring a charming 9-hole course that's absolutely fun and, of course, beautiful, the resort also offers horseback riding and other coastal activities, creating an overall experience that reminds one what a traditional Central Coast vacation is all about.
Pebble Beach
Icon and home to the 2010 U.S. Open, Pebble Beach is, at its heart, an elegant and refined resort with unbelievable courses and one of the most storied histories of any golf destination anywhere. With late Victorian roots as the Hotel Del Monte and a golf course on-site since 1897, Pebble Beach has hosted more tournaments and is responsible for more anecdotes—from pro golfers, amateurs and tourists alike—than any other place we can think of at the moment. Do we really need to tell you that Pebble Beach is exceptional, beautiful, photogenic beyond belief and perfect for making golf memories? No, but we will anyway. Play it if you haven't already; play it again if you have.
Half Moon Bay Golf Links
Situated on the bay for which it's named with a beautiful Ritz-Carlton hotel on-site, this property just received a Gold Medal rating in GOLF Magazine's 2010 edition of Premier Resorts, and it's no wonder. The links-style Ocean Course is lovely, but our favorite is—surprise—the Palmer-designed Old Course, a classic beauty with a stunning cliff-side 18th that has been ranked as one of the best holes in the world. Joe DiMaggio liked it, and you will too.
Little River Inn
Located just an hour from the northern end of the PCH, Little River Inn is yet another example of classic California hospitality. The Inn itself is perched above the Pacific and has been housing travelers on The 1 for five generations. Wood-burning fireplaces and cocktails on your private deck make for good traditions, while the on-site 9-hole course provides a charming little challenge among the redwoods and gentle hills. As the story has it, in the mid 1950s Inn owner Ole Hervilla was watching Arnold Palmer on television and decided guests would appreciate a golf course on his property. He called a few golf course architects but didn't like the numbers he was hearing. After the third course designer quoted him a price, Hervilla told him, "Thanks, you just made a golf architect out of me," then built the course himself with local contractors, opening it for play in 1957. A prime example of both the independent spirit and natural beauty for which California is known.