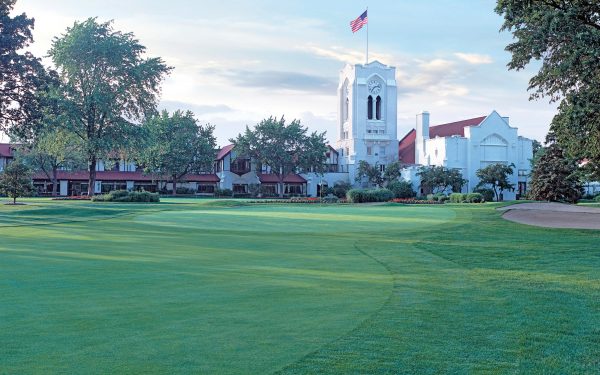 Inland Game
Ice fishing, da Bears and lots and lots of wind come to mind when one thinks of the Great Lakes, but the same breezes that give Chicago its Windy City nickname also tickle many a fairway across the Upper Midwest. Both the P.G.A. and the U.S.G.A. chose Wisconsin to host several recent championships.
The state with the most golf courses per capita is not Florida, California or South Carolina, it's Michigan. And the Ryder Cup is coming to the Chicago area in 2012—though whether or not it will attract the same fans that fill Soldier Field every NFL season remains to be seen. Either way, there's golf here. To find out where it is, we asked Kingdom correspondent Chris Rodell…
Olympia Fields C.C.
Olympia Fields, Illinois, ofcc.info
One of the giants of midwest Great Lakes golf and on the play list of every serious golfer, Olympia Fields was where Jim Furyk won the 2003 Open and overcame the distraction of a voluptuous streaker making friendly with him as he marched to victory. Up until that moment, the only blushing ever done at Olympia Fields was over all the well deserved compliments the Chicago-area course earned for hosting another fabulous major. The course has been host to 16 championships, including two U.S. Opens, two P.G.A. Championships and five Western Opens. The North course is an American rarity in that it was designed by a fancy import: two-time British Open Champion Willie Park Jr. If you get the opportunity to play Olympia Fields do not on any account miss it.
Geneva National Golf Club
Lake Geneva, Wisconsin, genevanationalresort.com
This elegant resort community near Lake Geneva is known as the Hamptons of the Midwest, about an hour and 40 minutes northwest of Chicago. The Grand Geneva Resort was once the playground for the original Playboy: Hugh Hefner. He built and ran the place as the Playboy Club from 1968-91, but today it's a wholesome family friendly resort with a trio of great golf challenges. Tracks by Player, Trevino and Palmer (his first in Wisconsin) are each worthy of praise. Both Palmer and Trevino were on hand for gala openings in 1991. When Palmer heard that Trevino shot a 66 on the Trevino course (Palmer'd shot a par 72 on his), he joked, "I guess that must mean his course is six shots easier than mine."
The Bog
Sauksville, Wisconsin, golfthebog.com
Devotees of this secluded APDC design will say it's one of the best, and experts agree. Golf Digest annually ranks it among the best in the state, and no wonder. The shot-making requirements are as varied as the lush landscape, with 7,221 yards winding through meadows, past clattering creeks and up hills that give views of the largest and purest peat land in southern Wisconsin—hence, "The Bog." The dainty par 4 12th hole is just 318 yards, but is studded with hazards that foil even the best golfers. Palmer himself carded a triple-bogey seven on 12 on his way to a 74 during a ceremonial opening round in 1995.
The American Club
Kohler, Wisconsin, destinationkohler.com
Along with Bandon Dunes, no courses have done more to insinuate themselves in the psyche of American golfers than Pete Dye's Kohler courses, especially The Straits at Whistling Straits. With spectacular scenery and excessive bunkering that borders on psychedelic, The Straits is on pace to become the pre-eminent major-hosting golf course in America. It's already hosted two majors (the 2004 P.G.A. Championship and the 2007 U.S. Senior Open) and will add the 2010 P.G.A. again in August. If that's not enough, the course that opened in 1998 will hold its third P.G.A. in 2015 all in a march to 2020 when it will be home to the granddaddy of them all, the 43rd Ryder Cup. The buzz about The Straits is so all-encompassing that it tends to suck all the air out of two outstanding Blackwolf Run courses along the Sheboygan River and The Irish course up the coast. Along with the golf, the accommodations, dining and amenities presented by plumbing impresario Herb Kohler Jr. combine to make this one of the most splendid golf resort towns in the world.
Harbor Shores Resort
St. Joseph, Michigan, harborshoresresort.com
Located near the southwestern shores of Lake Michigan, the month's-old Jack Nicklaus course at Harbor Shores is already making plenty of grand waves all its own. Three of the holes offer dramatic vistas of the lake, while 10 others offer a beguiling track along Ox Creek and the Paw Paw River. The 530-acre development boldly balances the need to protect the pristine environmental beauty of a wetlands site with reclaiming used up brownfield property to make it a compelling residential development that is destined to be one of Michigan's elite playgrounds.
Erin Hills
Hartford, Wisconsin, erinhills.com
Superlatives dangle from Erin Hills like ornaments on a Christmas tree. Golf Magazine said it was America's best new course in 2007. Highly regarded Milwaukee Sentinel golf writer Gary D'Amato said it was "destined for greatness." American golfers usually have to book a trans-Atlantic flight to enjoy a golf experience of such sublime purity. This is a layout so compelling and of obvious grandeur that the nitpickers at the U.S.G.A. awarded it the 2008 Women's Amateur Public Links—before it had even been seeded, much less opened for play. It didn't stop there. The organization then lined it up for the 2011 U.S. Amateur. With distinctions like those, look for this modern design to host a venerable U.S. Open while it's still in its golfing infancy.
Medinah C.C.
Medinah, Illiniois, medinahcc.org
The eyes of the golf world rarely stray far from this fabled 76-year-old golf Mecca, an apt term for an all-American named for a sacred Islamic city in Saudi Arabia. The No.3 course, built by devoted Shriners, has hosted three U.S. Opens (1949, 1975, 1990) and two P.G.A. Championships (1999, 2006), both of which were won by Tiger Woods. It was at Medinah where Woods in 1999 defeated a dashing, in every sense of the word, Sergio Garcia, who famously ran up the 16th fairway in an exuberant trot to watch a ball cozy up to the flag. The match seemed to herald a rivalry that would endure; alas, like Garcia, those hopes were dashed. Look for more history to be made at this Chicago landmark with the Byzantine clubhouse when the Ryder Cup comes calling in 2012.
Treetops Resort
Gaylord, Michigan, treetops.com
There is a greater concentration of quality resort golf centered within a two-hour radius of Northern Michigan than anywhere else in the U.S. Michigan (michigan.org) also ranks first in America for most golf courses per capita. That combination of quality and competition keeps prices affordable and golfers satisfied. Flying into Gaylord and staying at either Treetops or the nearby Ostego Club Resort provides a central base from which to access the northern part of the lower Upper Peninsula. Plus, Rick Smith's "Threetops" course is a great starter for any golf splurge. The par-3 course is consistently ranked as the No.1 par-3 course in the country. It is one of three Smith layouts that are joined by stellar tracks contributed by Robert Trent Jones Sr. and Tom Fazio.
Shanty Creek Resorts
Bellaire, Michigan, shantycreek.com
This year-round wonderland enjoys four-season compliments with skiers gushing about it being a really great place to hit the slopes. It's also a fabulous place for golfers more concerned with an entirely different sort of slope. The resort features three distinct villages, four golf courses, two ski mountains, indoor and outdoor pools, a spa and fitness center, conference facilities and four dining options. Golf Digest gave Shanty Creek's A.P.D.C. course, The Legend, the golf equivalent of a black diamond run. The course is consistently ranked among the best in Michigan, and that's high praise indeed.
Arcadia Bluffs
Arcadia, Michigan, arcadiabluffs.com
The porch of the scenic clubhouse is 245 feet above the shores of Lake Michigan, and if you had a telescope and a really tall ladder you could see struggling golfers flailing directly due west at Whistling Straits. The two stellar courses are roughly across from one another at the waist of the 150-mile wide body of water. And they share many of the same characteristics. The 11-year-old Bluffs enjoys 3,100 feet of uninterrupted Lake Michigan shoreline. The course website posts a mission statement announcing its intention to be nothing less than the finest daily fee course in America. For any fair-minded golfer, it's 'mission accomplished'.
The Resorts of Tullymore and St. Ives
Stanwood, Michigan, tullymoregolf.com
For those who appreciate great architecture—both golf and structural—Tullymore and St. Ives offer the best of both. Both the Tullymore and St. Ives courses have earned rafts of praise for their course designers, Jim Engh and Jerry Matthews respectively, and now the $6 million Tullymore clubhouse has been named by Golf Inc. magazines as the best facility among daily fee clubs in America. It's the kind of place where even non-golfers would enjoy luxuriating while dedicated duffers enjoy a constructive round. A mingled mix of traditional and futuristic design elements have led Golf Digest course critic Ron Whitten to describe Tullymore as "Art Deco" course design. St. Ives brings the robust landscape into play with challenging shot requirements that take golfers on elevation changes as dramatic as 80 feet.
Ravines Golf Club
Saugatuck, Michigan, ravinesgolfclub.com
The A.P.D.C. course directory lists five courses in Michigan, including this, The Ravines. We consider Ravines one of Michigan's "must plays" and among the best conditioned courses in the state. Automotive recreation experts at A.A.A. say the scenic course is one of the best driving destinations in the state. Besides golf, the club is the site of many weddings and gatherings. Clearly, it's a special place to many people. The same could be said for the whole state of Michigan and Arnold Palmer. It was at the Detroit Country Club in 1954 that Palmer won the U.S. Amateur Championship, to this day the one Palmer cites as the most pivotal victory in his life. So if you do venture to golf-mad Michigan, be sure to check out any of the Palmer venues or other great golf throughout the Great Lakes region. Chances are it'll mean as much to you as it means to Palmer.