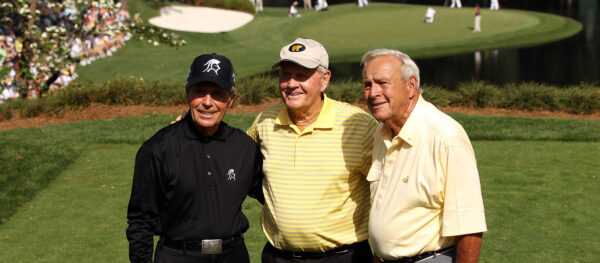 Masters centurions
The Masters celebrates its champions like no other. The Green Jacket, the locker room, the dinner, the lifetime's invitations to return. More than the first major of the year, the Masters is also a mark of golfing longevity, so it is little surprise that in the category of Masters rounds played, the names at the top of the leaderboard are Gary Player, Jack Nicklaus and Arnold Palmer. A little reminder why they will always be 'The Big Three' of golf.
Player—a fitness fanatic who could have embarked on a second career as a dietician if the whim had taken him—reached 52 Masters appearances between 1957 and 2009 and a total of 164 Masters rounds played. No one in the history of the Masters can touch him although Nicklaus came close: 45 Masters appearances and 163 rounds, while Palmer amassed more appearances than Nicklaus, 50, but less rounds, 150.
Only 19 golfers have played 100 Masters rounds and the 20th is likely to be Phil Mickelson, who has reached 90 coming into this week's event.
Player's 52 appearances is also a Masters record, ahead of Palmer's 50, although Palmer's were made consecutively, without missing a single year. That is a record that may never be broken, with second place in straight starts going to Doug Ford (46 between 1956-2001) and third place to Raymond Floyd (45 from 1965 to 2009). Ben Crenshaw bowed out on 44 in 2015.
Special mention here must go to Gene Littler, by the way. He is the only golfer to have played 100 rounds in the Masters who is not a past champion. Littler, now aged 86, played in 26 Masters between 1954 and 1980 and amassed exactly 100 rounds. Littler came closest to winning in 1970, when he lost to Billy Casper in an 18-hole playoff.