Monty's American Odyssey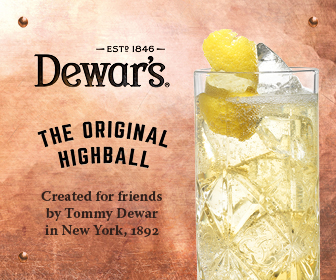 Colin Montgomerie is Scottish, yet many of the defining moments of his career have occurred in the United States, from failed attempts to win the U.S. Open to decisive success in Ryder Cup singles matches. Now Montgomerie is back as one of the leading golfers on the Champions Tour, and he speaks to Robin Barwick about his return to a hunting ground that has not always been happy.
Sam Torrance, captain of Europe's 2002 Ryder Cup team and a mainstay of the European Seniors Tour over the past decade, summarized Colin Montgomerie's recent exploits in one line: "For a man who said he was never going to play seniors golf, Monty is not doing bad," Torrance tells Kingdom.
It's true. Montgomerie was not the first to say it and he won't be the last, but he did claim he would not play seniors golf. Then, once he had gingerly dipped his toe, Monty found that he could not resist it and took a full-blooded dive off the springboard. "I have since learnt you should never say never," said Montgomerie two years ago, as he prepared to make his Champions Tour debut.
"Monty" turned 50 on June 23, 2013, and made his seniors debut four days later. He didn't win at first, but in 2014 Montgomerie did finally secure the first major title of his career at the Senior PGA Championship. No, it is not a fully-fledged, career-defining major title, like the ones that eluded and haunted Montgomerie in his prime, but still.
Off and running, he won the U.S. Senior Open, finished runner-up to Bernhard Langer at the Senior [British] Open and finished 2014 second behind his old Ryder Cup teammate in the Champions Tour's Schwab Cup ranking.
The story of 2015 has been similar. Montgomerie successfully defended his Senior PGA title, wound up second in the Senior U.S. Open and then third in the Senior Open at Sunningdale in July, having led deep into the final round. He challenged Langer for the Charles Schwab Cup ranking again, too, falling just shy in the final event of the Champions Tour season, and so narrowly missing out on a million-dollar winner's bonus. There is disappointment for Montgomerie in finishing runner-up to stubborn old Langer in the Charles Schwab Cup ranking two years in a row, but all in, he's made a pretty good fist of it.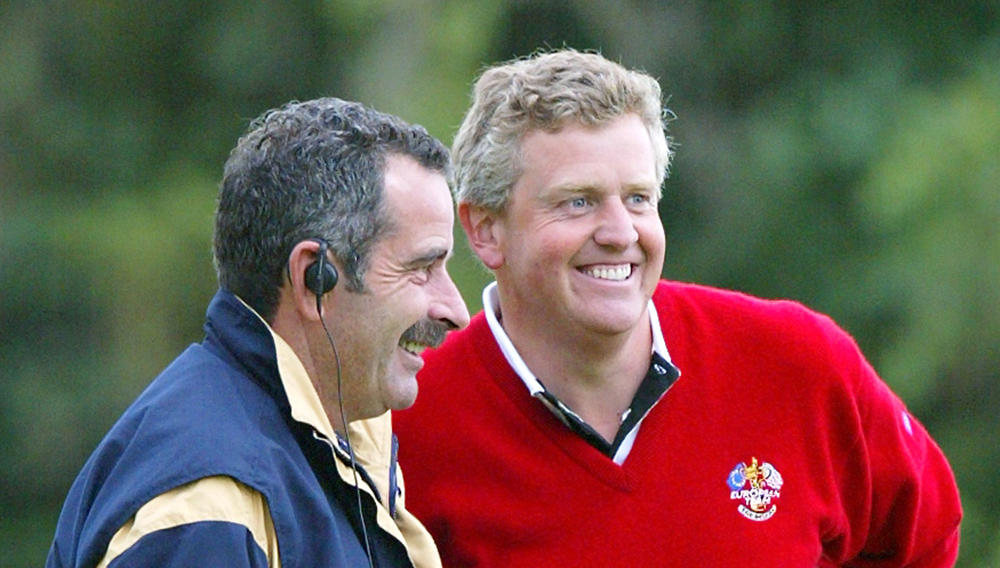 "I told him before he turned 50: 'You wait and see, Monty. It's in your blood.' Judging by how competitive and how good he has been throughout his whole career, there was no way he was going to stop when 50 came around," adds Torrance, 62. "You think, 'Okay, I will play in a couple seniors events and see what happens,' and then when you find you are competing it's bloody awesome. It's in his blood."
"I thought I would be retired," Montgomerie, now 52, tells Kingdom in an exclusive interview, before adding with that distinctive chuckle, "but I was causing my wife all sorts of headaches so she threw me out to play more golf."
Monty's change of heart was triggered by his induction into the World Golf Hall of Fame in 2013, which conveniently took place just before his 50th birthday. With Hall of Fame induction comes a Tour card for the Champions Tour, and the opportunity to play a 24-tournament schedule with total prize money of $49.35 million (in 2015). That is compared to a 2015 European Seniors Tour schedule of 10 tournaments and total prize fund of $5.6 million.
As a carrot the European prize fund is a little shriveled for a golfer, course designer and broadcaster of Montgomerie's status, but in comparison the American fund is a seven-course banquet.
"I needed a purpose in life," admits Montgomerie. "My golf course design business is going well, my charity is going well, but I needed more of a purpose to get me up and get me going. It doesn't matter what you have done or how much bloody money you've got.
"To be inducted into the Hall of Fame was the catalyst and I thought, what the hell am I doing at home? Let's give it a go and see what happens.
"I have enjoyed seniors golf more than I thought I would. The comradeship between the players is better than I expected. Everyone is happy for everyone else's success, although everyone remains very competitive. The standard is extremely high and you have to play your best to win."
The job of high-profile Tour golfer brings sponsorship opportunities, and Montomerie has always carefully managed associations with only a small number of blue-chip companies. Among the select few today is "workforce optimization" specialist Insperity.
"Insperity does a fantastic job helping small businesses manage their HR and employee benefits, so companies can concentrate on their core activities," says Montgomerie. "Insperity has helped my business and it is a privilege to be associated with them."
Montgomerie also likes that Champions Tour galleries do not taunt him like crowds in the United States used to. Back then, the shouts often featured the words "fat" and "bastard," or the old favourite first coined in commentary by David Feherty, "Mrs. Doubtfire." The Sunday of the 1999 Ryder Cup at Brookline saw wave after wave of insults and obscenities crashing around Montgomerie from an over-excited minority among the home crowd.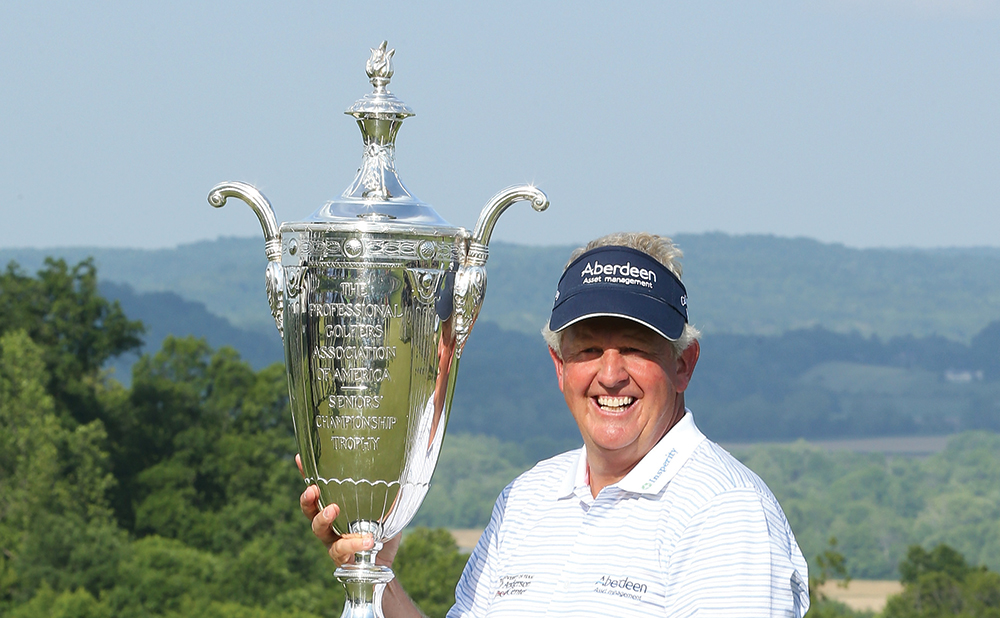 Montgomerie handled the verbal abuse with calm that day, taking punch after punch for the team without a flinch, and he won his point against Payne Stewart, but in individual tournaments the combustible Montgomerie would often sulk and occasionally lose his temper when baited, which only served to encourage the perpetrators. The same mentality is rife in schoolyards the world over. Golf Digest magazine even issued 25,000 "Be nice to Monty" pins at the 2002 U.S. Open at Bethpage National Park in New York, in an attempt to quell the unsympathetic local sports fans. That just led to pin-wearers taking flak too.
"There has been no trouble at all on the Champions Tour," assures Montgomerie. "It is a different atmosphere. They have embraced me and I have embraced them so we are working together and it is brilliant. Now, to get clapped onto greens instead of what it was in the late 90s is superb, and it is a credit to the people out there. Once you are over 50 the whole thing changes, even playing in the majors, because I am not a threat any more in that world. When I was No.2 in the world I was a threat. I was the top-ranked European player and there were issues."
And in the Ryder Cup, Monty was a lethal threat. One of his greatest on-course achievements was never to lose a Ryder Cup singles point. In eight Ryder Cups as a player between 1991 and 2006, Montgomerie won six singles points outright and halved the remaining two. Mark Calcavecchia, Lee Janzen, Ben Crenshaw, Scott Hoch (twice), Stewart and David Toms (twice)—some of American golf's grittiest scrappers among them—could not take a point off Monty.
"In a funny sort of way, the verbal abuse was a bit of a back-handed compliment, although it didn't seem like that at the time," he adds.
Looking ahead to the 2016 Ryder Cup, Montgomerie concurs with the claim European skipper Darren Clarke made at the PGA Championship, in ranking the European team as underdogs as the countdown to Hazeltine gathers pace.
"Europe as underdogs? Possibly," he says. "You might think it is a bit odd to consider Europe as underdogs when we have won six out of the last seven Ryder Cups, but on this occasion, possibly we are. The Americans are on a bit of a run right now and with them playing at home next year Darren is aware that it will be a difficult task, no question."
The last Ryder Cup in the United States was in 2012, when Ian Poulter sparked an unlikely European revival. You might not need reminding that Europe were 10-4 down when Poulter birdied the last five holes of his Saturday afternoon fourball match, partnering Rory McIlroy against Jason Dufner and Zach Johnson, to snatch a point after the European pair had trailed from the first hole to the 14th. The hosts led 10-6 going into the singles, McIlroy nearly missed his tee time after over-sleeping, but Jose Maria Olazabal's team prevailed to complete the biggest comeback by an away team in Ryder Cup history, winning 14 ½-13 ½.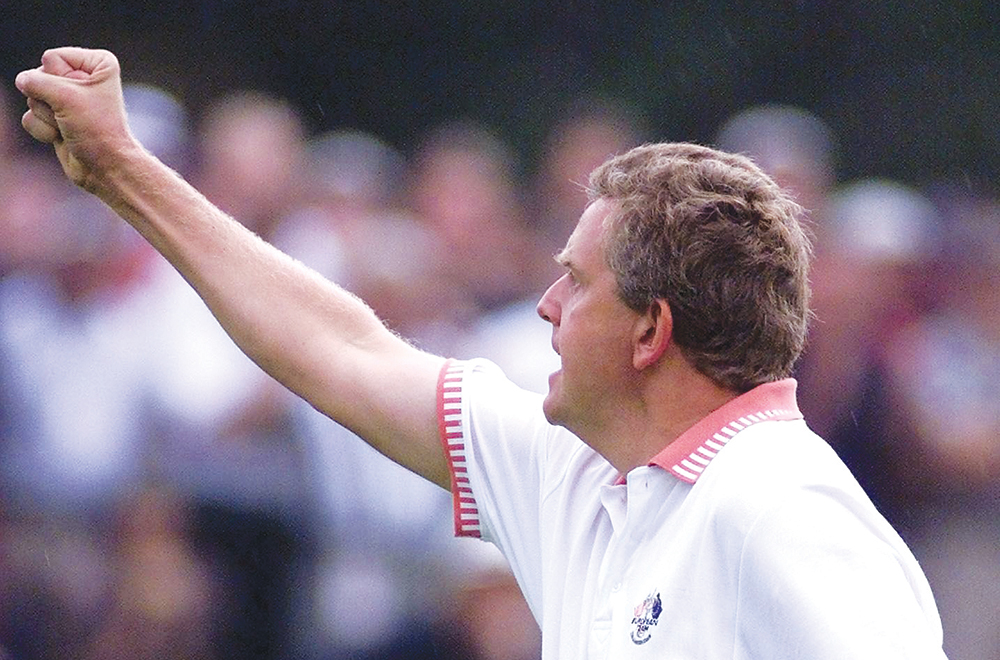 "I think there was a Seve influence coming down from above that week, to be honest," reflects Montgomerie, in reference to the late Seve Ballesteros, "and Olazabal was playing that spiritual game. It was amazing what happened and it gives hope to any away team, that it is never over until one team has 14 ½ points."
After the debacle of Tom Watson's captaincy of the American team at Gleneagles last year—when the Ryder Cup was played on the doorstep of the Montgomerie family home in the village of Dunning—the PGA of America has given Love a shot at redemption. From the opening ceremony at Medinah three years ago, to the start of those Sunday morning singles, Love had the walk and the talk of a winning captain.
His captaincy seemed virtually flawless, and was highlighted by the inspired pairing of Phil Mickelson and Keegan Bradley, who were indomitable for three matches until Love made his first mistake: benching them for the Saturday fourballs. Montgomerie points to what he sees as a second error in Love's judgment as well:
"I think the American singles order was okay, but I would always have tended to put [Tiger] Woods higher up the order," he says, recalling Love's singles order that placed Woods in the final match against Francesco Molinari. "I always think that Woods can get a little bit lost further down the order. He is someone that loves the limelight, loves the show, and I would have stuck Woods out at number one to get his point on the board.
"I would have got Woods' point in the bag early on, and that is what I would do with McIlroy today, and Stenson and Rose, our stars in Europe, and Kaymer. That is what I did with my team [in 2010]. I put Westwood out first, followed by McIlroy, then Donald to get those points early on. Since Sam Torrance did it back in 2002 that has been the way to do it: put your so-called strength at the top."


And who did Torrance send out first in 2002? Montgomerie, of course. He thrashed Hoch 5&4, Europe won the Ryder Cup back and Montgomerie's rank as on-course general was sealed.
Until Montgomerie revived his playing career on the Champions Tour, he had failed to win a single PGA Tour title in the United States, let alone a major, so when he was voted into the World Golf Hall of Fame there were murmurs of dissent. Some of them louder than murmurs. It is true, Montgomerie should have won the U.S. Open at least once­ (well, twice) but what he achieved in the Ryder Cup, what he did in eight Ryder Cup singles matches alone, those eight rounds of golf over the course of 16 years cut his niche at the Hall of Fame.