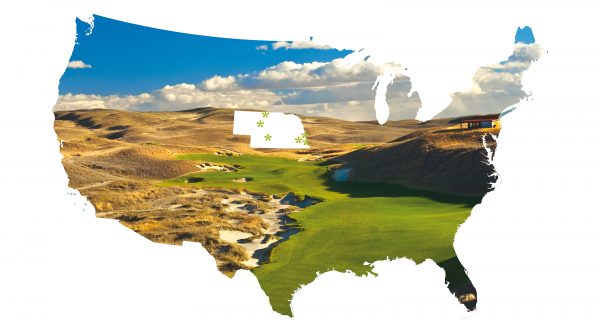 Nebraska
Long known as a place for cowboys and railroad fans (this is where the Golden Spike united the East and West, after all) Nebraska is developing a fine reputation among golfers as well. Its fertile land and vast open spaces have inspired course designers, while its central location puts it within easy reach.
If you haven't already, it's time you found Nebraska.
The state holds more miles of rivers than any other state, the largest indoor rain forest (The Lied Jungle in Omaha) and the site of Buffalo Bill Cody's first rodeo, but it's Nebraska's natural beauty that makes it such a perfect place for golf. The state has more than 200 public and semiprivate courses, and many of them hold their own among the best in the country. In fact, Golf Digest has ranked it among the Top 10 Best Golf States, and we're not surprised. Credit the amazing amount of space and the quality of the land—along with some visionary developers and course designers.
With rich, fertile soil and a broadly diverse landscape, Nebraska is nothing if not a perfect canvas for golf course architects. There are thick forests and tree-lined river valleys, windswept prairies with pioneer wagon tracks still cut into the ground, and vast, rolling sandhills to build on—and build they have. Every corner of the state where President Gerald Ford was born features top-quality golf. Precision courses, links-style tracks and top-drawer challenges are all here, satisfying a range of tastes from luxury to rugged beauty, many of them at fantastic value.
The state's Division of Tourism encourages people to "Rediscover the Road Trip" with a tour of Nebraska, and we think that's a fine idea—as long as you pack your clubs. Here are just a few of the reasons why you should make the Cornhusker State your next golf vacation:
Dismal River, Mullen
dismalriver.com
In the western part of the state, isolated and proud runs the Dismal River. Despite its rather dire name, it's actually a place of sublime beauty. Beavers, deer, turkey, coyotes and rattlesnakes have long been found asides its meandering banks, but the latest arrival comes in the form of a Golden Bear. The Jack Nicklaus signature Dismal River Golf Club is new, bold and stunning, and if you want to join a club to get away from it all then we at Kingdom are hard pressed to think of anywhere better to escape the shrill commotion of modern life; the golf is superb, the amenities rustic-luxurious, and the service first class.
Situated near Mullen, population 551, when Nicklaus first set eyes on the land having driven the 17 single-lane miles to get there he proclaimed: "The experience arriving at the Dismal River site was like stepping back in time and seeing what the dunes of Northeast Scotland must have looked like a hundred years ago. In every direction I looked I saw great golf holes." And today great golf holes there are. Yes there are the raised tees and greens that Nicklaus loves (some would say too much), but in construction it is said only one hole was touched by a bulldozer. The Sand Hills give lie to natural bunkering and unforced positioning. In fact, despite being about as far from the ocean as it's possible to get, the whole feel is one of classic links—golf in windswept tune with nature. Perhaps the best hole is the last: almost in summary of your round, the elevated 18th tee provides tremendous views of the course. If you play your second shot on this 560-yard par-5 short of the narrow neck it still leaves at least 160 yards.But go long, find the 80 yard-wide landing area beyond, and a birdie is in reach, designed by a Bear.
Indian Creek, Omaha
golfatindiancreek.com
Like the western part of the state, Eastern Nebraska has no shortage of great golf. One of the best examples is Indian Creek in Omaha, a beautiful course with a more lush, softer landscape than its Sand Hills cousins. Consisting of three 9-hole options, Indian Creek is easy to get to, challenging to master and certainly among the best in the region. Altogether, the 27 holes of golf hold 37 acres of fairways, 65 bunkers and 15 holes that could get you wet. Black Bird might be the most difficult, with holes that are at once long and precision-oriented. The 557-yard No.4 plays into the prevailing wind and over a lake before demanding your best from a tough green. Red Feather (set to re-open next June after renovations) likes the water, especially on No.8 where it presents swimming opportunities on both sides of the green. Grey Hawk is seemingly the kinder, gentler side of Indian Creek, with wider fairways and a bit more latitude for the non-precision crowd off the tee. However, iron ability is crucial due to well-bunkered greens, yet more water and a few surprises. The par-5 No.6, for example, presents a nasty pair of fairway bunkers off the tee, then leaves your lay-up shot to the green facing a narrow chute through 80-foot-tall cottonwood trees. The course motto is apt indeed: "Awaken the Spirit." If Indian Creek catches you sleeping, prepare to pick up more balls on your way home.
ArborLinks, Nebraska City
arborlinks.com
Not too far south of Omaha in Nebraska City, the excellent ArborLinks private golf club features an 18-hole Arnold Palmer Signature Course, along with a modern practice facility and quality pro shop. While ArborLinks is private, golf packages are available for non-members (contact the club for information). The course sits on a 330-acre parcel adjacent to the Arbor Day Farm, a popular resort destination. Absolutely classic Palmer, ArborLinks is a feast for the eyes. Thick, lush native grasses, rolling hills with well-placed hazards, and a variety of shot options make for challenging and rewarding rounds. Ranked among the Top 5 in the state by Golfweek, the course hosted a 2009 US Open qualifier, and US Amateur qualifiers in both 2010 and 2011. Added to the fantastic course are ArborLinks' world class lodging and dining, available activities (hunting, for example) and a strong commitment to customer service. This club should absolutely be a stop on anyone's Nebraska road trip.
The Prairie Club, Valentine
theprairieclub.com
If you're looking for definitive Nebraska golf—and one of the purest golf experiences anywhere—look no further than The Prairie Club, just outside of Valentine near the South Dakota border. Course founder Paul Schock is an area native, and his love for both the land and the game is evident in this amazing property. His approach, as he told Kingdom last year, was to build a superlative golf experience with minimal impact. As for the location in a somewhat remote corner of the state, Schock said he believes that "if you make great golf available to people, they will come—but it has to be great."
Mission accomplished, as far as Kingdom is concerned. Two world-class courses, plus a third course that's as delightful in concept as it is to play, make a trip to Valentine well worth your time.
The Dunes Course offers seven sets of tees that stretch it from 5,752 to 8,058 yards, plus plenty of wide open space, big greens, rolling fairways and—usually—wind you can't ignore.The elevation changes are dramatic, as are the views of Nebraska's famous Sand Hills. Links-style players will love it here, and first-timers to the region will understand why the pioneers compared crossing the region to being at sea. On the other hand, The Pines Course meanders along the edge of a canyon rim, semi-protected by the canyon walls and trees. Quiet and reserved, it's a silent killer with tight fairways threaded among hard Ponderosa Pines and rough you don't want to find. The Prairie Club's final course (for the moment), The Horse Course is an inspired bit of fun. No tee boxes, just good times. All of this and a top clubhouse as well.
Wild Horse Golf Club, Gothenburg
playwildhorse.com
A couple of hours due south of Valentine, Wild Horse Golf Club is an absolute gem. Set right along I-80. it has been rated among the top courses in the country. Golf magazine dubbed it the "Carnoustie of the Corn Belt" due to its harsh but beautiful temperament. Fast greens—flanked by bunkers that would look right at home in Scotland—are only part of the challenge when the wind is up, and it often is. The natural blowouts don't help, either, nor does the two-foot-tall rough. Still, with 300 acres of rolling beauty on the edge of the Sand Hills, it's tough to complain, no matter how the round is going. The sophisticated design is due in part to architects Dave Proctor and Dave Axland, who were also involved with the nearby (and private) Sand Hills. But Wild Horse has a character all its own, and at a price you can't believe. A must-play in South Central Nebraska.
Wilderness Ridge Golf Club, Lincoln
wildernessridgegolf.com
Wilderness Ridge's Championship Course stretches to 7,100 yards and has hosted some of the most prestigious events in Nebraska golf, including US Open qualifiers and the Nebraska Section PGA Championship. As with most courses in Nebraska, the wind comes into play. While shorter hitters will at first delight in having the wind at their backs on No.1, they'll soon realize that it's only there to help them reach a fairway bunker on the left. Likewise, the par-5 No.6 almost looks as if it would be easier to reach the green in a boat, with water along the entire right side. If you like water, you'll love the par-3 No.15, which has water actually running underneath the green. Surprises and challenges factor heavily into this design, but it's absolutely navigable and richly rewarding for those who step up.