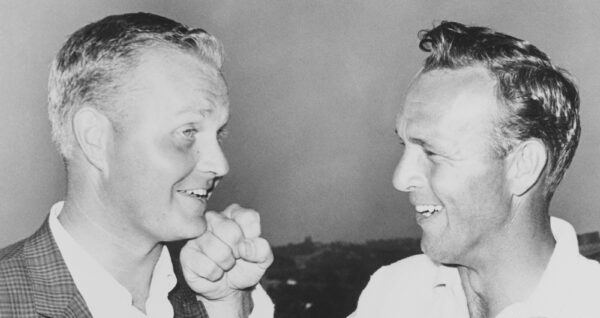 Hades of Hulton Road
The U.S. Open at Oakmont often isn't pretty, but more a test of golfing survival. The last man standing wins. Marino Parascenzo—who has reported from four different U.S. Opens at Oakmont, venue for the 2016 tournament—reports on the player protests, sharp-toothed rakes and battered egos of Oakmont.
H.C. Fownes, Pittsburgh iron-and-steel magnate, came to golf in his late 30s, got good fast and when he couldn't find a course that could give him a proper fight he designed and built his own—Oakmont.
Just outside Pittsburgh in the rolling hills of Western Pennsylvania, Oakmont opened in 1904, letting the world know what "penal" in golf means. And without the need for water hazards and forced carries. The USGA enjoyed the notion so much that it has held a record eight U.S.
Opens at Oakmont and is holding the ninth in 2016.
Of the eight, dating to 1927, none had the drama and the impact of the Arnold Palmer-Jack Nicklaus Seismic Shootout of 1962. (Sotto voce here: But it would never have happened except for, as Conan Doyle might have put it, Phil Rodgers' Singular Misfortune at the Little Evergreen.
But back to Arnie and Jack…)
It was a rematch from the bout in the 1960 U.S. Open at Cherry Hills, when an emboldened Palmer drove the green of the 340-yard first hole in the final round, made up a seven-stroke deficit and shot 65 to win. Nicklaus, a brilliant amateur of only 20, finished second by two shots.
Oakmont, Pittsburgh, Latrobe, Western Pennsylvania—this wasn't simply Arnie Palmer Country because Palmer Country had no boundaries, but this was its thriving capital. Hence the magnitude of the 1962 U.S. Open. It was a collision for the ages.
In a duel of two power hitters, it came down to putting. Palmer three-putted 10 times, Nicklaus only once. They tied at 283, one under par, and Nicklaus won the 18-hole playoff, 71 to 74.
Palmer's bold game betrayed him this time. In the final round he was leading by three coming to the ninth, an uphill, 480-yard par-5. Instead of playing for birdie he wanted an eagle, but he just missed the green with his second shot, flubbed his first chip, left his second eight feet short and bogeyed. Palmer closed with a par 71, Nicklaus a 69.
Palmer turned to the gallery. "Are there any good putters in the crowd?" he cracked.
"This was the best I've ever played for anything," Nicklaus said. The Nicklaus Age had dawned, but the Palmer Age was far from over.
But back to the first round, where the 1962 U.S. Open changed course at the uphill, par-four 17th of only 300 yards. It was a wicked little risk-reward hole long before the expression was ever heard.
Trying for the green, Rodgers drove into one of the little evergreens planted to discourage the shortcut. He baffled everyone by deciding to knock the ball out of the tree rather than take a penalty drop. Cruelly, it took him four hacks to get the ball out of that grasping tree.
He made a nightmare eight. He finished third, two behind Nicklaus and Palmer. He would have won with a bogey-five on 17, tied with a 6. Whatever possessed him not to take his a drop?
Rodgers was wise. Under the unplayable-lie rule of the time it was a two-stroke penalty if he dropped near the tree, but only one if he went back to the tee. Rodgers had gambled and lost.
Oakmont was called the "Hades of Hulton Road", and in its U.S. Open debut in 1927 it was a fundamentalist's frolic of fire and brimstone. A touch of Calvin, a touch of Dante.
The great Bobby Jones would tie for 11th at 21-over 309. Gene Sarazen shot an 80 and finished third, Walter Hagen an 81 and finished sixth. Tommy Armour won in an 18-hole playoff over Lighthorse Harry Cooper after they tied at 13-over-par 301.
Armour needed a birdie at the final hole to tie Cooper, and was studying his approach shot when an Oakmont member stepped out of the gallery. "They say you're the best iron player in the country," the guy said. "Let's see what you can do with this one." Armour glared, then turned and fired a 3-iron to about 10 feet.
"Will that do?" Armour said.
"Yes," the Oakmonter said. "But only just."
The U.S. Open and Oakmont grew from there.
In its way, the 1994 U.S. Open was the most memorable. Ernie Els arrived on the world stage with his win while Palmer, 64, departed. It was his 32nd and final U.S. Open. He was in the field on a special USGA invitation, a thank-you. His final interview was eloquent in its silence. Palmer managed a few words, then cried quietly into a towel.
Finally, he said, his voice muffled: "I think that is about all I have to say. Thank you very much."
With that, he rose and turned and to a standing ovation, he stepped through a door without looking back, his arm lifted in farewell.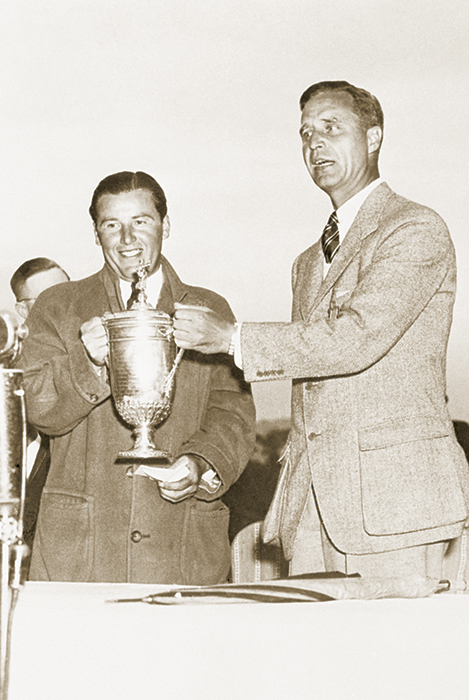 1935
Pittsburgher Sam Parks put a new shade of dark on "dark horse" and a new flavor to homecookin'. Parks, an obscure local club pro, practiced at Oakmont every day for a month, hoping to finish in the top 10. He three-putted the fierce greens just twice, didn't break par for any round, and shot an 11-over 299. When big-hitting Jimmy Thomson bogeyed four of the last five holes, Park won by two. "I had never planned on that," Parks said.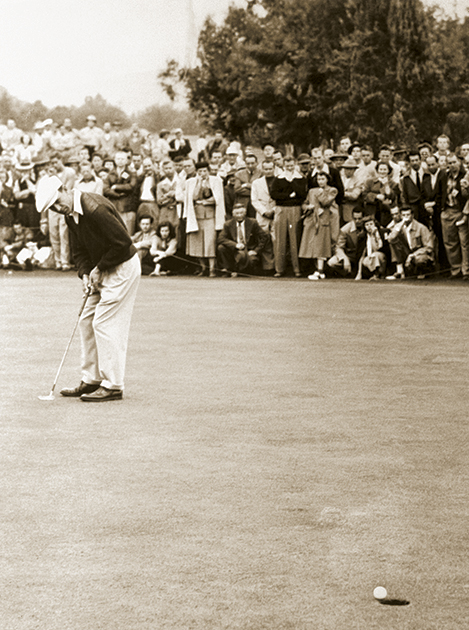 1953
Ben Hogan, 40, finished on an un-Oakmont-like 5-under 283 and holed up in the locker room, wondering whether archrival Sam Snead would catch him. Snead was wondering whether he would even finish. He staggered in with a 76 and Hogan won by six, tying the record of four Open wins. Would he go for five? "I'm getting old, tired and weary," he said. "And rich," someone noted.
The '53 Open was in crisis before it even started. Some players threatened to withdraw, protesting against the notorious furrowed bunkers, created by a rake with huge teeth. The crisis cooled when Oakmont agreed to shallower furrows. (they'd eventually abandon them entirely.) Jimmy Demaret, bon vivant, had the final word on the Oakmont rake. "You could've combed North Africa with it," he said, "and Rommel wouldn't have gotten past Casablanca."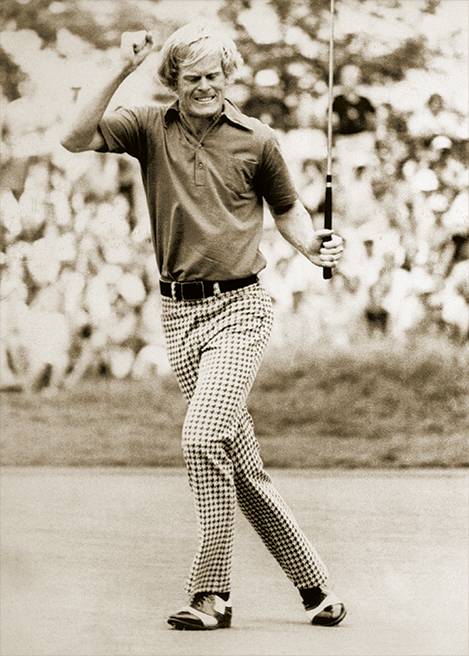 1973
Johnny Miller shot 76 in the third round and had his wife pack for a quick getaway on Sunday. But he landed one of the hottest hands in the history of golf and caught a rain-soaked Oakmont looking the other way. He closed with a record 63 and won by a stroke with his five-under 279.
"A round that must have been made in heaven," Miller said.
"Johnny Miller?" said Tom Weiskopf, who finished third. "I didn't even know he'd made the cut."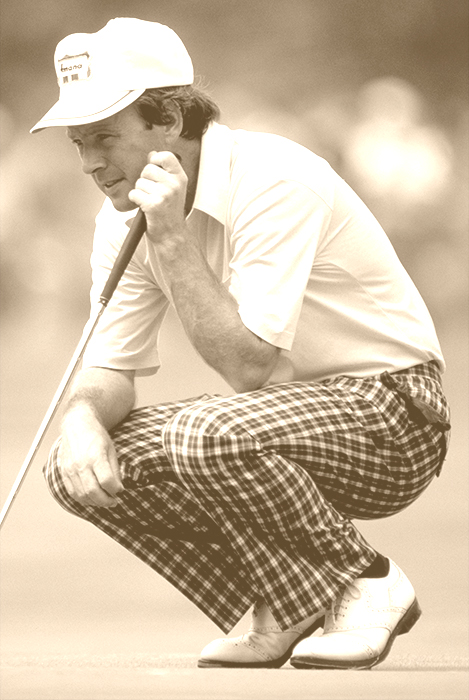 1983
This time the rebellion was over the rough—thick, dense and deep. But mild-mannered Larry Nelson, 35, had seen worse. It was called Vietnam. The former infantryman won with an Open-record 65-67 for 132 in the closing rounds, edging Tom Watson by a stroke. His final round included a 62-foot birdie putt at the par-three 16th.
What were the odds on making a 62-footer at Oakmont? Said Nelson:
"I couldn't even put odds on a six-footer."
There's an old saying: "You don't win the U.S. Open, you survive it." As Ernie Els did, barely.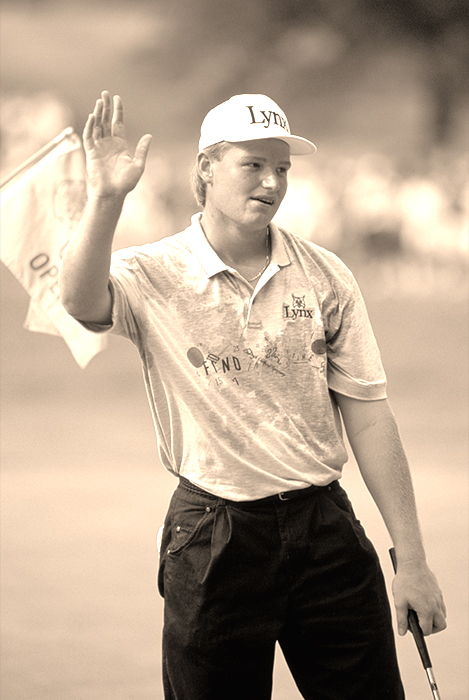 1994
South African Els, 24, a PGA Tour rookie, was saved by two crucial rulings, and outlasted Colin Montgomerie, 30, the jowly Scot, and American Loren Roberts, 38, a wizard whose putter short-circuited. "I had trouble getting the putter back," Roberts admitted, on missing a winning four-footer. They tied at five-under 279. Frazzled nerves showed quickly in the 18-hole playoff. At the short par-4 second, Roberts made five, Monty six and Els seven. Monty then crumbled to a 78, Els and Roberts shot 74s, and Els won in sudden death. "[I was] feeling a little U.S. Open pressure," said Els.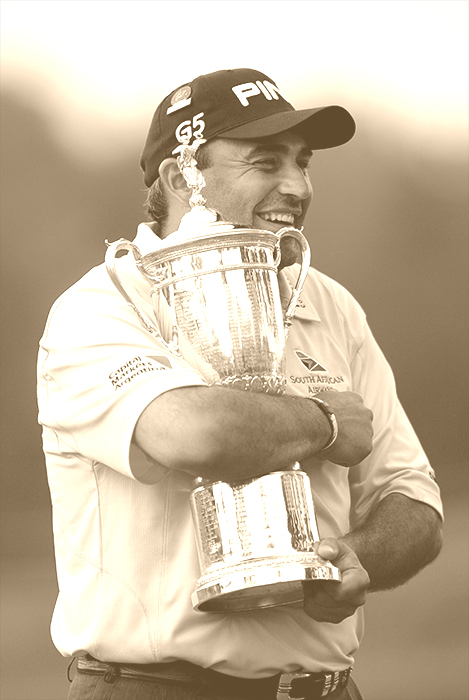 2007
The first U.S. Open for the new-old Oakmont. It was built on wide-open farmland in 1903-04. A member was offended in the 1960s when a writer called Oakmont "an ugly old brute," and started tree-planting. By the 1990s some members couldn't see Oakmont for the trees and secretly began cutting them down in early-morning darkness. Then a full-blown restoration began and thousands of trees were removed. In 2007 Oakmont was par 70, average score 75.7, with eight rounds under 70 for the entire championship. Argentine Angel Cabrera was the only man to log two of them, shooting 69-71-76-69 for a five-over 285 to edge Tiger Woods, ranked No. 1 in the world, and No. 3 Jim Furyk. The finish was unbearable. Cabrera bogeyed 16 and 17 and tiptoed to a winning par. "I never thought I would be here at this moment," Cabrera said.