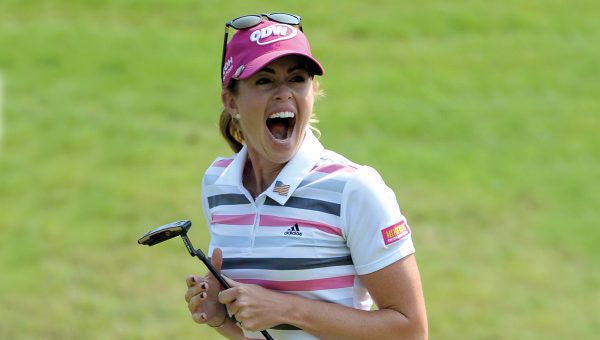 A life in color: Paula Creamer
Her energy and enthusiasm are those of a rookie, but Paula Creamer is entering her 10th year in the game (if you can believe it). Here, the Pink Panther tells Dave Shedloski what it takes to be a driving force in the LPGA
The 75-foot eagle putt that Paula Creamer sank on the second playoff hole at the HSBC Women's Champions in Singapore has to be considered among the greatest golf shots of 2014—on any tour, male or female.
For Creamer, it might have been one of the most important of her career.
The victory over Spain's Azahara Munoz at Sentosa Golf Club was Creamer's first since her biggest victory, the 2010 U.S. Open that she captured at famed and fearsome Oakmont Country Club near Pittsburgh. Clearly, Creamer had fulfilled the promise that she had shown since her rookie season in 2005, when she won twice, and it was expected that more wins and more majors would soon follow.

"Golf is an incredibly difficult sport, as anyone who plays would agree.  It's a joy to play at the highest level, and I expect the strength and depth of the Tour to only continue in the future."
If anyone is equipped to discuss the arc of the LPGA and women's golf overall, it's Creamer, who was LPGA Rookie of the Year in 2005, has competed against dominant players like Annika Sorenstam, Lorena Ochoa and Inbee Park (the current world No. 1), and was among the top players to voice concerns when the LPGA began to lose sponsors and tournaments under the disastrous reign of former media executive Carolyn Bivens.
Bivens was named commissioner in late 2005, when the LPGA had 34 events. There were as many as 37 tournaments in 2008, but she resigned under pressure in '09 after the LPGA had contracted significantly, offering a schedule of just 28 tournaments. But under the capable guidance of Whan, a former marketing executive in golf and hockey equipment, the LPGA profile has been elevated significantly. In 2014, there were 33 events on the LPGA schedule offering total prize money in excess of $56 million, a record.
"I trust the LPGA leadership under the direction of Mike Whan," Creamer said via email in a wide-ranging interview. "His passion and love for us is so transparent. He has done so many good things with us and for us since becoming commissioner in 2010. We're so glad to have him at the helm."
The international presence on the LPGA Tour is significant, and even though the LPGA is an American-based tour, Whan has embraced a strategy that he himself refers to as "pouring gas on the fire." Thus, he has courted international sponsors like Kia and Sime Darby, and increased overseas events from 11 to 15. Eight are in Asia, the most in LPGA history in that region.
"Golf is global now," Whan said earlier this year. "Great young golfers are growing up in every corner of the world so now they're generating interest in every corner of the world."
Creamer speaks for many of her peers in approving of Whan's approach, though she notes that most players would enjoy taking more swings on home soil. "I would say there is a little bit of a mixed bag," she said. "There are many, and I am one of them, that thinks we should focus heavily on increasing playing opportunities here in the U.S.  Many International players share that view and have come here to play on the strongest women's tour in the world.  They have bought homes and are raising kids here in the U.S.  So they, too, want more U.S. events. The membership is very global in its makeup, but the schedule is a very different issue."
Of course, the influx of successful Asian players is one reason for the concentration of events in the Pacific Rim, but that doesn't mean there aren't opportunities for American players to take advantage of that exposure. Creamer has seen it first-hand.
"I think there are already American women who have become household names in Asia," she said. "It's unbelievable how the LPGA is treated in Asia. We are like rock stars!! Not totally sure why that is, but when I'm in Japan and other countries in Asia, for example, and leave the scoring area to go to the clubhouse, I need 3-4 security guards to surround me. It is not because of security threats or concerns as much as it is for crowd control. That isn't necessary to that degree when I'm in the U.S."
It was in Asia that Creamer broke her long victory drought with that amazing eagle putt, one that had eight to 10 feet of break in it. When the putt found the hole, Creamer dropped to her knees beside the green and cried with a mixture of joy and relief. She knew it was a big putt for her. She didn't realize until later how much other people appreciated the magical stroke.
"When I saw the ball disappear into the cup, I was totally amazed and overwhelmed with emotion. I didn't know whether to laugh, cry or apologize," says Creamer, who was wearing her trademark pink ensemble at the time, as much of an iconic fashion statement as the red shirt Tiger Woods wears every Sunday. "I probably couldn't make that putt again in 100 tries.
"At the time, I just thought it was a good putt with a fantastic result," she adds. "It wasn't until the next few days, that I realized it was indeed, 'the putt heard around the world.' The video of that putt has been viewed over 110 million times, which must be some kind of record. When I later found out that it was … talked about on the ABC Nightly News, I knew it was something that would not be forgotten. It was fun to be a part of all that."

Although winning inexplicably escaped Creamer's grasp following her U.S. Open victory, the appropriately named "Pink Panther"—forget it, there isn't a close second for color choice, except maybe black—hasn't gotten the blues over her golf game or the dearth of trophies. Golf is still fun.
"I love to play golf, and I love to compete," she says. "At pro-ams, and friendly games of golf, I can be relaxed, as I realize that while it's my job, it's a recreational activity that millions of people do for fun. So why not make it fun for me, too? I've loved golf since age 10 when I started. I think I'll still love it when I'm 100."
While she says that the feeling of winning "is like no other," Creamer enjoys the process as much as the results. She has worked hard on swing changes and brought more consistency to her game. Earlier this year at the Kingsmill Championship she saw her streak of cuts made end at 82.
On the flipside, at least her winless streak ended in Singapore. It was her 10th career title.
"Although I may have only won once since the U.S. Women's Open, I have consistently put myself in contention to win many times during this period," she notes. "I don't personally know how many top 10's I've had in the past few years, but I know there have been more than just a few. Since 2010, I think I have improved in most areas of my game (length, short game, putting specifically). The swing changes I have made have actually taken longer to become consistent than I had hoped.  I am seeing progress and I think I am becoming more willing to trust them and not have to think about it as much."
For the record, Creamer has 94 top-10 finishes as of this writing and has earned more than $11 million, including $676,584 thus far in 2014.
The women's game has gained more focus this year in other ways. The LPGA has teamed with the PGA of America to present the LPGA Championship. And the U.S. Golf Association held the U.S. Open and the U.S. Women's Open in back-to-back weeks at Pinehurst Resort's famed No. 2 Course in Pinehurst, N.C. Germany's Martin Kaymer won the men's title before Michelle Wie broke through for her first major.
Creamer recognized the inherent positives in the move.
And she had a idea for taking it a step further.
"I applaud Mike Davis and his team for stepping outside the box and conducting our national championships back to back. Something like this can't be done at just any venue, but Pinehurst was the perfect choice.
"I would love to see that happen again at some point. Looking back, I think the experiment was a complete success in every way. More so, I think golf has to change and look at an event where the men and women are playing at the same time.  Obviously it would require a 36-hole venue until the cut would be made. I think it would be very special to have alternating groups of men and women on the weekend for everyone to watch.  It would be a huge event and the first of a new era."
How does Creamer see the women's game stack up against the men? Very favorably, especially with more young talent entering the fray.
And under Whan, the LPGA has embraced its heritage much more strongly, in a manner similar to the men's game in celebrating Bobby Jones, Walter Hagen, Sam Snead, Ben Hogan and other icons of the past. Younger players appreciate what Louise Suggs and Patty Berg have done for them in starting the LPGA in 1950 thanks to the Founders Cup, established to honor the 13 founders of the LPGA.
"One event that I am so thankful for is the Founders Cup," Creamer says. "I had read about and tried to learn as much as I could about the history of the LPGA as I was growing up, but it really wasn't until this event was conceived and I was in the presence of these wonderful women, that I truly learned what we are all about.  I gained a strong sense of appreciation of the Tour (as did many other players) as to all that our founders did. Because of them, it allows us to do what we do today."
Speaking of comparisons to the men, Creamer was asked if she thought there were any on the PGA Tour she thought she could beat. Her reply: "On any given day, I could beat any of them!" She then added a "ha ha" to her answer.
At this point, she'll settle for the last laugh against her peers. Creamer is getting married to Derek Heath, an Air Force Academy graduate, and she expects married life to only be a boon for her game. She is determined to work just as hard and remain just as focused.
"Although I am generally pleased with my results in my first 10 years on Tour, I honestly feel my best days are yet to come," Creamer says. "Certainly, my U.S. Women's Open win at Oakmont has been my highlight of highlights, but my goal is to win multiple majors, so I have no time to rest on my laurels."