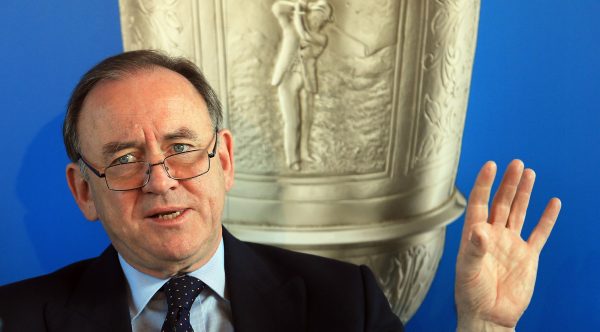 Peter Dawson: The "best office in the world"
For the past 16 years, Peter Dawson has occupied the "best office in the world", a large wood-panelled room in the iconic Royal and Ancient Clubhouse overlooking the first tee and the 18th green of the Old Course at St Andrews.
"Not a bad place to come to work, is it?" the headmasterly Dawson says when asked to reflect on his time as chief executive of the R&A, the body which organises the [British] Open Championship and governs the sport worldwide in conjunction with the United States Golf Association.
On September 25, after overseeing his final Open at the 'Home of Golf', Dawson will retire from the position and hand over the reins to Martin Slumbers, his recently appointed successor. "When we announced the appointment of Martin, I got a text from my son saying, 'It's good to see they've gone up market'", he says, laughing.
But by any yardstick Dawson's tenure, particularly on the commercial front, has been a successful one. If he harbours any doubts, he keeps them hidden. And such is his air of confidence that it is almost surprising to hear him say that he gets tense in the week of the Open. But then again, who wouldn't? "You're always nervous," he says, nodding his head to emphasize the point.
In the build-up to the Open, and in the week of the championship itself, Dawson runs on adrenalin. It has helped him to fend off anything the world, or the media, has thrown at him—from contentious issues such as Muirfield's men-only membership policy, to the suspension of play because of high winds at St Andrews—and it has allowed him to stand firm.
At times the media can be bullying, but Dawson is not one to be intimidated. "The press often confuses the fact that I am the spokesperson and assume I make all the decisions," he says. "That is not the case. The R&A operates a very powerful board and committee structure and decisions are taken by these bodies, not by me."
So when he says the R&A tries "to keep away from the cult of personality," this is not false modesty on his part. He will suffer the slings and arrows that come the organization's way primarily because it comes with the territory.
"I don't want people to think I have left a legacy," he says when asked what he would like his 16-year term in office to be remembered for. "It's all about the R&A and what we do. It has been a privilege to be part of it, but we don't 'do' legacy. It's not an ethos that we encourage here. I have no pretensions about that."
Leadership qualities
His self-assurance is borne of success at an early age. Playing off scratch, he captained the Cambridge University golf team in 1969, while studying for a degree in engineering, and was managing director of Worcester Parsons, a small manufacturing company in Birmingham, by the age of 24.
"The company was part of the McKechnie Group and they took a chance on me," Dawson recalls. "Boy, you learn a lot pretty quickly.
There were about 150 members of staff and in that situation you have to grow up fast. The employees were probably right to think I was wet behind the ears."
In a business career spanning 34 years, Dawson went on to work with Grove Worldwide, an American company that manufactures cranes and earth-moving equipment, and was running the company's operations in Europe, Africa and the Middle East. He 'switched' careers, at 51, to become secretary of the Royal and Ancient Golf Club in 1999. His business acumen has since turned the Open Championship into a huge commercial success; the aim being to plow the money back into the game worldwide.
"I look back fondly on my business career," he says. "I miss the cut and thrust of dealing with the unions as well as the engineering side, the product development. But while I think of the welding shop from time to time, it's not very often."
Among his many traits, Dawson has been variously described as stubborn, guarded, fiercely private, self-deprecating, bright and witty. He has had to develop a thick skin to deal with the criticism that has come his way over such issues as women's membership of the Royal & Ancient Golf Club of St Andrews, the equipment debate, and the remodelling of some parts of the Old Course. And yet he would rather bite his tongue than betray a confidence.
A traditionalist at heart, he also knows that you stand still at your peril. He may seem old-fashioned—and even plays up to the image—but he spent too long in the business world not to be constantly assessing the big picture. He accepts change, but all in good time. More haste, less speed.
"In a previous job someone suggested that we were about to introduce Dawson's 'QPA4P' system," says Dawson, "which I eventually discovered was 'Quill, Pen, A4 Paper'."
He laughs at the thought of having a Twitter or Facebook account—"Not for me. Gosh, no. I can see no upside to that"—but fully understands the power of social media and the internet and the speed at which news is disseminated around the world.
"Things spread so quickly now," he adds. "A word to someone in St Andrews—let's say a local paper puts it online—and suddenly it's out in California. That never used to be the case. You have to assume you are talking to the world all the time, even though you might think you are talking to someone next door."
What he most dislikes about the modern world is the constant bombardment of emails. "You can never hide from them," he laments. "It has been a big change in working practice because everyone wants instant replies. Years ago, if you got a letter, you could think about it. Now if you haven't replied to an email within five minutes you get another one. People make a lot of mistakes and take hasty decisions that way."
Born in Aberdeen, Scotland, in 1948, Dawson spent his early years in Edinburgh, where he attended George Heriot's school and first took up golf. At age 14 he moved to Essex in England's southeast when his father, an executive with the GPO, was relocated. Surprisingly perhaps, considering his lifetime involvement with a game he has come to love, Dawson was not part of a golfing family. That said, his father was a high achiever in the world of sport, and his dedication rubbed off on his son.
"My father was not a golfer, but he was a very good swimmer," Dawson says. "In fact, he was the British record holder at the 100 yards breaststroke in 1939. And if there had been an Olympics in 1940, he'd have been there. I was force-fed swimming as a child and was quite good at breaststroke. But when we moved to Essex there was no indoor pool anywhere near. So, having started golf, I stuck with it."
Dawson joined Thorpe Hall Golf Club, which was the home course of Michael Bonallack, one of the best British amateurs of his, or any, generation. What a coincidence, then, that it was Bonallack, now Sir Michael, whom Dawson replaced as secretary of the Royal & Ancient Golf Club all those years later.
"We played together when I was a schoolboy, but after that we hardly saw each other until I came back here," Dawson recalls. In 1964, both flew the flag for their club at the same time, Bonallack winning the Essex amateur crown, Dawson the Essex boys' title.
"Catching up with my own golf"
So, what next for the man who, whether he agrees or not, has been the face of The R&A for the past 16 years?
"I'll miss it hugely, but I do feel the time is right to go," he says. "It's time to hand over to a fresh pair of legs, to take the sack off the back. I'm going to have a really good try at doing nothing but catching up with my own golf.
"Actually, I'd like to do nothing serious until I get bored with that and then I'll think about what I'm going to do."
That said, he is likely to remain busy over the next 12 months in his capacity as president of the International Golf Federation, which is overseeing the game's reintroduction to the 2016 Olympic Games in Rio de Janeiro.
So, between games of golf at St Andrews (he lives five miles down the road), can he be expected to put quill to parchment and write his memoirs? "Certainly not," he snorts. "What goes on the road, stays on the road. I've interacted with a lot of people (he has played host to Bill Clinton and Clint Eastwood, among others) and those things deserve to remain private." And as frustrating as that intransigence has been to elements of the press over the years, it remains one of his strongest qualities.
Among his favourite memories is Tiger Woods's runaway victory in the Open Championship at St Andrews in 2000. "That was my first Open in my new role and it was Tiger's first Open win," he recalls. "I've loved all the Open venues, but that first one had a lot going for it. I was more on edge than normal.
There could be nothing better than Tiger and Rory down the 72nd hole neck and neck
"It would be nice to see Tiger here again this year. There could be nothing better than seeing Tiger and Rory [McIlroy] coming down the 72nd hole neck and neck."
Sadly, with McIlroy now injured neither Nike nor Dawson, will get the finish they would both love to have seen.