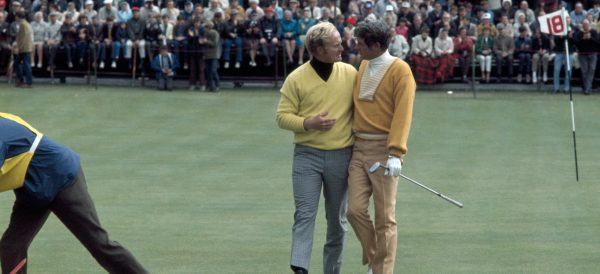 Play on, Playoff
Extra innings, overtime, tie-breaks, penalty shoot-outs—sport would be a lot less dramatic if they didn't exist, and golf's Major championships definitely wouldn't be the same without playoffs. Even though the playoff systems for the four Majors are all different, each one can boast a rich canon of remarkable contests and fascinating stories. And there is scarcely a great player in the game's pantheon who is not part of playoff folklore—sometimes successfully, but just as likely not.
The first playoff in a Major took place in 1883 over the Musselburgh links on the east coast of Scotland where Willie Fernie won a 36-hole 'rematch' against Bob Ferguson. In fact, this story would have begun seven years earlier at St Andrews had David Strath agreed to play off against eventual [British] Open champion Bob Martin. The two Scots tied in regulation, but Strath refused to turn out the next day in protest against a rules decision.
The first high-profile playoff in a Major came in 1913 when 20-year-old amateur Francis Ouimet outgunned Harry Vardon and Ted Ray over 18 holes for the U.S. Open at The Country Club in Brookline, Massachusetts. The self-taught Ouimet, playing in his first Major, was only able to enter after being granted time off from his job at a sporting goods store in Boston. But he lived over the road from the 17th hole and put his local knowledge to deadly use to become an overnight American sporting hero.
The Masters was decided by a playoff in only its second year, 1935. Gene Sarazen's "shot heard round the world" (he holed his 4-wood second shot from 235 yards on the par-5 15th in the final round) put him level with Craig Wood and he won the 36-hole playoff by five shots.
Wood, a New Yorker who eventually won two Majors in 1941, had a particularly poor playoff record. Between 1933 and 1939, he became the first golfer to lose a playoff in all four Majors (though the PGA Championship final was a match-play event in those days). Greg Norman later became the other player to suffer this indignity.
Norman, it must be said, did not enjoy the best of fortune in his Major playoffs. His most bizarre defeat came at the hands of Augusta-born Larry Mize in the 1987 Masters. The charismatic Australian was on the fringe of the 11th green, the second playoff hole, in two shots (and with one arm already seemingly inside the Green Jacket) when Mize holed a 45-yard chip to snatch the unlikeliest of victories from the jaws of the Great White Shark.
Mize is not the only surprise playoff winner over the past quarter of a century. The [British] Open has crowned two similarly unheralded champions in recent years—at Royal Troon in 2004 when American underdog Todd Hamilton beat Ernie Els (himself a playoff winner of the Claret Jug two years earlier), and at Carnoustie in 1999 when Scotland's Paul Lawrie saw off 1997 winner Justin Leonard and the hapless Jean Van de Velde.
Of course, the 1999 playoff is one of many that should never have happened. With the luxury of requiring no worse than a double-bogey on his 72nd hole to become the second Frenchman to win the title, Van de Velde struck a stanchion in the grandstand, tangled with thick rough and paddled in a burn before stumbling to a closing triple-bogey seven.
Even great players like Ben Hogan, Arnold Palmer and Tom Watson have suffered their share of playoff heartache. Hogan, in his prime, was downed by little-known Jack Fleck at the 1955 U.S. Open while Palmer lost three U.S. Open playoffs in the space of five seasons between 1962 and 1966. Watson, however, was robbed of what would have been the greatest major triumph of all in 2009 when, six weeks prior to his 60th birthday, his quixotic [British] Open tilt at Turnberry was foiled by Stewart Cink.
Jack Nicklaus, on the other hand, won two of his three Major playoffs, most memorably in 1970 when a missed short putt on the 72nd hole at St. Andrews by the flamboyant Doug Sanders took the championship to an extra day. And Sir Nick Faldo is the only man to have won the same Major via a playoff two years in succession—the 1989 and 1990 Masters.
Another great player with positive playoff experiences is Tiger Woods. Of his three playoff wins in the Majors (and no losses), the most extraordinary was in the 2008 U.S. Open when he defied a serious knee injury to overcome gritty veteran Rocco Mediate. The pair remained deadlocked after the 18-hole playoff and the hobbling Woods needed to dig deep just to continue but made par for a sudden-death victory at the first extra hole—the 91st of the tournament—to claim a heroic victory.
If playoff losers seem hard done by, spare a thought for Roberto de Vicenzo, who was denied a Masters playoff in 1968 because he'd signed for one more shot than he actually took at the 17th (71st) hole. As recently as last year's PGA Championship at Whistling Straits, Dustin Johnson missed out on extra holes due to a catastrophic misunderstanding of the rules. He walked off the 72nd green believing he was heading for a playoff, only to be handed a two-shot penalty. He had grounded his club in sand off the final fairway, not realizing he was actually in a bunker, and was left to suffer on the sidelines as Martin Kaymer shaded Bubba Watson in a three-hole playoff.
Kenny Perry has also had more than his share of bad breaks when it comes to playoffs. In 1996, he bogeyed the last hole of the PGA Championship at Valhalla in his home state of Kentucky, but rather than keeping himself loose on the range he instead visited a TV commentary booth. When he eventually teed off in sudden-death against Mark Brooks, Perry, not surprisingly, fell at the first hurdle. More recently, in 2009, he lost a playoff in the Masters to Argentina's Angel Cabrera, who in turn lost a playoff for the green jacket earlier this year to Australia's Adam Scott.
The flipside to this sorry tale concerns Fuzzy Zoeller. A Masters rookie in 1979, he had posted a decent 72-hole total of 280 (eight under par), but at the time Ed Sneed seemed to be cruising to victory. Thinking his race was run, Zoeller was chilling out as he watched Sneed bogey the last three holes—a collapse that led to the Masters' first sudden-death playoff. Despite the presence of Tom Watson in the playoff as well as Sneed, Zoeller was, of course, a shoo-in for his one and only Green Jacket.
But playoffs in general are far from predictable—or easy for that matter.
Despite not being the oldest major championship, the U.S. Open has witnessed the most playoffs. Since it began in 1895, 33 have taken place and each has gone to at least 18 holes. Originally, if there was still no winner, a further 18 holes would be played, something that last happened in 1946 when Lloyd Mangrum edged out Vic Ghezzi and Byron Nelson. In 1953, sudden-death was introduced as the deciding factor if the combatants remained tied after 90 holes.
The [British] Open, the oldest major, has only staged 19 playoffs (or 20 if you include the 1876 playoff from which Davie Strath withdrew) with the first nine completed taking place over 36 holes. The 1970 playoff between Nicklaus and Sanders was the first reduced to 18 holes, while in 1989 Mark Calcavecchia prevailed against Norman and fellow Australian Wayne Grady at Royal Troon in the first to be contested over four holes—the current format.
The first of the Masters' 14 playoffs (Sarazen vs. Wood) was originally staged over 36 holes, but by 1942 this had been reduced first to 18 holes and then in 1976 the decision was taken to change to sudden-death. The PGA (a match-play event until 1958) has witnessed only 12 playoffs, the first in 1961 when Jerry Barber beat Don January over 18 holes. When Lanny Wadkins won in 1977, sudden-death was in operation, but by the time Tiger Woods won in 2000 against fellow Californian Bob May, the format was three holes of stroke-play, as it is today.