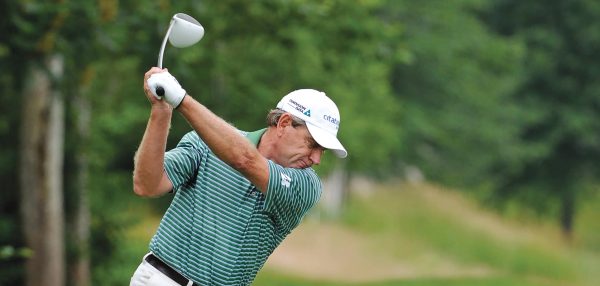 Nick Price: The Players' choice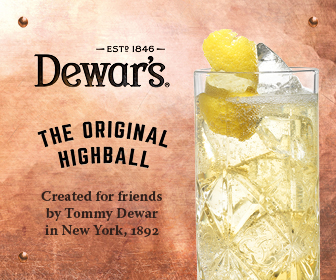 Jack Nicklaus famously captained the American Presidents Cup team four times, but it was not until his third attempt that his team enjoyed victory. Nick Price, twice captain of defeated International teams, hopes to emulate Nicklaus at Liberty National
After the Presidents Cup in 2015—which the United States won by just a single point in South Korea—captain of the defeated International team, Nick Price, suspected his time at the helm had drawn to a close. The Zimbabwean golfer had captained the Internationals twice, having led the visitors to another painful defeat at Muirfield Village, Ohio in 2013.
An 0-2 record may not stand as a glowing testimony to Price's captaincy, but what said a lot more about this three-time major champ and his credentials were the feelings of his players.
It burns that the Internationals have only won the Presidents Cup once in 11 attempts. The seniors players—Ernie Els, Adam Scott, Louis Oosthuizen, Charl Schwartzel—feel the disappointment deeply, they are desperate to start building towards equality in the win-loss column, and Price is the man they want to pull it all together in 2017.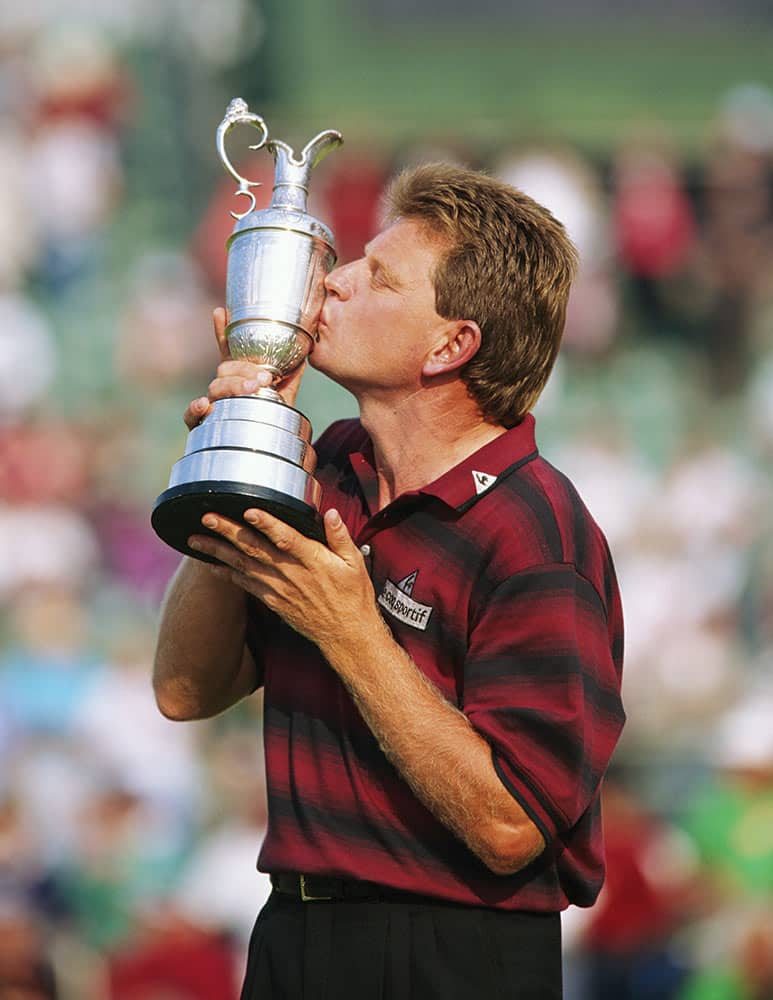 "Nick did a great job solidifying the team passion," said Adam Scott on Price's captaincy in 2015. "The entire extended unit certainly bonded and it was really evident after the last few Presidents Cups how tight-knit we were across the entire team.
"If you want to beat an American team, which always has 12 unbelievably good players, you have to be all in and all playing for each other."
And don't forget, the Internationals only lost by a point in Songdo two years ago, in the closest Presidents Cup since the scores were tied 17-17 in Fancourt, South Africa, in 2003. Price has built his team, the players have bought into his leadership and they asked him to carry on his work.
"I didn't say initially that I would do it again but I think the guys phoned the commissioner up and said, 'Listen, we want Nick to do it again'," starts Price, 60, on making the decision to lead the team again. "I gave it a month or so, and then I said, 'Boys, I'd love to do it again if you want me to'.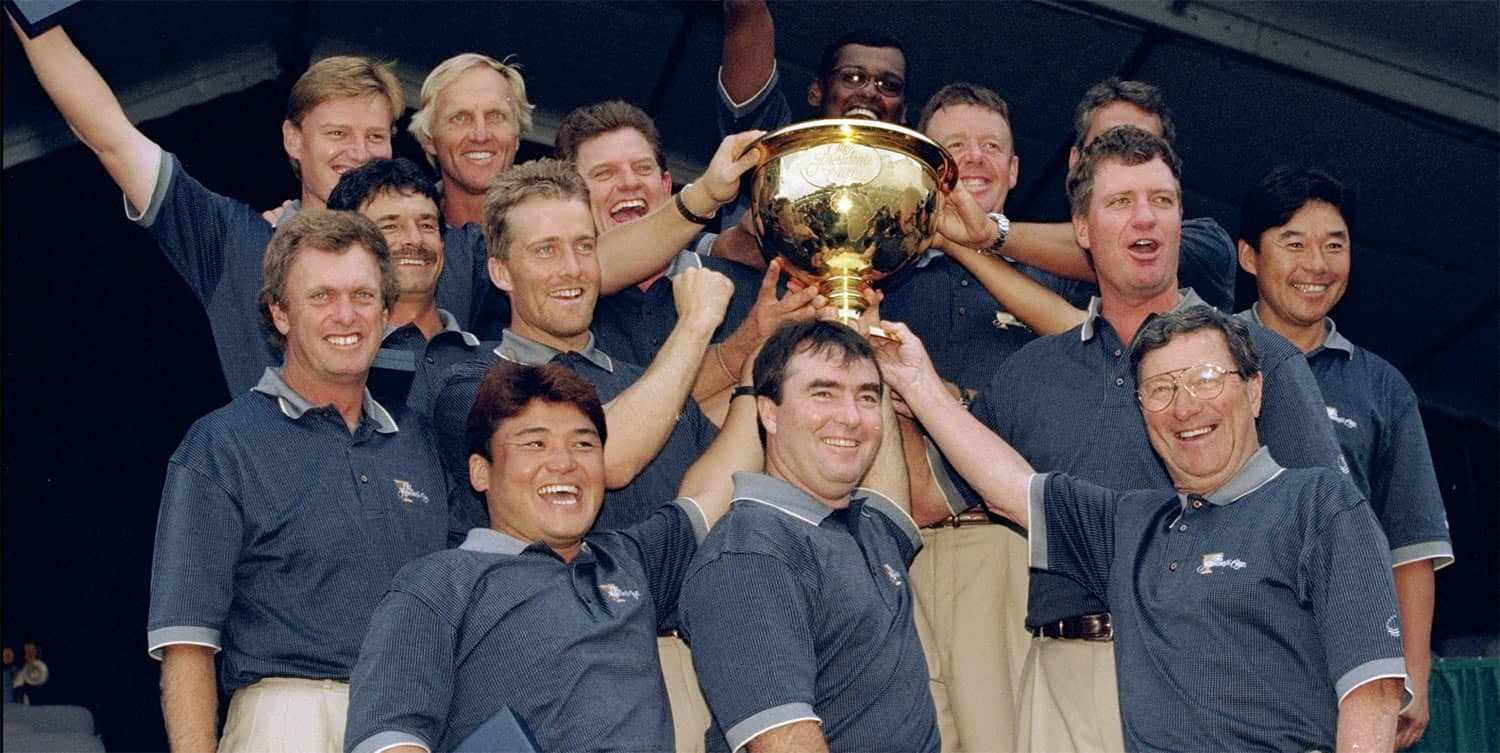 "It is certainly a nice feeling. Adam Scott stood up when we had our dinner on the Sunday night [in South Korea] and spoke and was incredibly kind to both my wife and I, because I think they appreciate the amount of time we put in. This wasn't something that we took lightly and it made me feel so good that the boys recognized that.
"The guys understand the passion I have for the Presidents Cup, and I want to pass that passion on. There's no doubt there's no bigger thrill than to win as a team."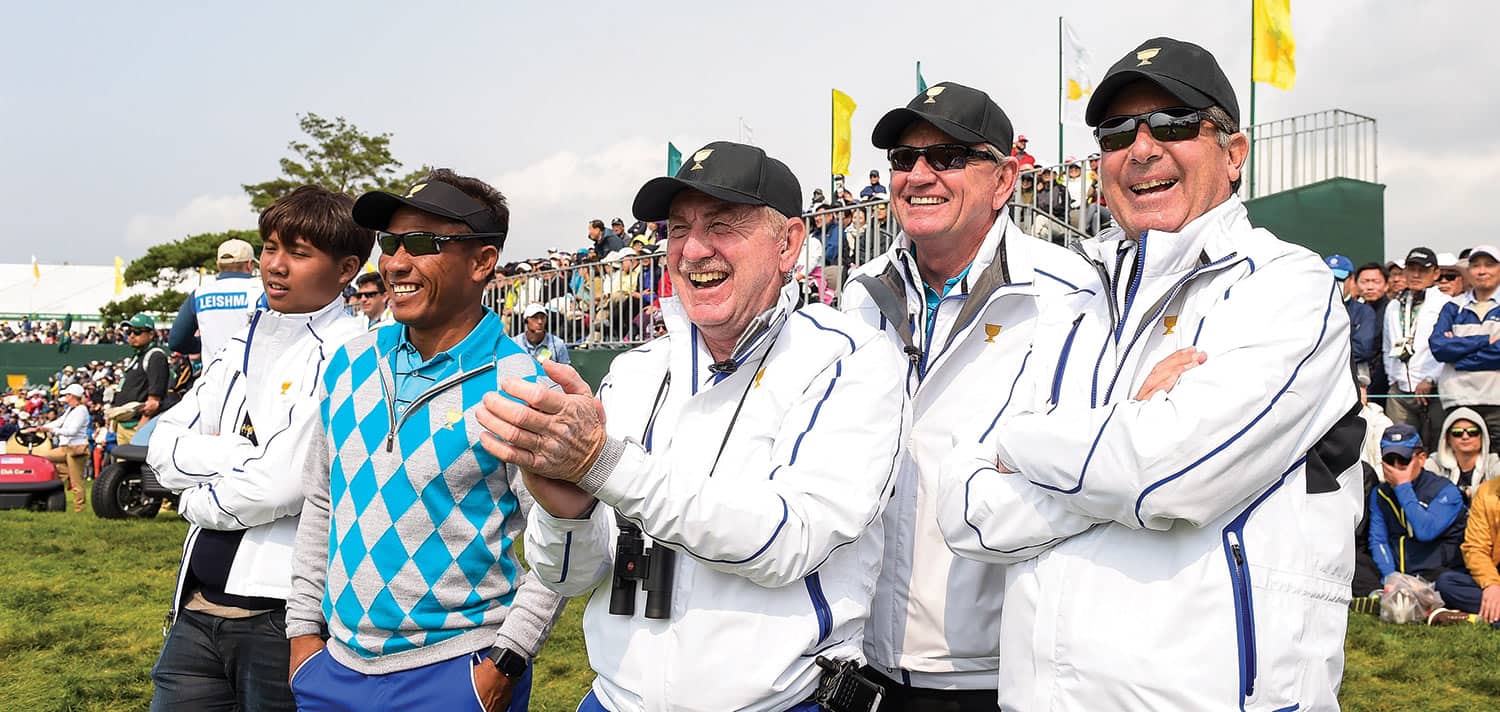 And Price is one of the very few golfers to have represented the Internationals in the Presidents Cup who knows first-hand how it feels to win. The first and only time the Internationals prevailed was in the first Presidents Cup held outside of the United States, at Royal Melbourne, Australia in 1998. Aussie legend Peter Thomson led his team to a convincing victory over Jack Nicklaus' American team, with a squad featuring Price, his close friend and career rival Greg Norman, Ernie Els and Vijay Singh; a quartet of major winners and four of the toughest competitors of their generation.
For the only time in Presidents Cup history to date the Internationals dominated, with Price contributing two wins and two halves from his five matches. The home team won each series of fourballs and foursomes outright on their way to a 20½ – 11½ victory.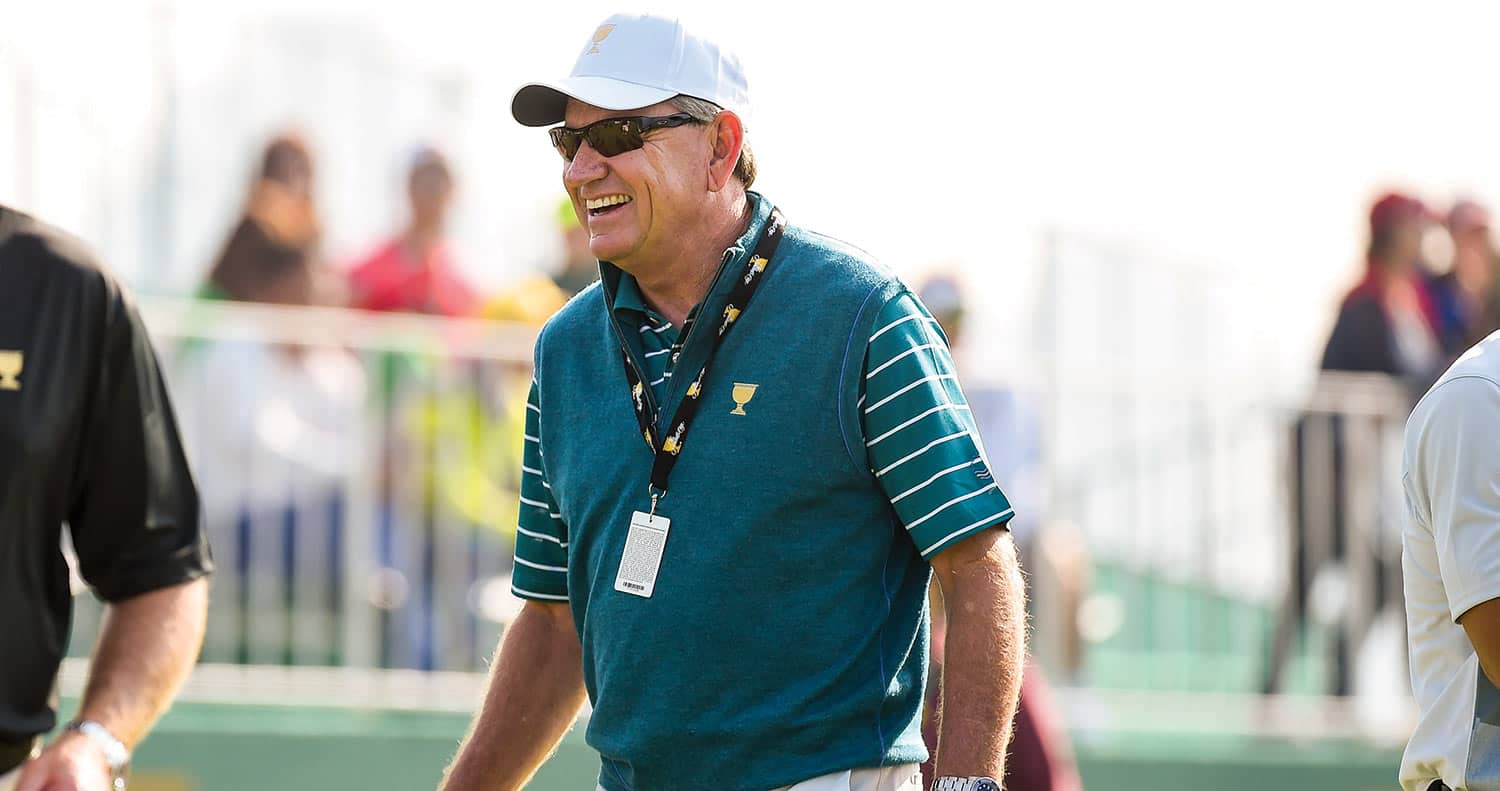 Bringing the emotion
But 1998 is ancient history and none of the players in that International team are playing at Liberty National this year. The focus for Price is bringing forward the momentum his team found two years ago.
"Korea gave us a lot more hope than we had going into that week," says Price, a former world number one. "The previous four or five Presidents Cups were not really closely contested.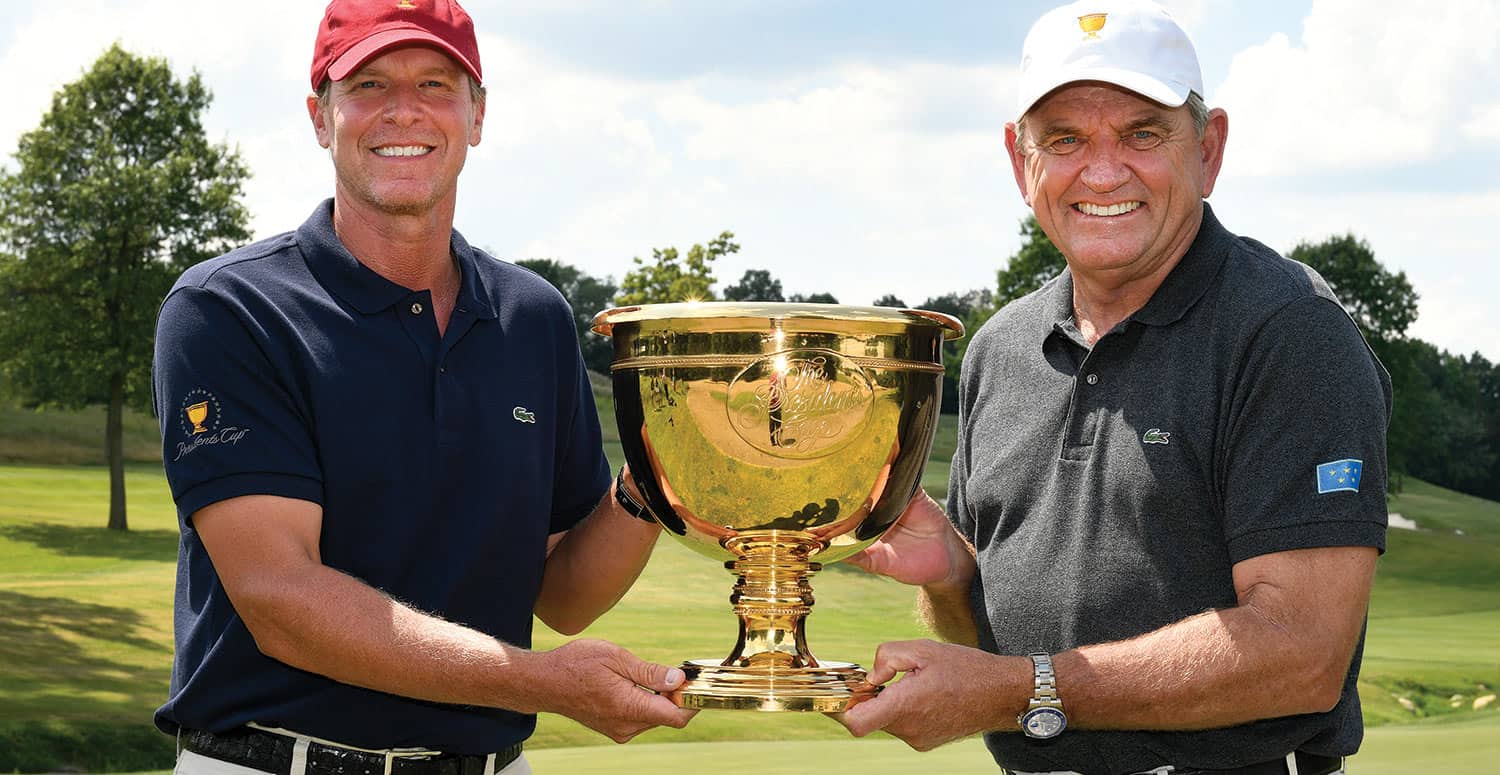 "In our team room after Korea on that Sunday night there was more feeling in that room then, and more camaraderie, more motivation, than I've seen probably since we won in 1998. It was very moving for me to be honest with you, and the fact that in the end they asked me to come back and do a third captaincy. It was a fantastic evening and that feeling that everyone had of being so close is what we need to bring to Liberty National.
"The guys are fired up. That's my most important role; to get the guys motivated early. I've been with my assistant captains and in Ernie, Geoff Ogilvy, Mike Weir and Tony Johnstone, I've got really four wonderful assistant captains there, great match players and guys who really understand team golf. That's the big thing. They are all excited about it. They are motivated and I think that motivation has filtered back into the team. It's a great time for us."
The Internationals will enter the 2017 Presidents Cup as underdogs but history beckons, and if they prevail they will be the first International team to win the Cup in the United States. Who knows, they have Price at the helm and he has never been afraid of making history.