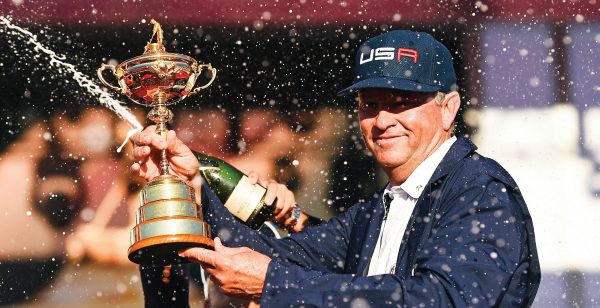 True Love: Interview with Davis Love III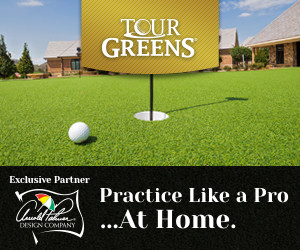 Davis Love III will remember 2016. It was the year he led the American Ryder Cup Team to victory for the first time since 2008, he was invited into the World Golf Hall of Fame, and it was also a year in which Love lost a dear friend in Arnold Palmer. It was an emotional journey, as Love tells Dave Shedloski for Kingdom
Davis Love III is in the midst of a five-hour drive from his home in Sea Island, Georgia, to Tuscaloosa, Alabama, to have dinner with his son, Dru—or Davis Milton Love IV as he is formally named—so he doesn't mind filling up the time talking on the phone.
There is much worth talking about. It was a meaningful year for one of golf's most talented and popular players, what with leading a U.S. victory in the Ryder Cup and being selected for induction into the World Golf Hall of Fame. So, a 30-minute scheduled interview leaks well past an hour, and when Love realizes that he has already covered much ground—figuratively as well as quite literally on the odometer—he can only laugh at himself.
And then he apologizes. "I've taken up too much of your time," he says.
It's an extraordinary remark. Modern-day athletes rarely exude such selflessness or give thought to situational manners. But Davis Love, son of a renowned golf professional and instructor, was carefully taught. With fame and adulation and the riches that are bestowed upon the most successful pro athletes comes enormous responsibility. Love understands this, embraces it, and takes pride in setting an example, as top players before him had done, most notably his mentor, the late Arnold Palmer.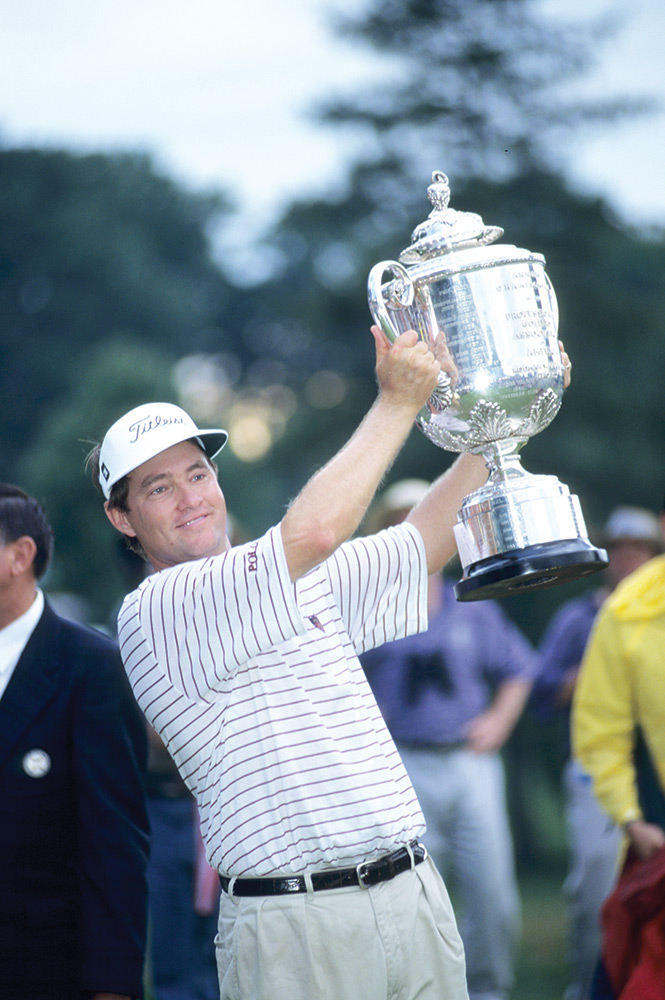 Though he has won 21 times on the PGA Tour, including the 1997 PGA Championship and the 2015 Wyndham Championship that made him, at age 51, the third-oldest winner in tour history, Love believes it's been his comportment, openness, and willingness to work on making the game better—sometimes at the expense of improving his own game—that eventually resonated with the Hall of Fame selection committee.
"I think your record, obviously, has to be a part of it, and my record was okay. But I'd like to think contributions to the game is what put me over the top with the Hall voters," says Love, who served multiple terms as a player representative on the PGA Tour Policy Board, a time-consuming endeavor and one that requires both passion and patience.
"I don't try to assume anything. But I got a note from one of my foundation partners who told me, 'You are truly a golf professional,' and that was one of the greatest compliments I could receive. I tried to do the things that would have made my dad proud, because he was a golf professional, not someone who played golf professionally. There is a difference. To think that somehow I fulfilled the role that he would have wanted for me is what means the most.
"But, frankly, I'm overwhelmed that I would be in that category with the likes of Arnold Palmer and Jack Nicklaus," Love adds. "That's the standard of what we strive for on the golf course as well as off the course, and I have been striving for that. Jack once said that Davis gets what it means to give back to the game. Arnie said the same thing at the Presidents Cup all those years ago. It doesn't even matter to get into the Hall of Fame. To have Jack and Arnie say that about me, that means I've done what my dad asked me to do."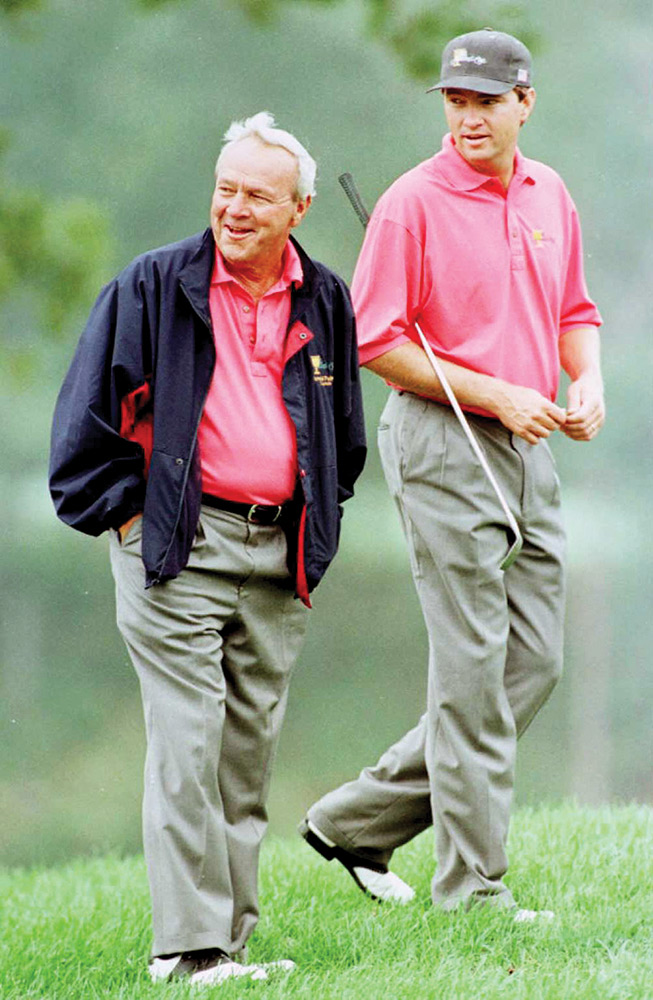 Father figure
The mention of Palmer brings a slight catch to Love's voice. Davis Love is definitely his father's son, but he also was one of Palmer's sons, too, so to speak. His father introduced him to Palmer when he was 10 years old at the 1974 PGA Championship at Tanglewood Park in Clemmons, North Carolina. The experience served as a lesson the youngster never forgot and one that he has carried forward.
"Arnie and my dad were friends, and he sat down and talked to me that day for several minutes," Love recalled. "There we were at a major championship, and he makes time for some kid he just met. But that's the way he was. He was just so genuine with everyone, whether you were the doorman or the President of the United States. And there was nothing in it for him. That's the kind of person he was."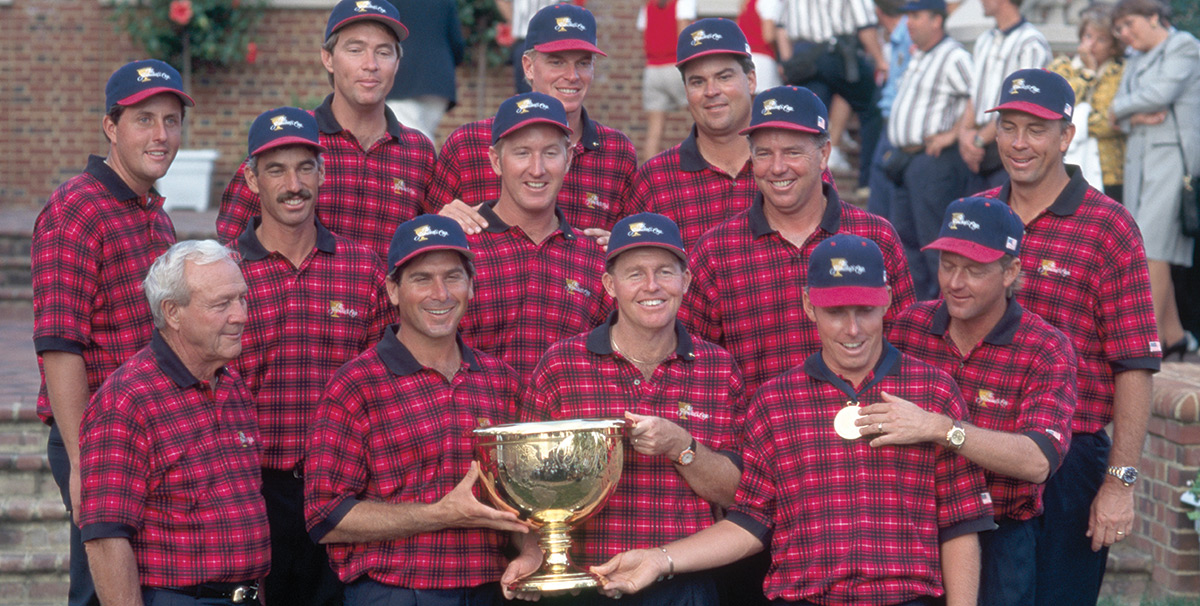 Through the years the two men grew closer, which is why Palmer's passing on September 25 was nearly as devastating to Love as when he lost his father in a private airplane crash in 1988.
"Arnold was such a major part of my golfing life," Love says. "He was always so encouraging. And he gave me little bits of advice along the way, and you just realize what a blessing that is to have somebody like that in your corner. But Arnold probably thought he didn't do anything, but the little things he said, the advice, they meant so much to me, and I will miss that. I will miss his smile and the way he could make you feel good about yourself with just the right words."
One of Love's favorite memories with Palmer occurred just a few years ago when he played nine holes with Palmer at Augusta National during Masters week. It turned out to be the last nine holes the four-time Masters champion played during the tournament.


"It was at a time when he would just go out and play practice rounds, but he wasn't playing in the tournament anymore. And all of a sudden he sees me and asks me to play. No fanfare, nobody saying this is Arnold's last day out. 'Come on, let's go play.' And that was the last time he did that. What an honor that is for someone like me. So, it's hard to imagine him being gone, that we'll never have that interaction with him ever again. It's tough to think about."
Ryder Cup spirit
Palmer definitely was on everyone's mind at last year's Ryder Cup at Hazeltine National in Chaska, Minnesota, with his death coming on the Sunday prior to the matches. And his spirit lingered throughout the grounds and especially on the first tee where the PGA of America placed his bag from the 1975 Ryder Cup, the year he served for a second time as U.S. captain, at Laurel Valley Golf Club in Ligonier, Pennsylvania, not far from Palmer's Latrobe hometown.
America went on to beat Europe handily at Hazeltine after sweeping the opening session on Friday morning, which hadn't been done since 1975. And at the end of the 16 ½ to 11 ½ victory, America's first win since 2008, every U.S. player had scored at least one point. And again, that hadn't happened since Palmer's '75 squad.
"His bag sitting on that first tee… I don't know who did that, but it was genius," Love says. "And then to think of all the things that happened that tie back to that year. I stressed with all the guys that we didn't want to make this Ryder Cup all of a sudden about calling on the spirit of Arnold Palmer and make it a public display, because we were all mourning together. Then we sat down at the first lunch on the Monday in the team room and we were asked what we wanted to drink. Rickie Fowler said 'I'll have an Arnold Palmer.' We all ordered Arnold Palmers. We went on from there and did it quietly, thinking about Arnold. We didn't have a speech every night—win it for Arnold—but everybody felt it."
And then Love felt relief.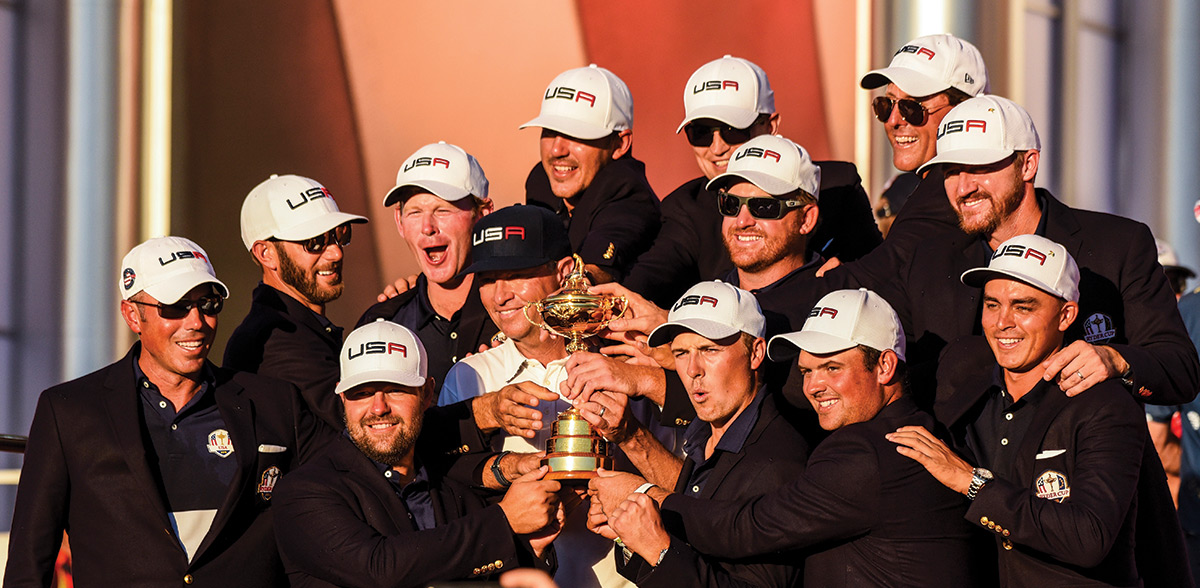 No one, perhaps, carried the burden of pressure for the American Ryder Cup team more than Love. He had been at the helm of the 2012 squad that squandered a four-point lead at Medinah, a stunning outcome. The U.S. had rallied from four behind in 1999 at The Country Club in Brookline, Massachusetts, but that was at home. For Europe to pull it off on the road was all but unfathomable. After the 2014 team suffered a seismic meltdown at Gleneagles under the dour reign of Tom Watson, Love was recruited to populate a "task force" to address America's Ryder Cup shortcomings dating to 1993. Out of that task force came his second appointment as captain so there was a lot riding on the outcome.
A spirit of cooperation meant as much as the spirit of Arnold Palmer. Which was the point of the task force—for the U.S. contingent to bond and formulate solutions to its moribund fortunes.
Love, who battled injuries in 2016 and played sporadically while juggling his captain's duties—he competed only once after May—was certain that he and his group of assistant captains, including Tiger Woods, had done all they could to prepare the U.S. squad. And that preparation ignited execution.
"I'm happy that we as a group came together—12 players, six captains—that we all bonded in our own groups," Love said. "We supported the guys better than we did in '12 and frankly better than we did in '14. And we had to learn the lesson from '12 and '14 that something was wrong when the chips were down. You think, you play your game, you shoot your score. It's an individual sport. That wasn't the right attitude. We had to learn that. We have to do whatever we can to support and bond together as teammates and do it together or you're not going to be successful. Maybe getting kicked around for six years made us realize that hey, look, it's not about you, it's about the team. What can you do to make your team and your teammates better is your job.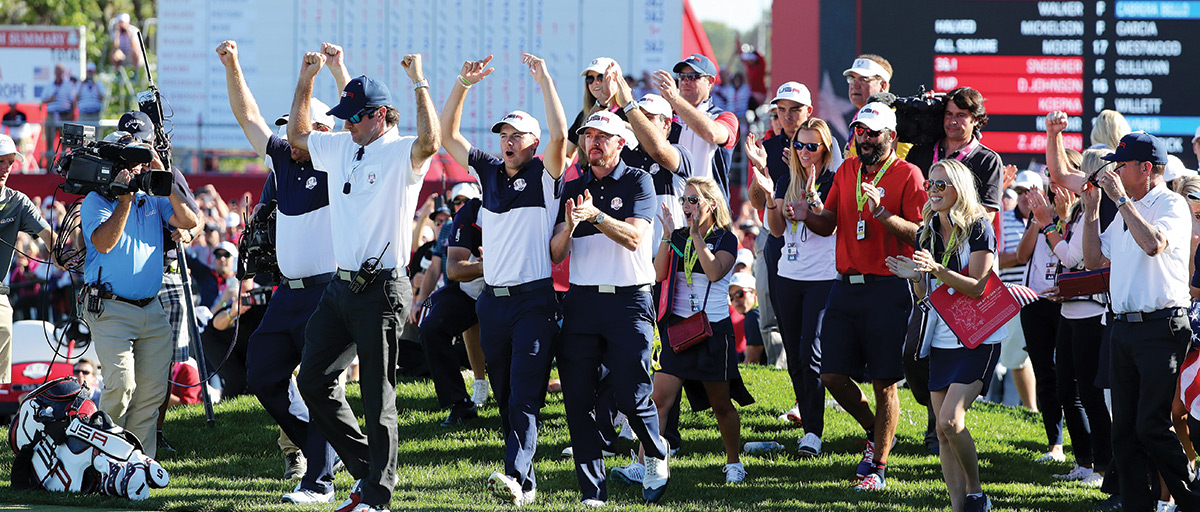 "I think where that most showed up was Saturday when we had to sit some guys who were playing well. And then on Sunday we handled the pressure, obviously, much better than we did at Medinah."
The victory was sweet and vindicating for Love. But it wasn't even the best part of the endeavor. "What I keep explaining to people is that 2012 as Ryder Cup captain was an incredible experience. We had a great team and I have great memories. I've had great memories of any team I've been on or around. But this one was different because we really grew as friends, and that made it so much more rewarding for me."
As a member of the PGA of America's Ryder Cup committee going forward, Love will remain involved in America's biennial fortunes, but he won't be captain again, feeling like he already had taken a spot that should have gone to one of his contemporaries. He spent the latter months of 2016 rehabbing a sore hip and he hoped to compete more frequently on both the PGA Tour and PGA Tour Champions in 2017. However, those plans were scuttled in early January after he underwent surgery for a broken collarbone he suffered while snowboarding with his son over the holidays.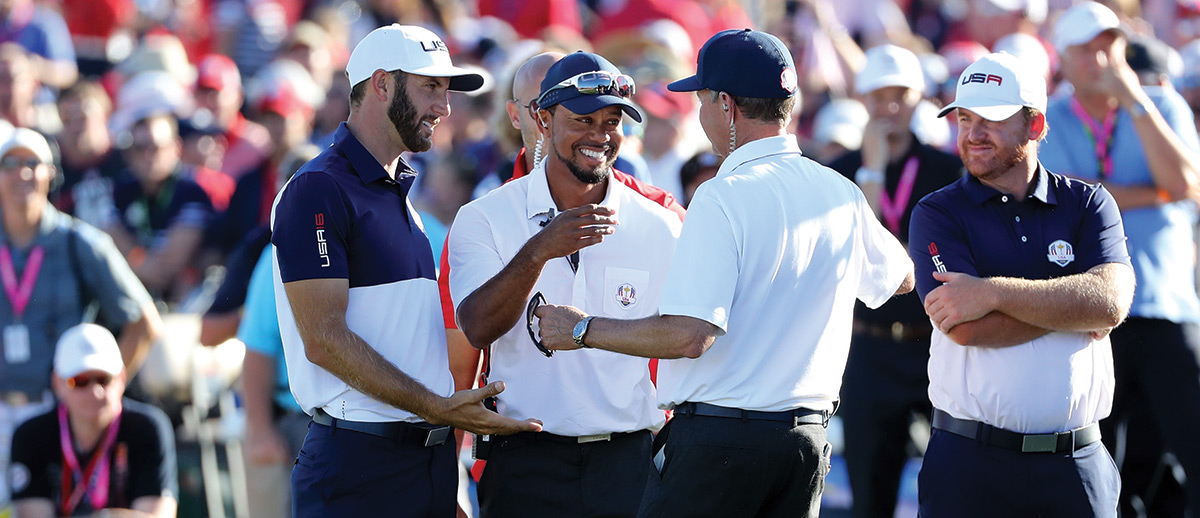 He was uncertain when he could compete again, but he does have his induction into the World Golf Hall of Fame in the fall to look forward to, held in conjunction with the Presidents Cup at Liberty National in Jersey City, New Jersey.
Whatever 2017 brings, it will be tough to surpass the year just completed: "You know, it was an incredible year, but bittersweet, obviously, with the loss of Arnold. How can you ever replace him? You just can't," Love says. "On a personal level, almost everything meaningful had nothing to do with what I did on the golf course. I was disappointed in my play and having to be out so long, but in some ways, it was one of the more rewarding years of my career.
And having that memory of Arnold tying back to the Ryder Cup is something that will stay with me the rest of my life."