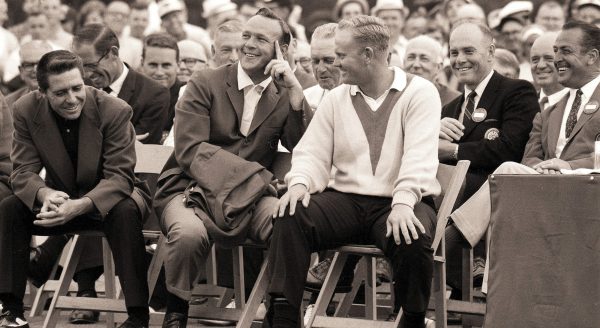 When Shall We Three Meet Again?
Arnold Palmer, Gary Player and Jack Nicklaus totaled 13 Masters wins in 28 years. These three sporting icons are inextricably linked, not least by their Green Jackets. Nowadays they mostly play for fun, but halcyon memories of their springtime deeds in Georgia will never fade. Paul Trow looks forward to the day this illustrious trio might once again be reunited at Augusta National.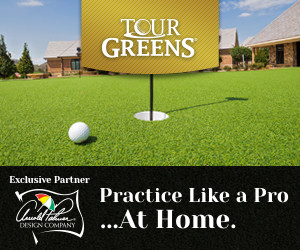 The story of the Masters is in many respects the story of happy coincidences. And as far as the tournament that wanted to be a major was concerned, no coincidence could have been happier than the one that put Arnold Palmer, Gary Player and Jack Nicklaus center stage together at the same time.
In the early 1930s, when the great Bobby Jones embarked on his dream of creating a sumptuous golf course that would annually host the leading players (amateurs as well as professionals) on an invitational basis, even he could not have foreseen the global exposure his transformation of an old horticultural nursery would ultimately command.
Augusta, Georgia was the scene of his grand project, and it was brought to immaculate fruition with the invaluable aid of Clifford Roberts as fund-raiser and Dr. Alister MacKenzie as course designer.
Given Jones' unparalleled stature within the game, rendered immortal by his victories in the U.S. and British Open and Amateur Championships of 1930, it was inevitable that Augusta National Golf Club would come to be regarded as a symbol of excellence in terms of both golfing pedigree and social standing.
After a relatively low-key inauguration in 1934, the Masters burst into life the following year with 'the shot heard round the world', the 4-wood the diminutive Gene Sarazen holed out for an albatross on the par-5 15th en route to an immensely popular victory.
Over the next couple of decades, Jones, Roberts and their fellow members at Augusta National set about establishing the tournament as a defining challenge for the game's finest practitioners. Of course, this quest for credibility was helped considerably by the four dominant professionals of that era—Byron Nelson, Ben Hogan, Sam Snead and Jimmy Demaret—donning the Green Jacket no fewer than ten times between them. But the colorful setting, a veritable kaleidoscope of Southern floribunda at a time when the green shoots of spring were only just starting to appear in most states, played its part in attracting performers and patrons (spectators) alike.
The touchstone that authenticated the unique qualities of this beguiling alchemy, though, came in 1956 when CBS provided the first television coverage of the Masters, using only six cameras over the final four holes. And within two years of this historic development, the sport was celebrating the arrival of its first star of stage and screen. Like many who had gone before him, Arnold Palmer was the genuine article out on the golf course. But unlike any who had gone before him, he became as familiar a figure in millions of homes as the family dog.
It was only a one-stroke victory, but, appropriately, it was accompanied by the first five-figure check ever handed out at a major championship. It also came with a febrile final-round subplot that a team of Hollywood scriptwriters would have struggled to invent.
When Palmer, making his fourth Masters appearance, arrived at the short 12th, he led by one. After his tee shot had plugged in the soft turf just over the back of the green, he expected to lift, clean and drop without penalty. Due to heavy rain earlier that week, the tournament was subject to wet-weather rules, yet an official told him he had to play his ball as it lay. The outcome was a 5, but Palmer then went back to the spot where his tee shot had finished, dropped his ball and got up and down for a 3. Loss of tournament looked a distinct possibility at the time—Amen to Arnie at Amen Corner, the headlines would have read—and it was only when he reached the 15th fairway that Palmer learned his 3 would be allowed to stand.
The controversy prompted some mutterings amongst rival competitors, but Palmer, already a winner of eight PGA Tour titles, had been vindicated, by Bobby Jones no less. Even more significantly, perhaps, he had demonstrated to blue-collar sports fans that one of their own could stand up to blue-blooded officialdom and win the argument.
Fast forward 12 months to April 1959 and Palmer was again right in the thick of things as he reached the 12th tee on the final day. This time, though, he dumped his tee shot into Rae's Creek and walked off the green with a triple-bogey. His challenge was derailed and even though he kept on scrapping he could finish no higher than third, two shots adrift of the winner Art Wall, who had birdied five of the last six holes.
On this occasion, and not for the first time during his storied career it must be said, Palmer felt he had let the main prize slip through his grasp. But he consoled himself that he was playing the game the way his growing army of supporters wanted to see it being played.
"If I fondly recall anything about that Masters," he wrote in his autobiography, A Golfer's Life, "it is my growing awareness of how the galleries enjoyed watching me perform in the clutch, their hopes sometimes living and dying on every shot."
In many respects, the Masters of 1960 was the apotheosis of this philosophy. Palmer had recently cemented his partnership with commercial adviser Mark McCormack and the endorsement deals were already flowing in. But having turned 30 and finding himself at the very peak of a profession that at the time offered a distinctly limited income from prize money and the other forms of remuneration on offer, Palmer was acutely aware of how important it was to maintain this momentum in order to secure his family's future. And, boy, how he delivered!
It was a new decade and the austerity of the post-war years were being swept away by a popular culture to match—vibrant, TV-inspired and ever so slightly rebellious. People were taking risks like never before, and Palmer on the golf course was the risk-taker-in-chief.
After three rounds, he led by one stroke from a mighty quintet of proven competitors—Ben Hogan, Julius Boros, Dow Finsterwald, Ken Venturi and Billy Casper—thus guaranteeing a denouement that would be as classical as it would be dramatic. With two holes remaining, it looked as though Venturi, the only member of the chasing pack who had not already won a major, was about to make his long-awaited breakthrough. But Palmer had other ideas and with the galleries on tenterhooks and the TV audience on the edge of their seats he birdied both 17 and 18, holing out from 30ft and 6ft respectively, to dash Venturi's hopes and claim a victory that without question was "heard round the world."
In all the excitement, it escaped most people's notice that Player, winner of the British Open the previous summer at Muirfield, had claimed his second successive top-10 finish at the Masters, while Nicklaus, a crew-cut 20-year-old at the time, attracted only a fraction more attention by dint of lifting the silver cup awarded to the low amateur.
All eyes were on Palmer, and what he might achieve next. Of course, by the time the 1961 Masters came round he had added the U.S. Open at Cherry Hills to his burgeoning trophy cabinet and was an overwhelming favorite to claim his third Green Jacket in four attempts. Player, though, had other ideas and after three rounds led Palmer by four strokes with the rest of the field a further two shots back.
As the final round unfolded, the pressure clearly got to the young South African as he stumbled to a two-over-par 74. Encouraged by his rival's nervous performance, Palmer worked his way to the top of the leaderboard and stood in the middle of the 18th fairway with a one-shot lead, needing only a par-4 for victory.
However, before playing his approach Palmer allowed himself to be distracted by an old friend in the gallery offering premature congratulations on a job well done. He duly pushed his second shot into a greenside trap, splashed out over the putting surface and took three more to get down, handing Player his first Masters victory on a plate.
To say Palmer was steaming is a considerable understatement, although his fury was directed entirely at himself. "What really tore me up inside was the knowledge that I'd lost because I'd failed to do what Pap [his father, Deacon] had always told me to do—stay focused until the job is finished," he said.
Meanwhile, Nicklaus tied for seventh but was thwarted in his bid to retain the amateurs' trophy by the experienced Charles Coe, who closed with a 69 to finish joint runner-up with Palmer.
No doubt a desire to put the record straight, if not a naked urge for revenge, helped to propel Palmer, who had won his first British Open at Birkdale nine months earlier, into a two-stroke lead over Finsterwald after three rounds in 1962. Player was also lurking four shots back and in the end the three of them contested the tournament's first three-way 18-hole playoff. After a modest start to the playoff which saw him trailing at the turn, Palmer reeled off a blistering back nine of 31 to seal his third Masters triumph.
The rest of the majors in 1962 were spread exclusively amongst the Big Three, as McCormack was soon to brand them—Nicklaus, newly professional, beat Palmer in a playoff for the U.S. Open at Oakmont; Palmer successfully defended the Claret Jug at Troon in Scotland; and Player won the PGA Championship at Aronimink.
Nicklaus annexed two of the four majors in 1963—the Masters, by a single shot from Tony Lema, and the PGA Championship at Dallas Athletic Club. Palmer's only significant tilt came in the U.S. Open at Brookline, Massachusetts where he lost to Boros in a playoff; and Player recorded top-10 finishes in all four without ever really contending.
And so to 1964, and Palmer's long-coveted desire at last "to walk up 18 knowing there was no way I could lose the Masters." Tied for the lead with Player after day one, Palmer was four strokes clear at the halfway stage and five ahead with 18 holes to go. This time his focus remained intact and he duly ran away with a six-shot victory over Nicklaus and his late, great friend Dave Marr. He wasn't to know it at the time, but this turned out to be the last of his seven major wins.
Palmer and Player tied for second, nine shots adrift of Nicklaus, in 1965 and a year later the Golden Bear was top dog again after a playoff, with Palmer two shots back in a tie for fourth. Palmer was fourth again in 1967, his last top-10 finish at Augusta, and second to Nicklaus a couple of months later in the U.S. Open at Baltusrol. But thereafter the Big Three took a back seat at the Masters until Nicklaus won by three in 1972 to tie Palmer's tally of four Green Jackets.
Player, well into his 39th year, leveled another Palmer record—seven major wins—at the Masters in 1974 and 12 months later Nicklaus shaded Tom Weiskopf and Johnny Miller in a thriller down the stretch. Despite these seasoned successes, both men's finest hour at Augusta was, amazingly, still to come. In 1978, at the age of 42, Player carded seven birdies over the last 10 holes to close with a 64 and convert a seven-shot deficit behind reigning U.S. Open champion Hubert Green after 54 holes into an incredible one-stroke victory.
The ultimate Masters swansong, though, came in 1986 when Nicklaus, at 46, turned the clock back in similar fashion with a final-round 65 (including 30 on the back nine). In the process, he overtook a distinguished cast of contenders that included Greg Norman, Tom Kite, Seve Ballesteros and Nick Price, along with his bête-noir in the 1977 and 1981 Masters, Tom Watson, to secure the last, and possibly most glorious, of his 18 major titles.
Between the three of them, they made a total of 147 starts in the tournament and clocked up no fewer than 49 top-10 finishes, the last of which came in 1998 when Nicklaus, then 58, tied for sixth. Palmer brought the curtain down on his playing career at the Masters in 2004 and Nicklaus followed suit a year later, but it wasn't until 2009 that Player called it a day. Now they are all "in retirement," it is the fervent wish of golf fans the world over, not just occupants of the inner sanctum of Augusta National, to see the Big Three back in harness again, if only as honorary starters.
The custom of starting the Masters with honorary opening tee shots at the 1st hole by legendary players whose competitive days were behind them was introduced in 1963. The Scottish-born duo of Fred McLeod, U.S. Open champion in 1908, and Jock Hutchison, a British Open and PGA champion of the early 1920s, were the original honorary starters and discharged the duty together at every subsequent Masters until 1973. Hutchison dropped out at that stage due to ill health, but McLeod carried on until 1976, the year he died, aged 94.
Nelson and Sarazen assumed the role in 1981 and were joined by Snead three years later. This threesome continued in harness until 1999 when Sarazen died, aged 97, while Nelson and Snead, both pushing 90 at the time, discontinued in 2001.
After a gap of a few years, Palmer has acted as the solitary honorary starter since 2007 and was joined last year by Nicklaus. Despite much speculation that they will be joined by Player for the 2011 Masters in a dream reunification of the Big Three, no announcement to this effect had been made at the time Kingdom went to press.
Palmer, Player and Nicklaus—now aged 81, 75 and 71 respectively—are the living evidence of the symbolic heritage that the Masters, and indeed the other major championships, embody. It is a heritage that stretches back through Bobby Jones to Tom Morris and the very origins of the modern game; and it is a heritage that safeguards for generations to come those principles and conventions that all who love the game hold to be sacrosanct.
So, with sincere apologies to the Bard: "When shall we three meet again?" At Augusta National, we all hope. "In thunder, lightning or in rain?"