'A Life Well Played'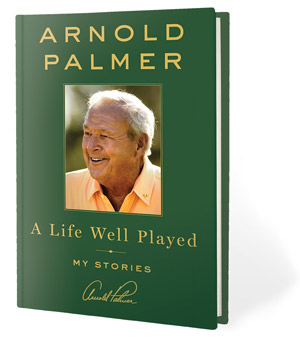 A new book by Arnold Palmer, 'A Life Well Played: My Stories', will reach shelves on October 28, although don't expect copies to stay there for long.
'A Life Well Played' is autobiographical in nature, and takes readers far beyond Palmer's original autobiography, 'A Golfer's Life' which was published in 1999. The new and keenly anticipated book casts new light on Palmer's extraordinary life in golf, in business and at home.
"Though I have written a number of books in the past this one is particularly important to me," starts Palmer, a natural storyteller who turns 87 on September 10. "As I delved into the process I realized just how much I still wanted to say to my friends in golf and to fans of the game in general.
"Going through the exercise of getting it all down has been personally satisfying, but I couldn't have done it without a dedicated group of individuals who truly believed in this project."
In 'A Life Well Played', Palmer offers stories, advice and guidance to readers—for life on and off the golf course—and the author, who was the first golfer to win the Masters four times, reflects on how the events of his colorful and impactful career have shaped his thinking and philosophy.
'A Life Well Played: My Stories' is published by St. Martin's Press with a US cover price of $22.99.