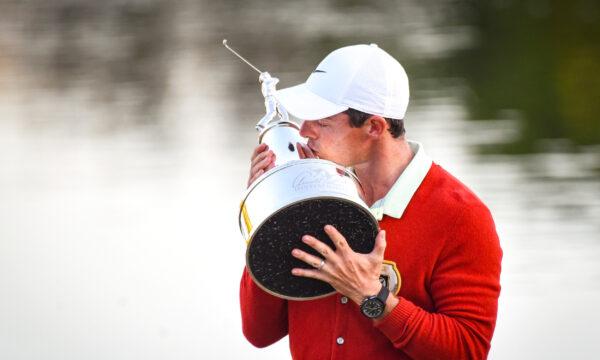 Rory McIlroy wins Arnold Palmer Invitational
Rory McIlroy won the Arnold Palmer Invitational at Bay Hill on Sunday to claim his first PGA Tour title in 18 months. That last win was the 2016 Tour Championship, to seal victory in the FedExCup, on September 25, 2016, which happened to be the day Arnold Palmer died at the age of 87.
"It's sort of come full circle since that day in September 2016, and just proud to have my name on that trophy," said McIlroy, 28, on Sunday, having claimed his 14th PGA Tour win, by three strokes from Bryson DeChambeau.
"It's a little ironic. The last time I won a PGA Tour event was bittersweet because we lost an absolute legend, an icon of the game, so and for me to get my next win here means a lot. I've had quite a connection with Arnold Palmer over the past few years and I've been very fortunate to spend some time with him here and he was always so nice to me. I've got so many letters from him from wins and all sorts of stuff. I wish he would have been at the top of the hill to shake my hand when I came off the 18th green but hopefully he's proud of me and with the way I played that back nine. I tried to be as aggressive as I could and tried to take on shots when I needed to, just like he would have."
With Tiger Woods, Henrik Stenson and Justin Rose—major champions all—in contention down the final stretch at Bay Hill it needed something exceptional to separate McIlroy from the pack. Five birdies in the last six holes are what the Irishman produced, including a chip-in from off the 15th green, and he finished with a curling 24-foot, downhill birdie putt on the last green.
"I'm never going to be able to leave a mark on the game like Arnie did," added McIlroy, "but I'll try to emulate in some way and if I could get halfway close to that, I'll have had a pretty good career."
McIlroy recalled eating lunch with Palmer at Bay Hill a few years ago. Palmer ordered the fish but with steak sauce. Says McIlory: "I remember him asking the server, 'Can I get some A.1. Sauce?' And the server said, 'For your fish, Mr. Palmer?' He said, 'No, for me'. It was quite funny. But that's Arnie, he was so good with people and I was just mesmerized for that two hours I spent with him. He had so much time for everyone."
Wearing the now traditional red cardigan of the Arnold Palmer Invitational champion, McIlroy capped proceedings in the Doc Giffin Media Center at Bay Hill by handing out glasses of Palmer's favoured Ketel One vodka to assembled journalists. Glass raised, McIlroy simply said, "To Arnold".