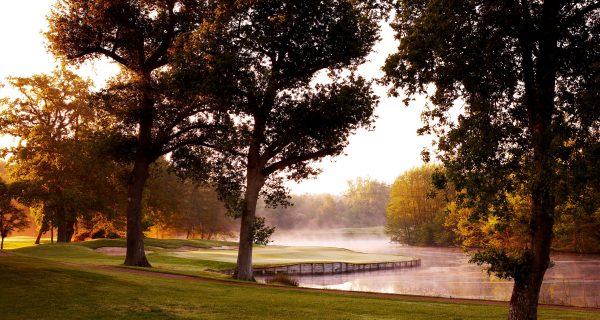 Happy Valley
The wedge of land across France's midriff from the port of Nantes to the ancient city of Orléans some 200 miles to the east was the cradle of northwest European civilization in the Middle Ages. Today the Loire Valley is a cornucopia of cultural and sporting delights—from glorious historic châteaux and vast sweeping vineyards to traditional hunting grounds and, nowadays, a plethora of golf courses. John Halnan, accompanied by some friends, made a pilgrimage to the region and was instantly chastened by the golfing beauty, and beast, that is Les Bordes.
Known as the Garden of France, the western half of the Loire Valley is supremely fertile and verdant. So it is perhaps no surprise that some of the country's wealthiest and most aristocratic families have made this region their home, some going back more than a thousand years. And as is usually the case with rich families, the pickings have also been rich—châteaux that are more sybaritic than palaces, vineyards that stretch as far as the eye can see, and, more recently, golf courses to die for, or on.
One course in particular has been the scene of more scorecard deaths over the past couple of decades than perhaps any other in Europe. The brainchild of Baron Marcel Bich, co-founder of Bic, the world's leading producer of ballpoint pens, and his Japanese business associate Yoshiaki Sakurai, Les Bordes is an amphibious masterpiece enmeshed by several tributaries of the Loire within the forests of La Salogne.
Consistently ranked as one of Europe's finest, and hardest, courses (indeed, it was originally conceived as France's answer to Augusta National), Les Bordes was laid out on Bich's 1,300-acre hunting estate near the sleepy town of Beaugency, 90 miles south of Paris and halfway between the historic cities of Blois and Orléans.
It was designed by the late Robert von Hagge, who, despite being based in Houston, Texas, crafted many of continental Europe's finest courses, including Golf National southwest of Paris where the 2018 Ryder Cup will be played.
At the time when Von Hagge visited this enchanting site, replete with duck, pheasant, boar and deer colonies, he was clearly at his most wickedly imaginative, not least in how he has seamlessly brought water into play and his creation of varied island greens. Ever since it opened for play in 1986, Les Bordes has presented a massive challenge to every golfer who pitches up nursing the (soon-to-be) forlorn hope that he, or she, might actually play to their handicap. To put this charming yet lethal layout into perspective, Jean Van de Velde, who infamously 'blew' the 1999 [British] Open at Carnoustie (another excruciatingly difficult test of golf), holds the course record with a one-under-par 71. If the thigh-high rough doesn't get you, nor the water that comes into play at some point on almost every hole, then the giant oak trees that are strewn throughout the property surely will.
Until recently, Les Bordes was virtually inaccessible to all but a select few. Its few private residences are hidden away while the simple, cottage-style hotel accommodation adjoins its rustic clubhouse, a converted hunting lodge that offers a wide range of meals from bar snacks to cordon bleu cuisine. It also houses a tremendous cellar. We asked for a Krug and, expecting a current Grand Cuvée, were surprised when the waiter returned with a rare 1990 Krug Clos de Mesnil. We shouldn't have been.
Until Bich's death in 1994, only a few of his friends, family, and acquaintances had ever played the course. By 2001, Sakurai had opened Les Bordes up to about 30 members and it then became available for limited public play after the Japanese tycoon's death in 2004. Now, however, thanks to a syndicate of European investors who purchased the property in 2008, Les Bordes has reopened as a private club, but with ambitious plans to expand the membership, facilities and property offering.
In addition to access to the 7,062-yard, par-72 golf course, members at Les Bordes are entitled to hunting privileges not only on the Bich estate but the neighboring property of the Guerlain family and, with permission, others. The club, which also has a shooting academy and plans for an equestrian center, will soon offer home sites for sale, on parcels no smaller than 2.5 acres, and will build state-of–the-art, environmentally-friendly golf lodges that come with membership.
However, if you are thinking Florida-style fairways lined with McMansions, think again. No residences will be built within sight of any of the holes. The estate is vast as well as largely forested, so the peace, tranquility and natural serenity of Les Bordes will remain sacrosanct.
Our group played the course three times over two days and while we enjoyed regular sightings of the local deer, not to mention the innumerable birds that make Les Bordes their home, not once was our view of nature compromised by man-made intrusion. In fact, we only saw two other people on the course—the first, when it started raining on day one, was a kind member of staff who brought us dry towels and umbrellas, and the other, the following day, was a different member of staff who changed our buggies mid-round in case of battery failure.
At this point, so enchanted had we become with this beguiling private playground that the appearance of someone else shocked me to such an extent that I took a divot the size of Texas out of the tee—much to my companions' amusement and my eternal shame. How else did I play? As well as I possibly could, though I was still comfortably over my already considerable handicap despite a few birdies and a lot of pars. The combination of water and rough simply means that if you make a mistake you will be lucky to escape with even a double- or triple-bogey. I parred the long par-4 18th in rounds one and three, but also carded an 11 there second time around. Yet not once did I feel vexed or cheated by Von Hagge's sublime creation. The course is completely fair: the greens are tricky but true, good shots are rewarded, birdies are makeable, and mistakes are generally of your own making even if the subsequent score-card punishment is severe. Unlike any other course I have played—and I have hacked my way around a fair few—there isn't an average or so-so hole on the course. From 1 to 18, each hole is memorable and each shot requires mental engagement.
Although he passed away in 2010, Von Hagge's plans for a second 18-hole course are still on the drawing board if the new owners decide the property needs an additional track.
One thing's for certain: I can't wait to return. It may be a while before I have the time and wherewithal to invest in a Les Bordes property, but as the small château on the estate (see below) is also being converted into a boutique hotel/spa, I'm sure it won't be long, and the whole family will enjoy it too.
lesbordes.com