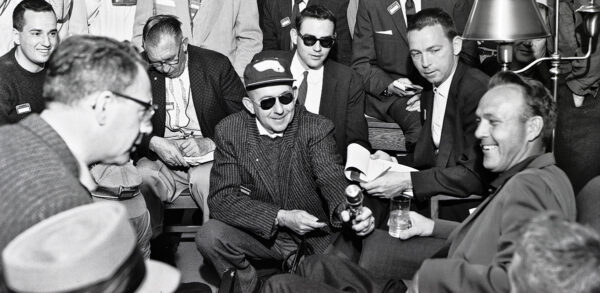 In Good Times & Bad
Marino Parascenzo covered sports—and golf in particular—for the Pittsburgh Post-Gazette for more than 30 years. It was a job that demanded digging up a trail of stories on local sportsman Arnold Palmer. Parascenzo gives Kingdom an insight into what it was like to cover Western Pennsylvania's golfing hero.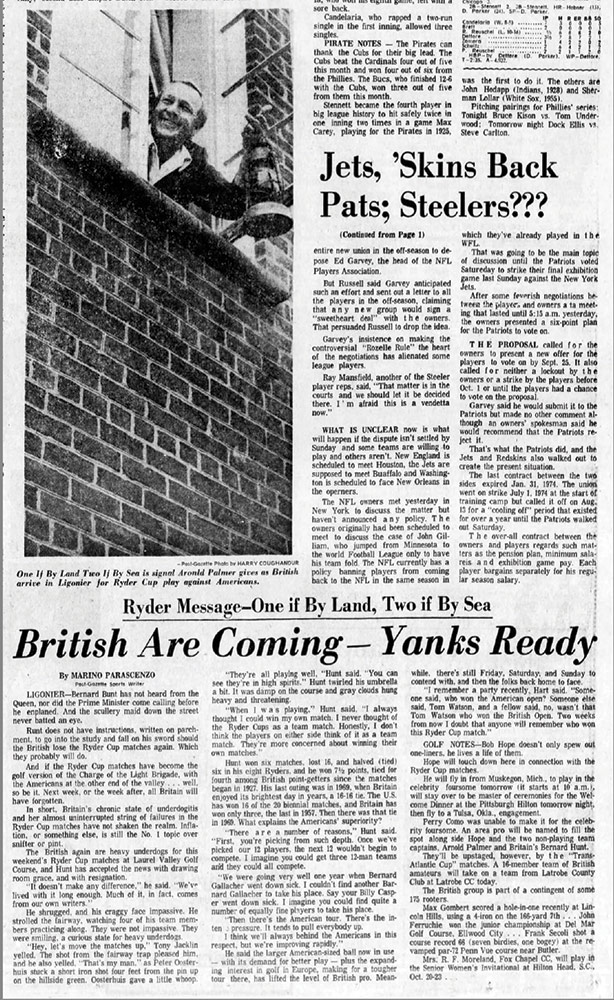 Ibegan covering Arnie in the early 1970s and I'll start at the beginning—at my first real contact with Arnie Palmer. Meaning, he knew I was a writer, that's all. Meaning that what he did wasn't a special favor for an old friend. He was just being Arnie Palmer.
This was at my first Ryder Cup, 1975, at Laurel Valley, in the Western Pennsylvania foothills.
I wanted a different kind of picture to go with my final advance story in the Pittsburgh Post-Gazette, a Paul Revere thing, so I took my wife's rusty flea-market kerosene lantern. My photographer loved the idea but a PGA of America official thought it was stupid, and that it would be an insult to ask the great Arnie Palmer, the Americans' non-playing captain, to do such a frivolous thing. Certainly, I said.
Arnie was in the clubhouse driveway, chatting with officials. I introduced myself, and trying not to draw any attention, almost whispered, asking him to do the Paul Revere thing. I waited for the embarrassing dismissal.
Arnie grinned. "Gimme that thing," he said, pushing through the officials.
The next morning, on the front page of the Post-Gazette, there was a beaming Arnie Palmer, hanging out of a second-story window, holding the lantern, under the headline: "The British Are Coming!"
I guess it wasn't that big a deal. Until I considered the event, the setting, the timing, the people and what Palmer did. Then I was impressed.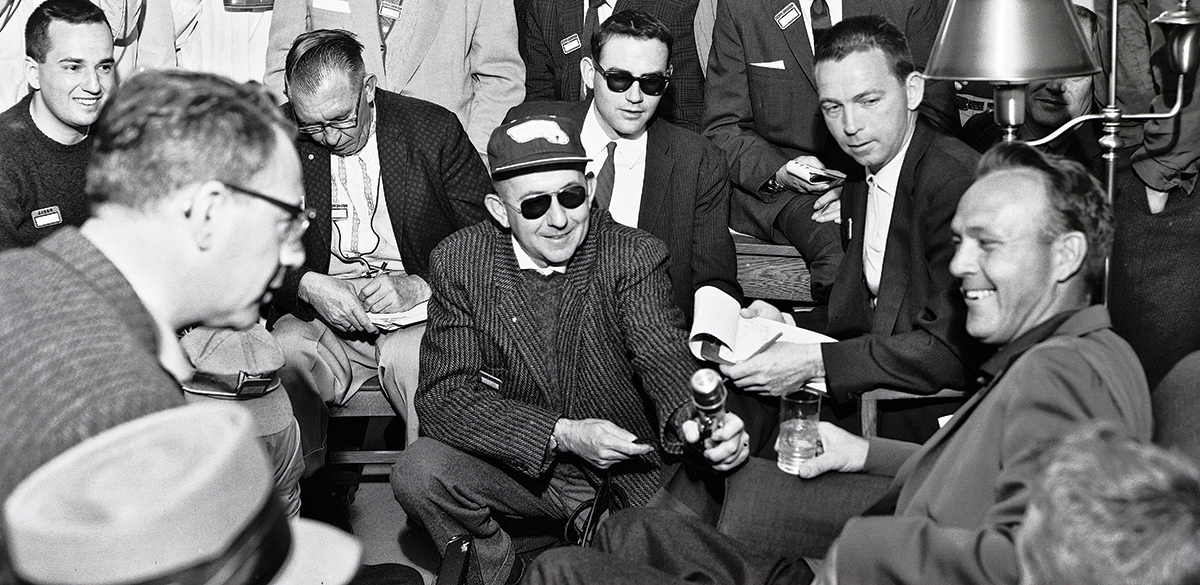 But Arnold was the wrong guy for inexperienced sportswriters to meet. They might think all famous athletes would be genuinely nice guys. After Arnie, nothing could prepare them for the incandescently egocentric, the entitled, the whining, ill-mannered, surly, the purely nasty.
Generally speaking, golfers—to zero in—will talk happily of their birdies and eagles, and they hunger for attention to their latest endorsement deals, or a course they're designing; all the better for their bank accounts. You ask about a 78 they shot, that you need for your story, and it's as though you were oozing the Ebola virus.
Palmer? Never.
In the 1987 [British] Open at Muirfield, Palmer, playing well for 57, made 10 out of a pot bunker. That's news. I raced over to the locker room.
"You s.o.b." he said. "I might know you'd show up." (Did you think Arnie spoke Altar Boy?).
"Quit making 10s," I said, "and I'll quit showing up." He laughed.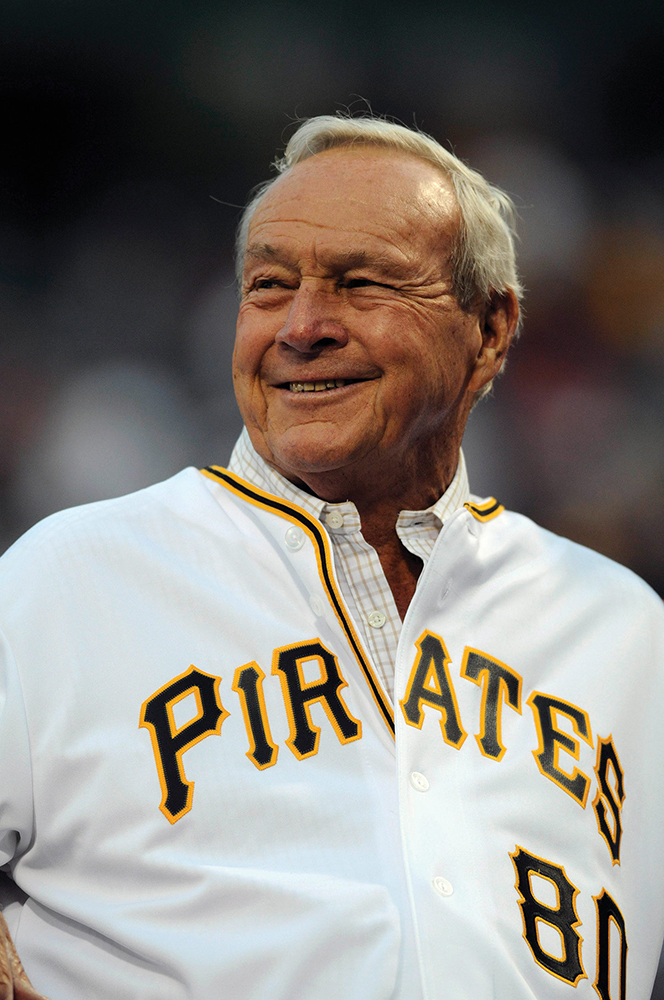 It reminded me of the 1976 Masters—my first—when he shot 81 in the second round to miss the halfway cut by five shots. Again, when Arnie Palmer shoots 81, it's news. About five of us stood awkwardly and silent while he stared at the locker room floor. Finally, someone said, "Arnie, we hate to have to talk to you at a time like this."
Palmer looked up. "Fellas," he said, "we talked when times were good—we'll talk when times are bad."
I never heard any athlete, before or since, even suggest such a thing.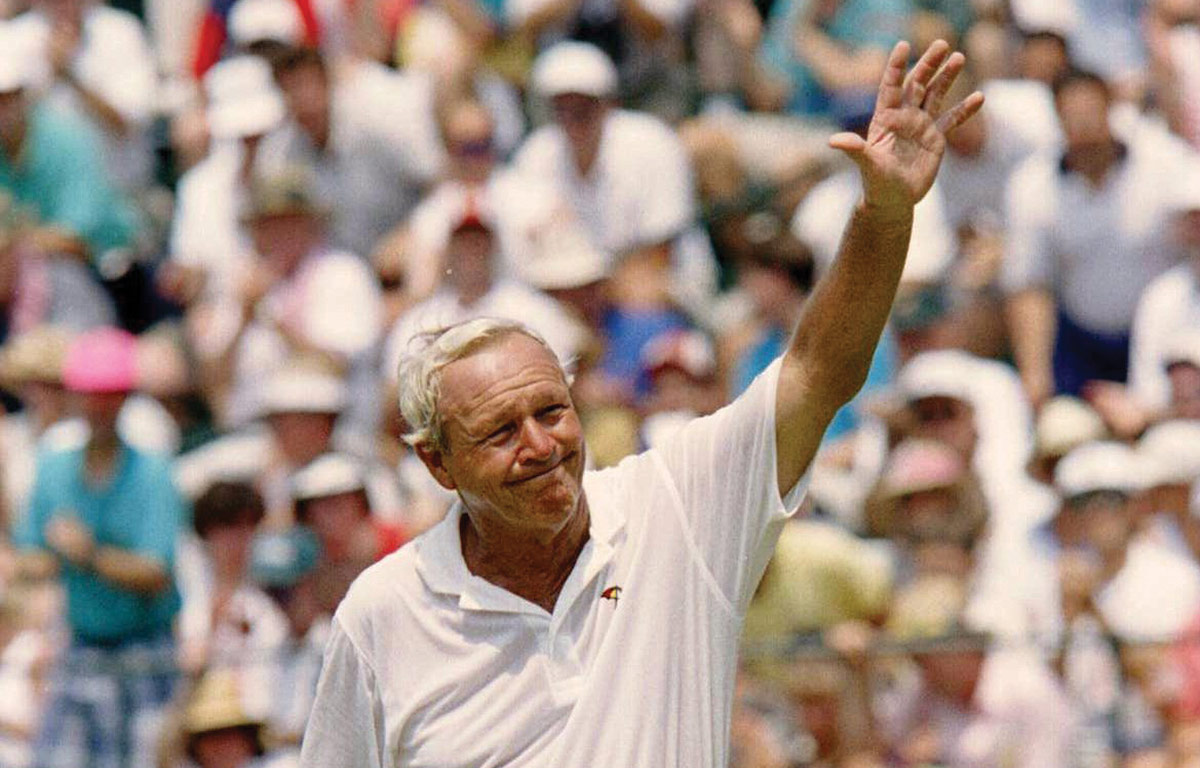 A seat at the bar
Some years ago, I met Palmer at Olde Stonewall, an upscale public course in Western Pennsylvania where he was appearing. As he reached the front doors, one swung out ponderously, and a black-leathered biker emerged, carrying a cup of beer in his right hand. He stopped dead.
"Holy [expletive]—Arnie Palmer!" he said, fumbling. He slammed the cup into his left hand, sloshing beer all over both, and he reached. Palmer could have politely waved him off, but he grinned and took the guy's sloppy hand. "How ya doin'?" Palmer said. After a few cheerful words the biker stumbled away. Palmer washed off the beer, then passed up the shelter of a booth and we sat at the bar. I watched a succession of jaws drop.
One evening I was having dinner with friends. The phone rang. Their niece was at a Pirates game, asking if this guy sitting near them was Arnold Palmer? (How could I possibly know?) And should they ask for his autograph—at a ballgame? "Ask," I said. "If it's Arnold, you'll get an autograph and a smile, and he'll thank you."
They got all three. Autographs were a way of life for Palmer. Requests just kept rolling in. I often sat and chatted with him while he signed all kinds of things. I expected someone to ask him to sign their first-born. He signed his photo endlessly. And provided the padded envelope and the postage. It cost him about $100,000 a year.
Another time, we were in his workshop at Latrobe doing an interview. He was trying to twist the head off a driver with his bare hands. "You're going to break it," I said.
"Naw," he said.
"How about the other thing?"
"The prostate cancer?"
"Yeah," I said. (Nobody likes to talk about cancer, but sometimes you've just gotta ask.)
"My latest checkup," Arnie said, "the doctors said the numbers were really great."
"Wonderful. I guess you're out of the woods."
"Well," he said, grinning back over his shoulder, "we don't know that yet, do we?"
The answer chilled me, but like every other challenge Arnie faced, he confronted cancer head-on.
The 1994 U.S. Open at Oakmont was Arnie's last. At 64, he missed the cut and came to the media center for the last time. He mumbled a few words, then held a towel to his face to muffle his sobs. Finally he stood, and without looking back, and with a final wave of his hand, disappeared through a rear door. And something I'd never seen before happened (there's no cheering in the press box, remember. That's the professional imperative). The huge international media corps rose and gave him a standing tribute. I found myself standing with them. Arnie Palmer's silence had been golden.
My meetings with Arnie were intermittent. It only seemed we met regularly. That was how he made it feel.