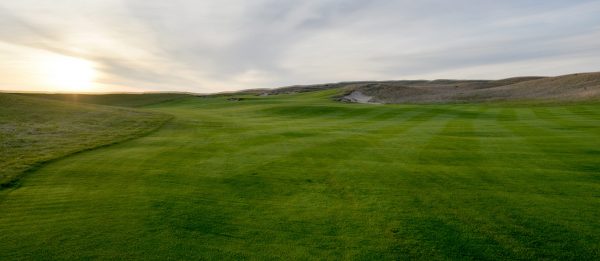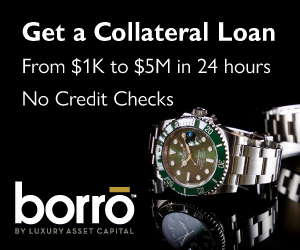 Peace comes easily here, just settles in and makes itself at home during one of the long, loping miles, driven in by the steady whump, whump, whump of the car's tires across the highway's cracked surface, the rushing wind outside and the vision of sand hills to the horizon burnished like copper waves under the sun. This is a quiet place, a landscape of lines that softly bend and blue skies that don't move. It seems the clouds are cut from bright white paper and hung on strings, the small towns built yesterday and painted to appear old. It's clean vintage: perfectly faded overalls on the gas station attendant, perfectly gold prairie grasses.
Like a movie set—no, like a stage set. And so it is with the golf and the way the courses reveal themselves, appearing like Zen gardens in the desert as one crests a large hill or turns a remote corner. Walking any of the tracks carved among the dunes of Nebraska's Sandhills region, it's easy to imagine Machrihanish Bay or the Firth of Clyde just over the next rise, but of course we're just north of America's center, roughly 1,600 miles from any ocean and just under 1,200 miles from the Gulf of Mexico. And yet being here is like being at sea, especially at twilight when the hills in silhouette could be waves and the stars look like falling snow caught high in the air, everything frozen in an unblemished moment, one among many in the centuries-old quiet.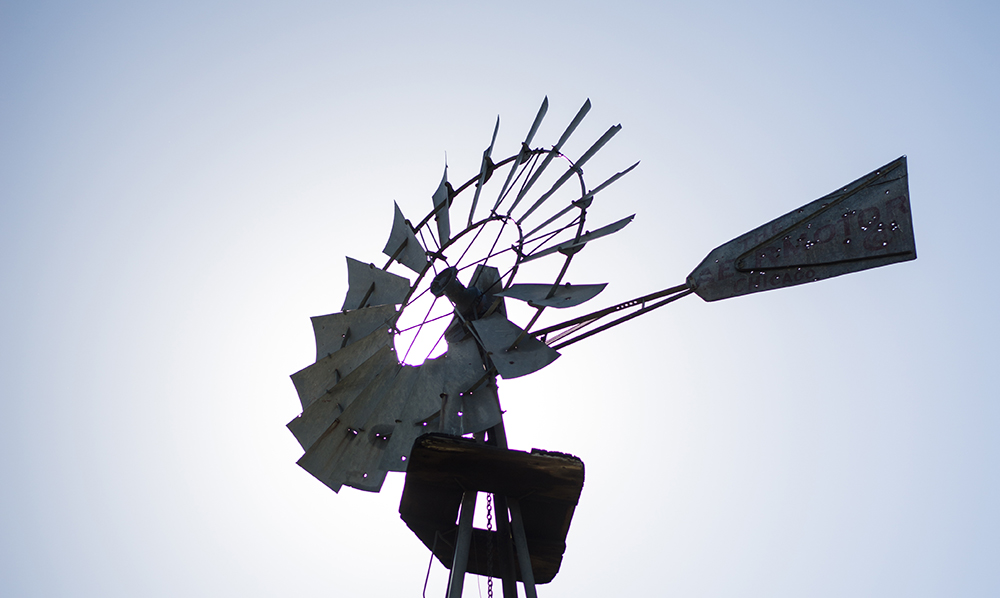 Wild Horse Golf Club
Gothenburg
Country road followed by country road, turn left at the weathered pump that sits on the corner of yet another wide-open field. Look for the hand-painted sign with the horse on it, and if you don't see that then look for its sister on the opposite corner. Miss the turn and there's more country. Make it and you'll crest a hill, and then another, and then suddenly, abruptly even, the course appears. What I thought was going to be rather flat turned out to be anything but, with rolling hills and even a small rift-like cut in the course over which two locals hit beautiful drives in challenging wind (not uncommon here, it seems). The windmill and clubhouse break the contoured horizon, standing tall over a course that bears more resemblance to the decidedly upmarket and better-known Sand Hills Golf Club in nearby Mullen than to anything else in the area (or in Wild Horse's overly reasonable price range; total build cost, including land, was somewhere near $1.6 million).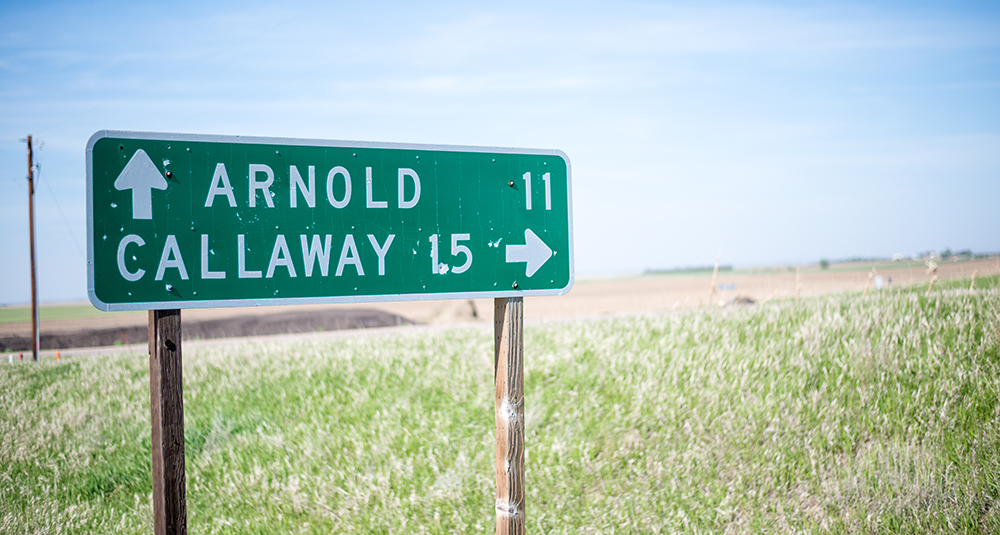 The top quality of the layout perhaps shouldn't be surprising, given that two of the crew that built the Bill Coore and Ben Crenshaw-designed Sand Hills GC designed and built Wild Horse (David Axeland and Dan Proctor). Accordingly, it's been among Golfweek's Best Modern Courses since it opened in 1999, hitting No.27 in 2009 over Pete Dye's Harbour Town Golf Links in Hilton Head, Monterey Peninsula Country Club in Pebble Beach and numerous other better-known (and far more expensive) courses. With affable staff, unpretentious personality, a friendly snack bar, views for miles, high quality of golf and low price point, this could be the best deal in the game—anywhere.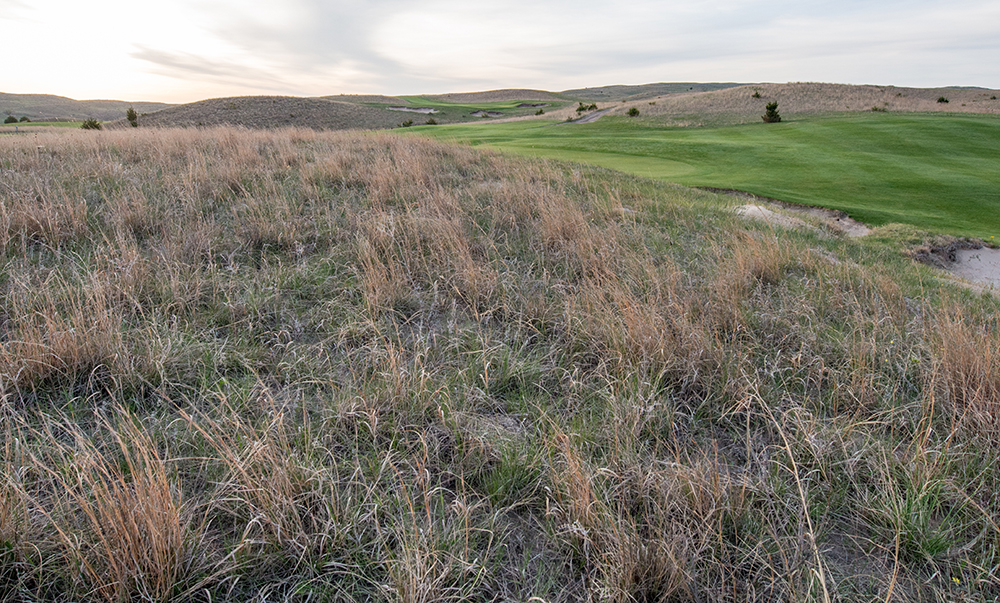 Dismal River Golf Club
Mullen
Walking on Dismal River's Doak Course at sunrise was an experience akin to visiting an immense Gothic cathedral in the earliest hours of morning, at the time when it is quiet but fresh with possibility, stained glass windows filling the sunlight with color before the day properly begins. The course's vast swaths of green are seemingly in motion, churning and crashing against the high bluffs that buttress fairway edges before settling into a rushing calm that spills over and down hills, flows across sand and wild grasses and then empties into a broad pool of cool, soft shadows. But of course it is all still, and when one blinks and arrests the sense of the earth in motion, there's a peace here unlike many to be found. The quiet, the absolute stillness of all save the tips of grass blades flicking in the wind, the remoteness of the place and the sheer scale of it combine to provide, if not revelation, then a place for meditation, certainly. Despite its dramatic name, Dismal River holds in its most quiet hours a profundity of beauty that is a privilege to behold.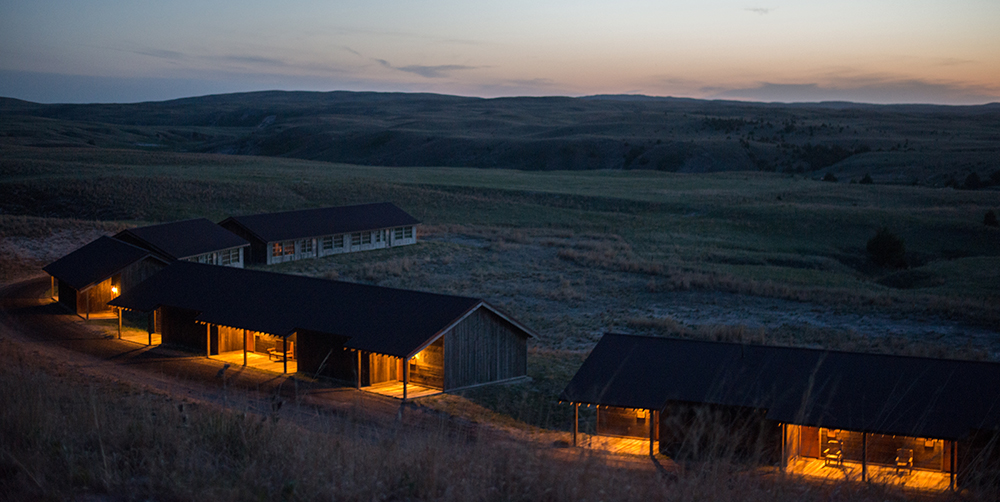 I was better upon departure than upon arrival, more clear, less troubled, and cannot remember when a visit to a golf course left me so completely thus. Both courses here—the Red (Tom Doak) and White (Jack Nicklaus)—are sublime, the cabin accommodations offer the perfect balance of luxurious and rustic and the staff consists of people with whom you'd gladly open a beer. It's what Scotland must have looked like when Queen Mary was golfing, it's nowhere near the sea but the sea is exactly what comes to mind when standing high atop the property watching the grass move. The sleep you'll have here is as good as any enjoyed upon gentle waves, as are the tales you'll tell upon your return home.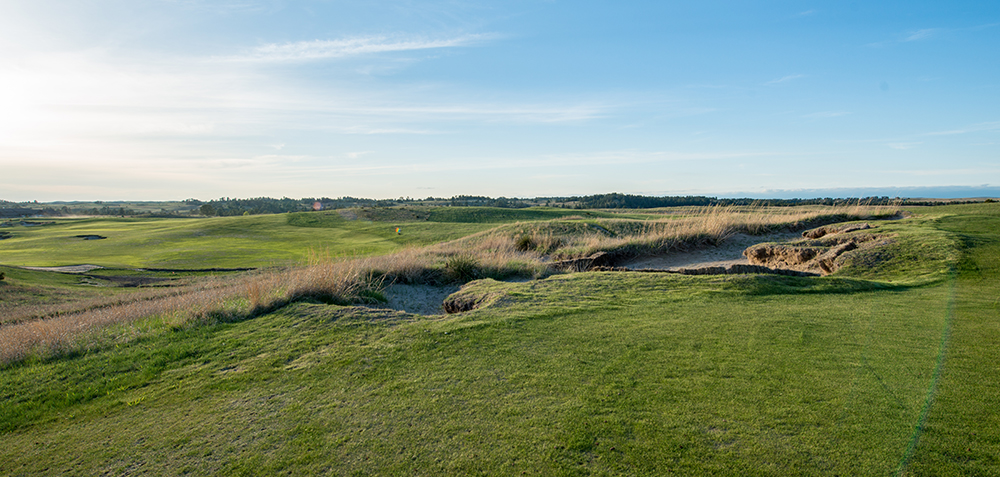 The Prairie Club
Valentine
If Dismal River is a meditative walk, then The Prairie Club is a giant playground. Like the best kind of amusement park it has something for everyone, and all of it is great fun. The golf is of the highest quality, and every detail of the property is incredibly well considered. But they've managed to keep the resort approachable in a way that suggests this isn't the place to be overly serious. Let loose, let it go, have a ball! And so we did, charging through the woods of the Pine Course, taking a slight detour to an overlook where two Adirondack chairs provide an ideal spot to regard the clubhouse and the canyon-sized ravine below. The pine trees are as thick and heavy as a Christmas tree forest in the Alps, interrupted only by gorgeous wide fairways that swoop up or down to tiered greens, clever bunkering and lush rough. Then it was on to the Dunes Course, with its audacious network of roller-coaster-track cart trails ratcheting up steep slopes before diving quickly around thrilling turns and breathtaking straights where the glory of the Nebraska Sandhills are on full display. Here there are immense bunkers and greens the size of Paul Bunyan's dinner plate.

The whole thing feels prehistoric in a good way, like Land of the Lost, and indeed you feel dwarfed by the tremendous landscape and scale of the course. The space is liberating, exhilarating, enlivening in the extreme. One feels like he could hit the ball to the horizon here, drive it to the ends of the earth, and the generous fairways do encourage adolescent boldness. Finally, the brilliant 9-hole HORSE course and its lack of tee boxes (remember the old basketball game? I make a shot, then you have to make the same shot or you get an "H"?) kept the grins plastered on our faces for at least a week after we left, never mind the simply massive practice area and range, enjoyed with a great lesson from Club Pro Loudan Steffs. There's just so much SPACE and fantastic golf here, it's like you could play forever—and we say why not. Great clubhouse accommodations, friendly staff and a solid kitchen round out the top-drawer experience. But really, Prairie Club is all about playing golf, with an emphasis on the "play."
Beyond Golf…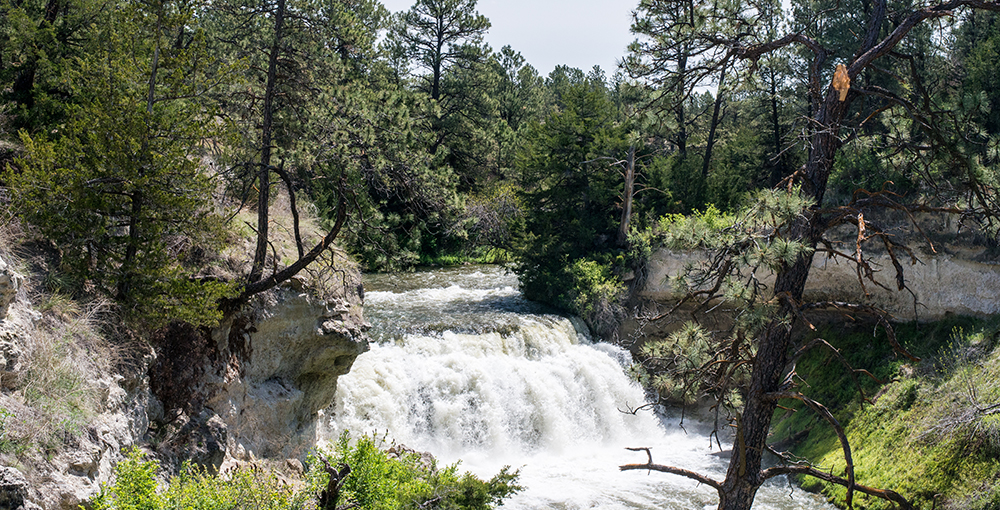 Waterfalls
Nebraska has more miles of rivers than any other state, and so a few waterfalls are to be expected. There are more than 230 along the Niobara River alone, and some are quite dramatic. Case in point: Snake River Falls near Valentine, the largest waterfall by volume in the state. Viewing requires driving down a private dirt road and, on your honor, leaving a few dollars in a lockbox as the access point is owned by a local sportsman's club.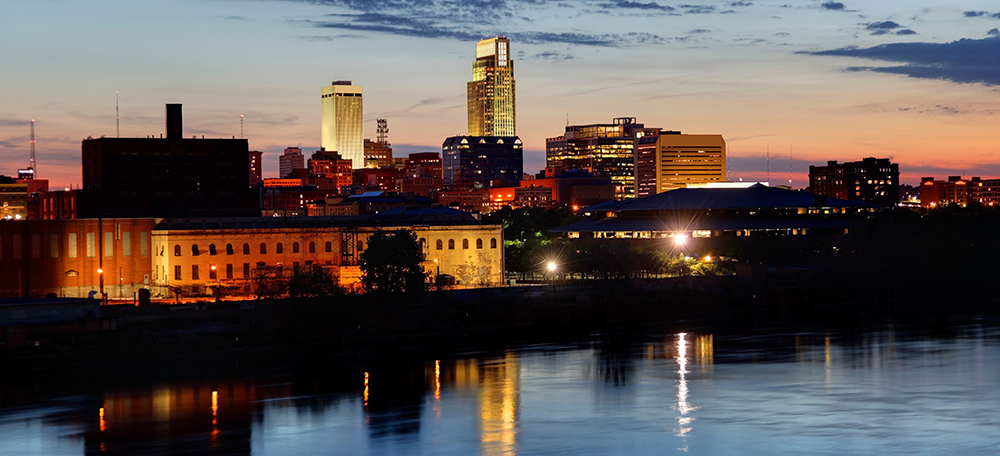 Sushi In Nebraska
As an LA resident who's enjoyed sushi in Tokyo, Honolulu and other cities nearer oceans, I stepped into Omaha's Hiro88 as much out of curiosity as anything. Turns out it was a good move. The ikura was bright and salty, the hotate crisp and clean, and standards like yellowtail/jalapeño sashimi were good. A few regional curiosities (e.g. the "Husker Roll": tempura beef tenderloin, asparagus, cream cheese and eel sauce) plus great service make it well worth a stop.


Thunderhead Brewing Company
Kearney
I hope the good people of Kearney know what a wonderful thing they have in Thunderhead. The food is good (+1 for the pizza) but that's not really the point. Typical of a microbrewery there are just-for-funs (e.g., Jalapeño Ale, which is oddly nice), alchemists' follies (e.g., Grail Ale Grand Cru, alternately described by online critics as tasting of coriander, tangerine, biscuits, blood orange, grapefruit, syrup, hops, caramel, cloves and bananas) and the irreverent (e.g. Hardassed Henry's Permanently Pissed-off Pilsner). But there are also solid examples that rival the best beers anywhere, including Cropduster IPA, Leatherhead Red amber, easy-drinking Golden Frau Honey Wheat (made with Nebraska honey) and more. If there's anything wrong with Thunderhead's beers, it's that they're not widely available outside of Nebraska.
Other Can't-Miss Nebraska Courses
Sand Hills Golf Club, Mullen: With its impeccable reputation and appearance on so many "best courses" lists, there's not much left to be written about this top track. That we didn't make time to play here is the only regret of our otherwise fantastic trip in Nebraska.
ArborLinks, Nebraska City: Host to numerous U.S. Open and Amateur qualifiers, the landscape at this Arnold Palmer-designed layout is more Deep South than Midwest, and it's one of the area's best. Arborlinks.com
Indian Creek, Omaha: Three 9-hole options make this Omaha's largest public course. Well-considered design make it one of the most challenging. Well worth a day out with friends. Golfatindiancreek.com
Wildnerness Ridge GC, Lincoln: Site of U.S. Open qualifiers and many tourneys, there's plenty of wind and water here, especially at the No.15, which has wet stuff actually running under the green. Wildernessridgegolf.com
To learn more about amazing Nebraska vacation opportunities, see visitnebraska.com